Alabama Blasted for Brandon Miller 'Pat Down' Intro After Local Murder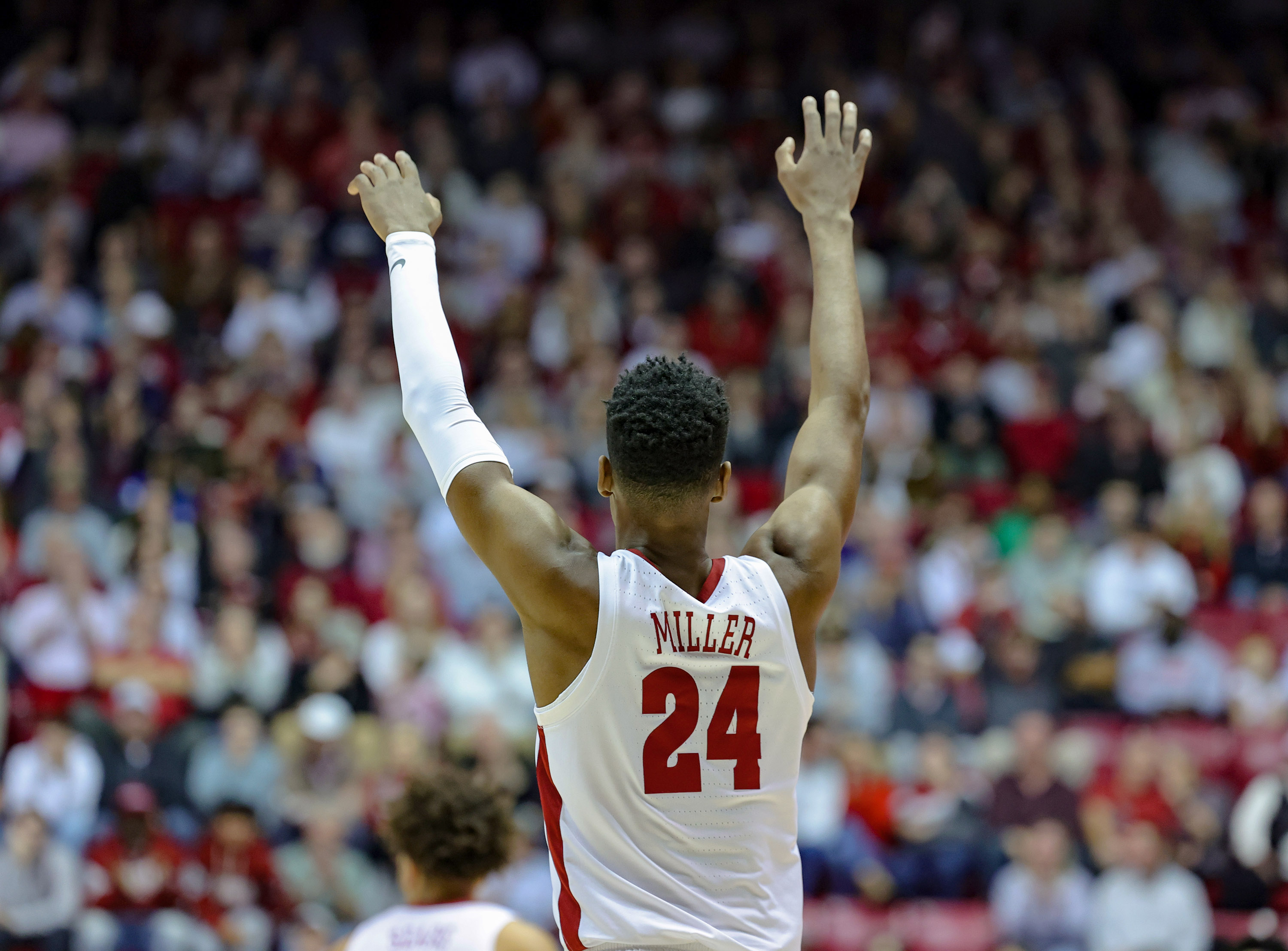 Alabama freshman basketball player Brandon Miller keeps making his way to the top of sports headlines, and not necessarily for his basketball prowess. He's one of the best players in college basketball and a potential lottery pick in this year's NBA Draft.
He's led the Alabama Crimson Tide to a top five ranking and perhaps a No. 1 seed going into NCAA's March Madness next month.
Miller is also linked to the murder of a 23-year-old woman last month in Tuscaloosa. Local police testified earlier this week that Miller brought a gun to teammate Darius Miles. The gun is linked to the shooting death of Jamea Harris, a young mother.
Saturday was the first home game for the Crimson Tide since the news broke. Miller's pregame introduction included him walking through smoke and getting "frisked" and "patted down" by a teammate.
Here's the video that's been seen by more than 3.4 million people online so far.
Alabama coach Nate Oats said he did not see it happen as he doesn't typically watch pregame festivities. He said it wouldn't happen again, though. Oats said in his postgame press conference that he's "drawing up plays" during pregame introductions.
"It's not appropriate," Oats said after the game. "It's been addressed and I can assure you it definitely will not happen again."
This wasn't before countless people ripped the university and its basketball program, though.
"If a universities "code of ethics" doesn't include "don't drive a gun to be used at a murder (paraphrasing). That university should probably update its code of ethics. I believe @GaryParrishCBS stated this yesterday and it's the most valid point I've heard on this topic," one Twitter follower wrote.
"Tone deaf at best," another wrote in response to the school.
Others commented:
"At least they patted him down before he went on the court."
"Everything I need to know about Alabama, right there."
"He just wanted everyone to know they're safe…."
"Parole Tide!"
Some say these introductions at Alabama men's basketball games are normal this season.
"Should've rethought this one for Brandon Miller, but the pat down has been part of the intros all year long by all players," this follower wrote.
Harris was murdered on January 15 during a shootout in Tuscaloosa. Miles and one of his friends, Michael Davis, were charged with capital murder. There was a pretrial testimony on Tuesday in which it was described that Miller drove Miles and Davis to a sports bar, then later returned. At that point, police say Miles retrieved a gun from the back seat of that vehicle and gave it to Davis, who began shooting at a jeep where Harris and a man were at. The man, reportedly Harris' boyfriend, shot back with his own firearm.
Miller's first game since that pretrial testimony was Thursday night at South Carolina, where the student section chanted "Lock him up" every time Miller touched the ball.
Oats earlier in the week said Miller was in the wrong place at the wrong time, which drew scrutiny.
Newsweek has reached out to the Alabama Sports Information Department for comment.
Alabama, ranked No. 2 in both major basketball polls, defeated South Carolina, 78-76, on Thursday in which Miller scored 41 points. Alabama then held off Arkansas, 86-83, Saturday at home.