Arctic Blast Grounds Planes as Airline Crews Shelter From Blizzard Threat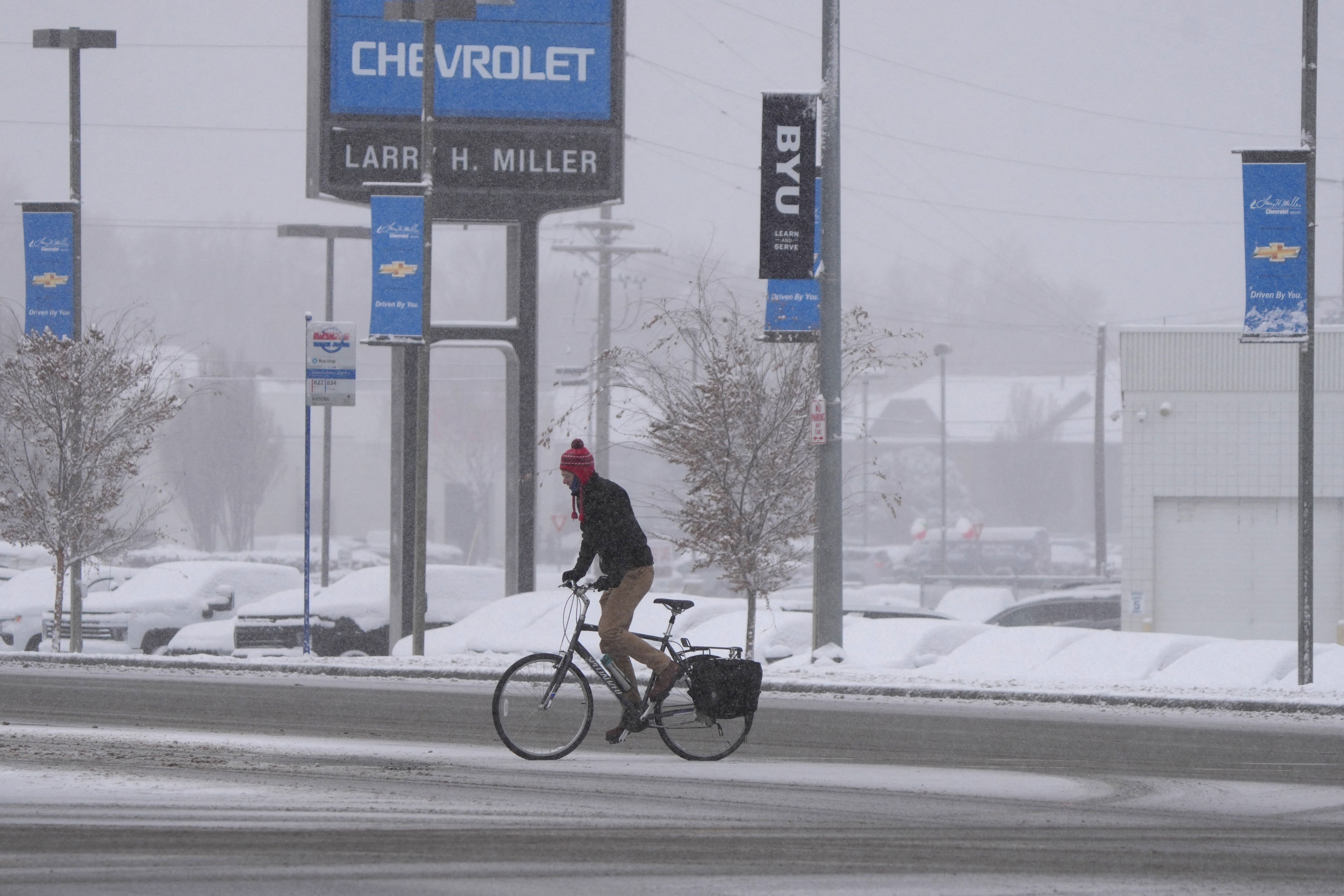 Hundreds of flights have been canceled as forecasters say winter storm Elliott is set to unleash freezing temperatures and blizzard conditions across much of the U.S. in the coming days, just as millions of Americans are traveling for the holidays.
The National Weather Service said a powerful winter storm is expected to bring heavy snow, strong winds and dangerously cold temperatures from the northern Great Basin through the Plains, Upper Midwest, Great Lakes and the northern/central Appalachians through Saturday.
"At the forefront of the impressive weather pattern is a dangerous and record-breaking cold air mass in the wake of a strong arctic cold front diving southward across the southern Plains today and eastward into the Ohio/Tennessee Valleys by tonight," the NWS said early Thursday.
Temperatures well below freezing are forecast to extend as far south as the Gulf Coast through the weekend. According to NWS forecasts, every state in the continental U.S. will see temperatures below 20 degrees on Christmas Eve.
Forecasters have warned that the combination of snow and wind is likely to cause blizzards in some areas, making holiday travel dangerous, or even impossible.
"Rapid and significant temperature decreases associated with this system raises the potential for the flash freezing of bridges and roadways," the National Oceanic and Atmospheric Administration said. "The intensity of the cold would pose a significant danger to anyone who becomes stranded in blizzard conditions."
Winter storm Elliott prompted Southwest Airlines to cancel about 500 of its 4,000 scheduled flights on Thursday and Friday.
"The Safety of Employees and Customers is Southwest's top priority and proactive schedule adjustments aim to ensure safe operations, protect the integrity of the entire Southwest Network, and limit subjecting our People to dangerous working conditions," the airline said.
At least 200 flights into and out of Denver International Airport were canceled Wednesday, according to FlightAware, a flight tracking company.
FlightAware reported that at least 1,150 flights within, into or out of the U.S. have been canceled on Thursday, including at least 280 flights in or out of Denver and 375 in and out of Chicago's O'Hare International Airport, another major travel hub.
Mateo Gamboa, news director at Texas TV station CBS 19 KYTX, said on Twitter that he and his family spent "almost 2 hours stuck on the tarmac" at Denver International Airport on Wednesday as they waited for a delayed Southwest flight to take off.
Crew members told passengers that "temperatures are adding to delays because ground crews have to take intermittent shelter from the cold for their safety," Gamboa wrote. "Passengers are ready to deplane."
In another tweet alongside a clip showing a long line at the airport, Gamboa wrote: "A total mess at @DENAirport this is just one of at least half a dozen long lines of people rebooking flights that were canceled. Many are getting ready to sleep in the airport tonight."
Southwest Airlines has been contacted for comment.
Southwest, Delta, American, United, Frontier, Alaska and other airlines were waiving change fees and offering travelers the option of choosing new flights to avoid the winter storm.