Argentina vs. France Odds & Best Bets for FIFA World Cup Final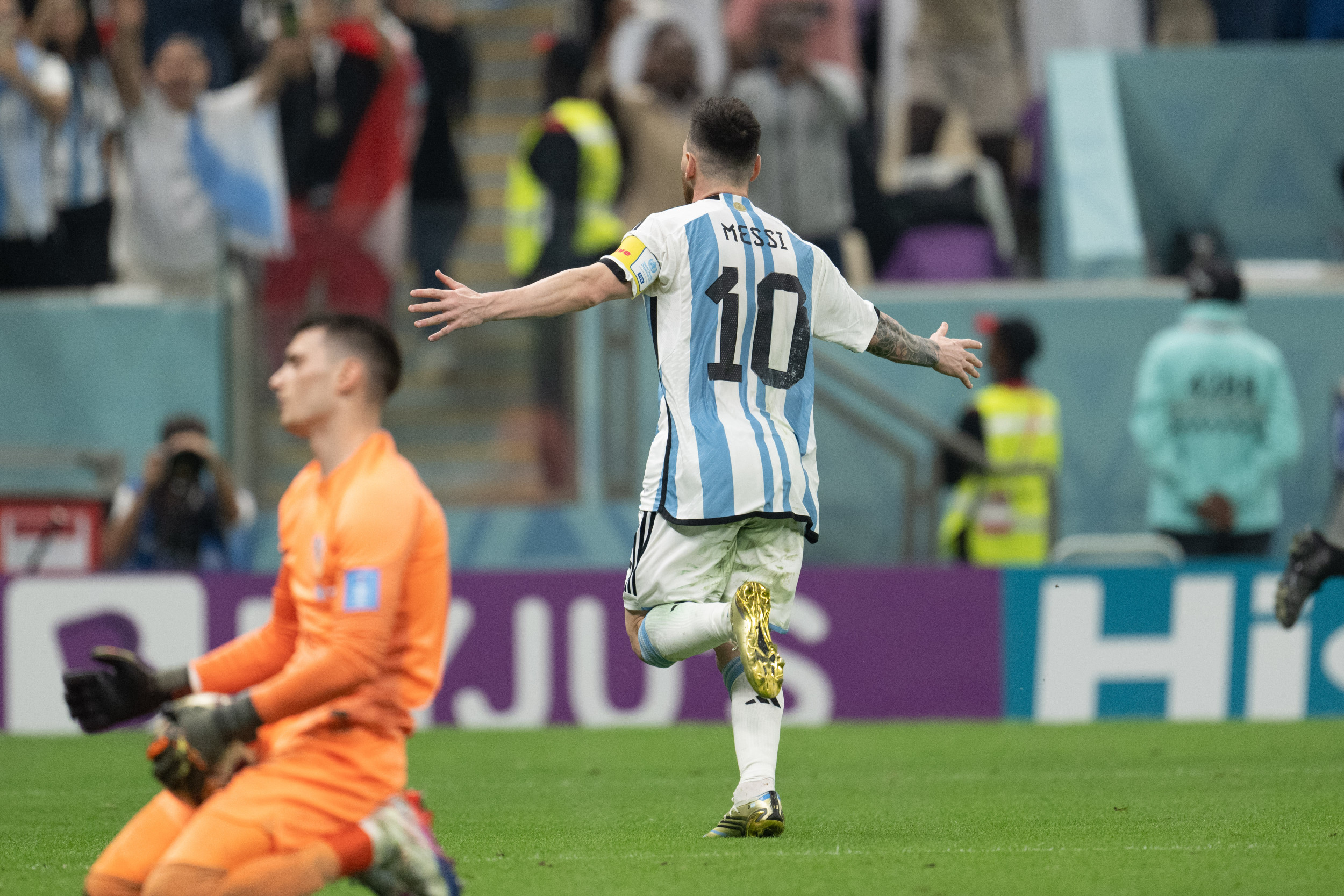 Sports Betting Dime provides exclusive sports betting content to Newsweek, including picks, analysis, tools and sportsbook offers to help bettors get in on the action. Please wager responsibly.
The 2022 World Cup reaches its climax on Sunday (10 a.m. EST) with the finale between France and Argentina. The defending champions from France are slight underdogs against Lionel Messi and Argentina, who are searching for their first World Cup title since 1986.
France vs. Argentina Odds
The odds for the 2022 World Cup final could scarcely be tighter. Argentina is a slight favorite to win the trophy at FanDuel, DraftKings, and Caesars, ranging from -110 to -115. France is a modest underdog with odds from -108 to -105.
FanDuel's three-way moneyline odds, which only factor in the first 90 minutes, have Argentina at +170, France at +180, and the draw at +200.
The over/under of 2.5 favors the under (+126o/-156u). Predictably, the alternate totals of 1.5 (-245o/+196u) and 3.5 (+340o/-460u) deem a scoreless or one-goal game much more likely than a four-goal (or more) affair.
Messi's Date with Destiny?
The build-up to the final is deservedly focusing on 35-year-old Lionel Messi, arguably the greatest player of his generation. For all his individual accolades (including a record-setting seven Ballon d'Or awards), Messi long struggled to lead Argentina to glory. Up until last year, Argentina had finished runner-up in the Copa America three times and the World Cup once during his tenure without winning a championship.
That narrative was laid to rest in the 2021 Copa America, though, when Messi led the Argentinians to their first title since 1993, tying for the tournament-lead in goals in the process. Now, in what is likely his last World Cup, he has the chance to add the ultimate trophy to his resume.
Expectations were lower for the Messi heading into the tournament. After averaging 35.5 goals per La Liga season from 2011-2021, Messi had registered just 13 Ligue 1 goals since moving to Paris Saint-Germain at the beginning of the 2021 campaign, seeming to finally show his age.
But he has turned back the clock in Qatar. He's scored five of his team's 12 goals in the tournament and, while three of those came from the spot, he assisted on another three and has generally been the catalyst behind Argentina's movement forward. His combination play with young Man City striker Julian Alvarez has been sublime.
Meanwhile, unlike in tournament's past during the Messi era, Argentina's defense has been superb, led by Nicolas Otamendi, who has played all 570 minutes of the tournament to date. According to fbref.com, Argentina has given up just 2.4 Expected Goals Against through its six matches (0.4 Expected Goals Against per game) and has kept three clean sheets (versus Mexico and Poland in the group stage and Croatia in the semifinals).
If not for 20 lackadaisical minutes against the Netherlands in the quarters – when they surrendered two goals after holding their opponents without a shot on target in the first 80 minutes – Argentina likely enters this final as a bigger favorite.
Can France Be Denied?
This Sunday, France will have the opportunity to do what no team has done since Brazil in 1962: repeat as World Cup champions.
Not only will France have to go through Messi to do so, they will have to overcome the absence of several key players. Midfielders Paul Pogba and N'golo Kante, center-back Presnel Kimpembe, and strikers Christopher Nkunku and Karim Benzema (the reigning Ballon d'Or-winner) were all unable to contribute to France's effort to repeat. Put those five players on the same pitch and you're halfway to a team capable of winning the tournament.
But France's staggering depth has kept Les Bleus more than afloat in Qatar. With Kylian Mbappe (five goals) and Olivier Giroud (four goals) spearheading the attack and Antoine Griezmann (three assists) and Ousmane Dembélé (two assists) anchoring the midfield, the French attack has looked as potent as ever. The only game in which France didn't register at least two goals was the final match of the group stage against Tunisia (a 1-0 loss), when manager Didier Deschamps left his stars on the bench for the bulk of the game because top spot in the group had already been secured.
Their quarterfinal match against England left something to be desired. The Expected Goals skewed heavily towards the English (2.4 to 0.9) but France staked itself to an early lead and was immediately back on the front foot after England equalized. Finding fault with France's performance so far is an arduous task.
France vs. Argentina Prediction
There is no doubt that history favors France. Many in their starting 11 already have a World Cup title to their credit, while Argentina is still fighting to overcome its reputation for foundering on the big stage. But based on the way the teams have played so far in Qatar, there is little doubt that Argentina should be favored.
Once thought of as a one-man Lionel Messi show, the Argentinian side is replete with young talent and veteran leadership at all three levels, and the cohesion they have showed in Qatar is unrivaled.
France has equal talent up front and in the midfield, but not at the back. The tip of Argentina's spear should have a slightly easier time making headway against the French backline and, over the course of 90 minutes (or potentially 120), that will make the difference.
Pick: Argentina to lift the trophy (-110 at FanDuel)
Newsweek may earn an affiliate commission if you sign up through the links in this article. See the sportsbook operator's terms and conditions for important details. Sports betting operators have no influence over newsroom coverage. If you or a loved one has a gambling problem call the National Council on Problem Gambling 24/7 at 1-800-GAMBLER. Must be 21 or older to gamble.