Biden, Trump, and beyond: Punishment on classified documents varies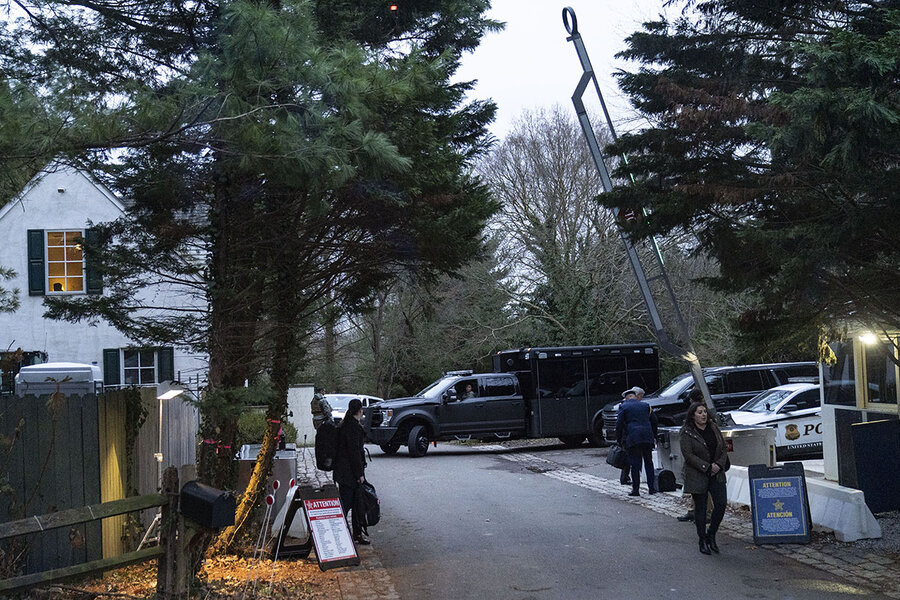 The case against Department of Defense civilian employee Asia Janay Lavarello began in late March of 2020, when a guest at a dinner party held in her Manila lodgings spotted a stack of documents in the bedroom with U.S. classification markings.
Some of the papers were stamped "SECRET," noted the guest, an official at the U.S. Embassy in the Philippines capital, where Ms. Lavarello was serving temporary duty.
Three months later Naval Criminal Investigative Service (NCIS) agents searched Ms. Lavarello's desk at a Hawaii military facility and discovered an unsecured handwritten notebook containing information classified at the confidential and secret levels.
Why We Wrote This
Some experts say higher-level officials are less likely to be prosecuted for mishandling secret information. Others argue it all depends on the details of the case.
On Feb. 10, 2022, she was sentenced to three months in prison and a $5,500 fine after pleading guilty to unauthorized removal and retention of classified information.
"Government employees authorized to access classified information should face imprisonment if they misuse that authority in violation of criminal law as Ms. Lavarello did in this case," said U.S. Attorney Clare E. Connors at the time.
The discovery of classified documents at the homes of former President Donald Trump, President Joe Biden, and former Vice President Mike Pence has raised numerous questions about the security of U.S. secret papers – and the pursuit and punishment of officials who mishandle them.
The fact is that the Department of Justice has often prosecuted government employees for the removal or unlawful retention of classified information, from top national security figures to lower level civil servants. There have been at least 12 such public cases since 2005, according to published records and DOJ documents.
Prominent officials who were charged include the late Sandy Berger, a national security adviser to President Bill Clinton who pleaded guilty in 2005 to knowingly removing classified documents from the National Archives, and former CIA Director and retired Army Gen. David Petraeus, who pleaded guilty in 2015 to sharing secret documents with his biographer and mistress.
Robert Birchum, a former high-ranking Air Force officer, is set to plead guilty later this month to unlawful retention of a large cache of classified material.
Lower-level cases include those of Ms. Lavarello and Elizabeth Jo Shirley, a former Air Force service member who worked at a number of government agencies handling top-secret information, who in 2021 was sentenced to 97 months in prison for retaining top-secret information on her electronic devices.
Some experts believe the laws on wrongful retention of secrets are haphazardly enforced. Higher-level officials, particularly those who can afford skilled legal representation, can get off relatively easy. Those lower down the ladder can lose clearances and jobs, and may be more likely to end up in jail.
But others say these cases often have important differences that make direct comparisons difficult. Whether suspects deal forthrightly with enforcement efforts is important. So is motivation: Bringing secrets home for work purposes is one thing; planning to sell them to foreign governments is quite another.
Ms. Lavarello, for instance, misled the FBI about her contacts with foreign nations, according to her plea agreement. Ms. Shirley fled to Mexico with her young daughter and prepared messages offering information to Russian officials, according to a Justice Department press release.
"There really isn't any case in this area that's open-and-shut because you have to look into not just what happened with the documents themselves, but also the person's motivation, how the person cooperated with the investigation, and the broader context," says Howard Sklamberg, who was a co-lead prosecutor of Mr. Berger for the Justice Department's Public Integrity Section in 2005.
Top administration officials
The National Archives has been attempting to recover records of the Trump administration, including classified documents, from the former president since spring of 2021. Although the Archives did receive some boxes in following months, last August federal agents executed a search warrant at Mr. Trump's Mar-a-Lago estate, uncovering 13 boxes or containers with documents marked classified, including some at top-secret level. A Trump representative had previously attested that no classified information remained in Mr. Trump's possession.
In early November, lawyers for Mr. Biden discovered a number of classified documents in a think tank office he used following his service as vice president. Over the next few weeks, Mr. Biden's lawyers searched his homes for other classified information, discovering a second batch of classified papers at his Wilmington, Delaware, residence. The president's lawyers said they had been told he would cooperate with National Archive efforts to retrieve any remaining documents.
Attorney General Merrick Garland has named special counsels to investigate both these cases.
Meanwhile, last month, lawyers engaged by Mr. Pence searched his Indiana home and found a number of documents with classified markings, which were returned to the government, they said. Last Friday, a consensual FBI search turned up an additional classified document.
The mishandling of classified documents by former top administration officials is in fact not uncommon, say some experts. One reason for this may be the nature of the White House itself.
In most of the government, classified and nonclassified documents are handled in separate ways and separate environments. The two types of information have different IT systems, different means of being tracked, and are even viewed in different places. There are entire U.S. government buildings devoted to national security known as SCIFs, or Sensitive Compartmented Information Facilities, designed for secure handling of classified information.
Room-size SCIFs exist in executive branch buildings. They're set up in presidential and vice presidential homes. But the White House is an intrinsically unsegregated environment when it comes to information flow. Living and working quarters are mixed, the pace is hectic, and top officials can move from a meeting on secret surveillance to one that's pardoning Thanksgiving turkeys by walking through a door.
That chaos becomes magnified at the end of a presidential term, when staff are separating personal and official papers and boxing up items for shipment elsewhere. And that separation is done on the honor system – there is no Justice Department or National Archives adviser on hand to give advice about what should go where.
"The National Archives doesn't have the staff to box up these things and certainly doesn't have the staff to review these documents," says Timothy Naftali, former director of the Richard Nixon Presidential Library and Museum and a clinical associate professor of history at New York University.
Double standard or different circumstances?
In the past, the Justice Department has declined to prosecute some high-ranking officials for mishandling classified material.
During the George W. Bush administration, Attorney General Alberto Gonzales took home some highly classified notes regarding National Security Agency terrorist surveillance and the terrorist detainee interrogation program that he had written earlier as White House counsel. He then stored them in an unapproved Justice Department location.
An Inspector General report found that he had mishandled U.S. classified information. But DOJ did not move to indict him, citing as one reason the fact that there was no evidence he lied about the situation or tried to hide it from federal agents.
In 2016, DOJ investigated former Secretary of State and presidential candidate Hillary Clinton for possible misuse of classified material in regards to emails kept on a private server. Although the FBI found evidence Mrs. Clinton had been "very careless" in the handling of highly classified information, and had possibly violated statutes, "no reasonable prosecutor" would bring such a case, said then-FBI Director James Comey. He cited as reasons the fact that there was no evidence of willful or intentional misconduct, and no evidence of obstruction of justice in the case. 
But in certain instances, federal prosecutors have gone after a number of other top-level officials whose cases they felt were possibly damaging to national security or involved more egregious behavior.
Mr. Berger, the former Clinton national security adviser, pleaded guilty in 2005 to knowingly removing classified documents and handwritten notes from the National Archives. At the time he was reviewing classified papers at the request of the 9/11 Commission investigating terrorist attacks on the United States.
Mr. Berger admitted placing multiple copies of one particular document in his pants pocket or inside his coat when going for a walk during an Archives visit. He then concealed the papers under a trailer inside a construction area and retrieved them later, he said in interview with the office of the Archives Inspector General.
A federal court ordered him to pay a $50,000 fine, and he lost his security clearance for three years.
In 2015, General Petraeus pleaded guilty to unauthorized retention and removal of classified material. The former CIA director had kept eight "black book" notebooks containing classified notes and other information following his service as commander of U.S. troops in Afghanistan, and then lent the notebooks to his mistress and biographer, Paula Broadwell.
For his actions, General Petraeus was fined $100,000 and sentenced to two years of probation.
Neither man was sentenced to prison in these well-known cases. That represents a double standard, says Jeremi Suri, a professor of public affairs and history at the University of Texas, Austin.
Defendants such as Ms. Lavarello get jail time, while those who can afford better lawyers and have connections are often punished less severely, he says.
"Obviously, it's unfair, but also it detracts from the argument we're trying to make about how classified documents should be handled," says Professor Suri. "If you really believe that it's important that these are handled in a certain way, the only way to really enforce that is to show that it's enforced for everyone, not just for select people."
Cases resulting in jail time
Other classified information cases that resulted in jail time include that of John Kiriakou, a former CIA employee who in 2007 publicly confirmed the use of waterboarding in the interrogation of Al Qaeda prisoners. In 2012 he was convicted of passing classified information to a reporter, including the name of a covert agent, and sentenced to 30 months in prison.
In 2014, former State Department arms expert Stephen Jin-Woo Kim received 13 months in prison after sharing classified information from an intelligence report on North Korea with a Fox News reporter.
In 2021, Ms. Shirley, a longtime federal employee of a number of intelligence agencies, was sentenced to over eight years in prison for fleeing to Mexico with her young child and drafting a message to Russian diplomats that said in part, "I think that after reviewing my credentials … you will be pleasantly surprised."
Compared to the cases of Mr. Berger and General Petraeus, these do not necessarily indicate a sentencing gap based on the prominence of the defendant, says Mr. Sklamberg.
"I wouldn't agree there is anything systemic … because there are too many variables," he says.
Efforts to obstruct justice or disseminate information can draw harsher punishment, he points out. Higher-level officials also draw more scrutiny and might actually be prosecuted for cases that low-level employees would not be.
Plus, the infamy of conviction itself may be a punishment for once-lionized officials. General Petraeus, for instance, did not go to jail. But his career was set back considerably, if not derailed, by the exposure of his leaking secrets to a mistress.
"His mishandling of classified records will dog him until the end of his days. … And I imagine that weighs heavily on him," says Steven Aftergood, longtime government secrecy expert with the Federation of American Scientists.
Given this context, the cases of Mr. Trump, Mr. Biden, and Mr. Pence may all end up differently, say experts. Mr. Trump appears to have resisted efforts to cooperate with the Archives, and may have misled investigators. Mr. Biden and Mr. Pence seem to have fully cooperated.
But important aspects of all three cases remain unknown. How exactly did classified documents end up in these men's possessions? What did they intend to do with them? Did any of them disseminate anything, even if accidentally?
If there is any lesson that can be learned already from the classified documents imbroglio, it is that the government should pay closer attention to what happens when White House terms expire, says Mr. Naftali.
"I do believe that the National Archives should be reviewing personal records before they leave the White House – just to help the vice president or the president not run into the trouble of having classified material by mistake," he says.