Cyndi Lauper Says 'Our Families Are Validated' as Biden Signs Marriage Act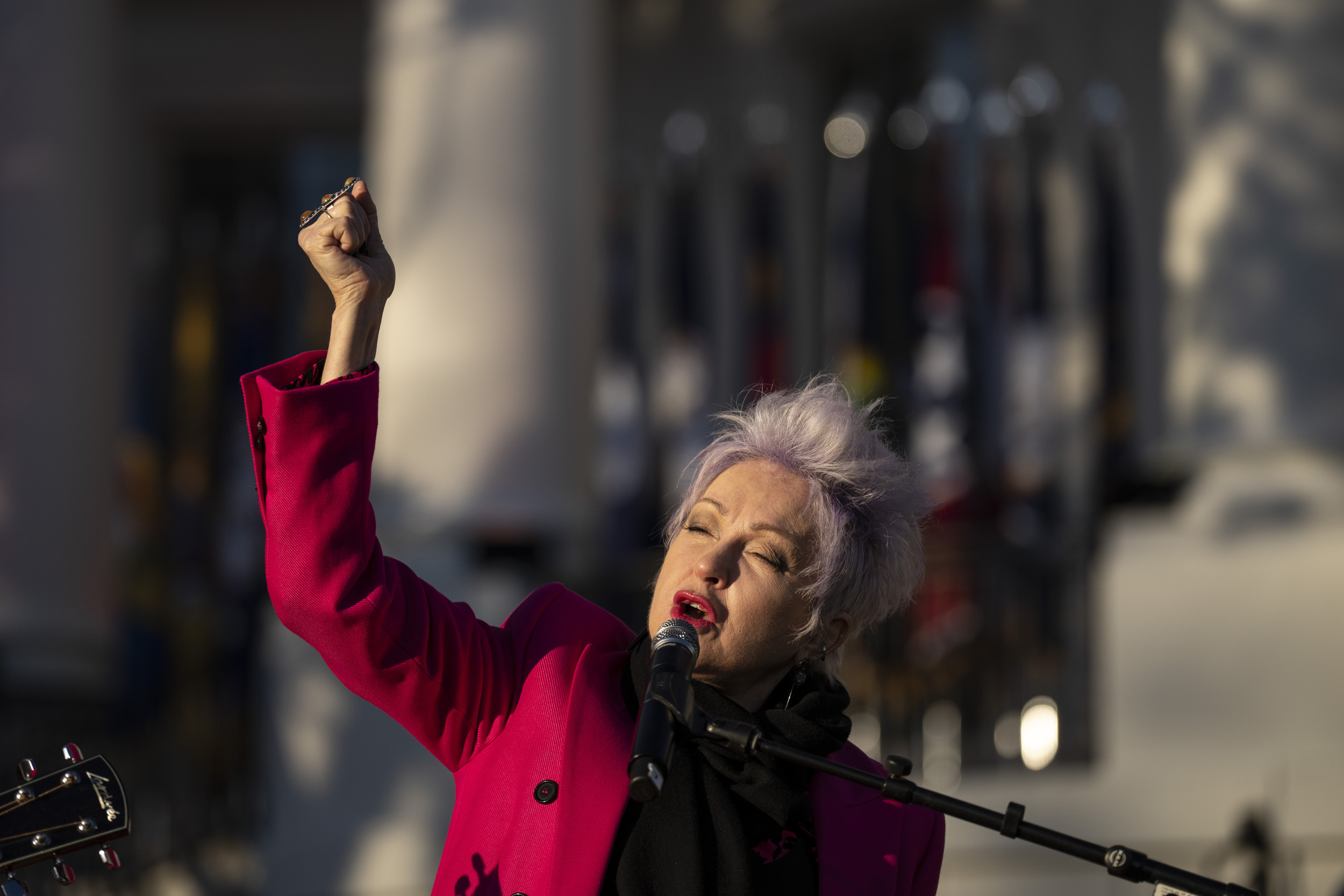 Two-time Grammy Award-winning singer and activist Cyndi Lauper on Tuesday afternoon appeared at the White House to deliver a performance shortly before President Joe Biden signed the Respect for Marriage Act into law.
"Well this time, love wins," Lauper said before diving into her 1980s hit song "True Colors" on the South Lawn.
Earlier in the day, White House press secretary Karine Jean-Pierre brought Lauper into the briefing room to speak with reporters about the bill. Jean-Pierre said the bill-signing ceremony marked a "truly historic moment for marriage equality" and introduced Lauper as an artist who has advocated for the LGBTQ community "for decades."
Lauper began her brief remarks to reporters by thanking Biden, Vice President Kamala Harris, House Speaker Nancy Pelosi and "all the advocates" who helped move the bill forward.
With the bill's signing, "We can rest easy tonight, because our families are validated," Lauper said.
"Because now we're allowed to love who we love, which sounds odd to say," Lauper continued. "But Americans can now love who we love. And bless Joe Biden, and all the people that worked on this, for allowing people not to worry, and their children not to worry, about their future."
Shortly after the press briefing, the White House Press Office estimated about 5,300 guests gathered on the South Lawn to watch the bill-signing ceremony. Senate Majority Leader Chuck Schumer and Pelosi delivered remarks on the bill. After they spoke, singer Sam Smith took the stage to perform his Grammy Award-winning song "Stay With Me." Lauper appeared onstage after Smith for her performance.
When it came time for Biden to speak, he began his remarks by saying it was "a good day."
"Marriage is a simple proposition: Who do you love, and will you be loyal to that person you love? It's not more complicated than that," Biden said. The Respect for Marriage Act "recognizes that everyone should have the right to answer those questions for themselves without the government interfering," the president added.
The ceremony ended with Biden signing the bill into law.
Lauper said the day was "about families" in a press release shared with Newsweek Tuesday evening.
"LGBTQ and interracial couples can go to sleep tonight knowing that their families are safe and sound," Lauper said. "I am honored to help celebrate the generations of activists who bravely fought to make sure that love wins in the end. Thank you to President Biden, Vice President Harris, Speaker Pelosi and the Senators and Representatives in Congress for your leadership and putting aside partisan divides to ensure this fundamental right. Now, Americans can love who they love."
The Respect for Marriage Act passed in the House of Representatives with bipartisan support over the summer. Supporters of the bill in the Senate said they delayed a vote on the legislation until they could ensure they had enough votes on both sides of the aisle for passage.
The Senate held a final vote on an amended version of the bill on November 29. It passed by a 61-36 vote. The bill then went back to the House for approval, where it again passed with bipartisan support before heading to Biden's desk for his signature.
Updated 12/13/22 at 7:57 p.m. ET: This story has been updated to include additional comments from Cyndi Lauper.