Donald Trump Jr. Complains That Left Boosts Right-Wing 'Lunatics'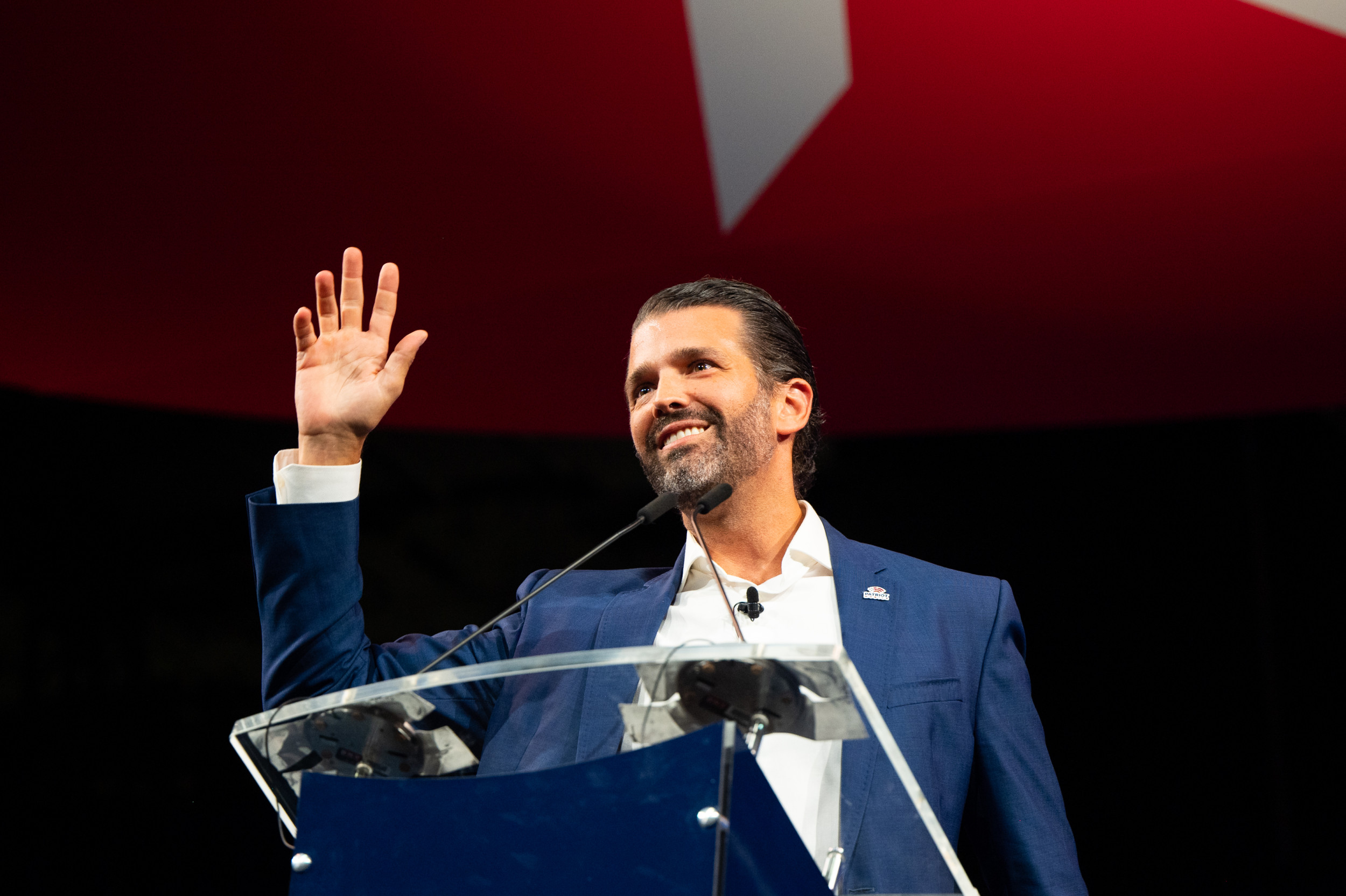 Donald Trump Jr. said Sunday during a fiery speech at AmericaFest in Phoenix that left-leaning critics highlight "lunatic" conservatives to make them look unhinged.
The son of former President Donald Trump joined several other prominent Republicans, including Colorado Representative Lauren Boebert and conservative commentator Candace Owens, on the lineup for the four-day event.
AmericaFest is hosted by right-wing organization Turning Point USA and was founded by conservative activist Charlie Kirk.
The former president's son elicited cheers from the crowd when he took the stage. Early in his speech, he said he was long labeled a "conspiracy theorist" because he believed that Twitter was "manipulating the algorithm."
Earlier this month, independent journalists worked with Twitter's new owner, Elon Musk, to release clusters of internal communications under the banner "Twitter Files." Conservatives say it proves that the company's pre-Musk leadership was censorship-happy.
Trump Jr. then alleged that critics have also attempted to cancel him because he's an "effective communicator."
"I'm so shocked that people who are effective communicators, people who are willing to engage in the insanity that we are up against, of course those are the ones they shut down," he said. "You know who they put—the people who can't articulate a point, who look ridiculous, those are the people on the right."
He continued: "We all have our lunatics. They'll boost that to make it seem like that's the fight, between the one rational leftist and the lunatic rights. They've been doing this forever. Now we see it. But what's perhaps the best is watching the reaction of the insane leftists right now, when they're now on at least a seemingly level playing field for the first time in history. Now, now they don't want free speech anymore because they can't compete on the issues. They never could."
The end of Trump Jr.'s speech drew rapturous applause from the crowd, with conservatives on social media tweeting out praise. However, his remarks also drew some criticism.
"Wait … Junior considerers himself an articulate and effective communicator … ummmm?" Twitter user @IsItOverYeti asked.
Congressman Ted Lieu, a California Democrat, sarcastically tweeted that he was pleased to see Trump Jr. recognize that Twitter "boosts conservative accounts over liberal accounts." He included the link to a Salon article about a study that found conservative voices rather than liberal ones are amplified by Twitter's algorithm.
During his own speech on Saturday, Fox News' Tucker Carlson said he was "so grateful" that Trump Jr.'s father ran for president in 2016, and also slammed politicians as "weird" because they "crave the adulation of strangers."
Newsweek reached out to The Trump Organization for additional comment.