Fox News' Geraldo Rivera Praises Biden's Ukraine Trip: 'Bravo'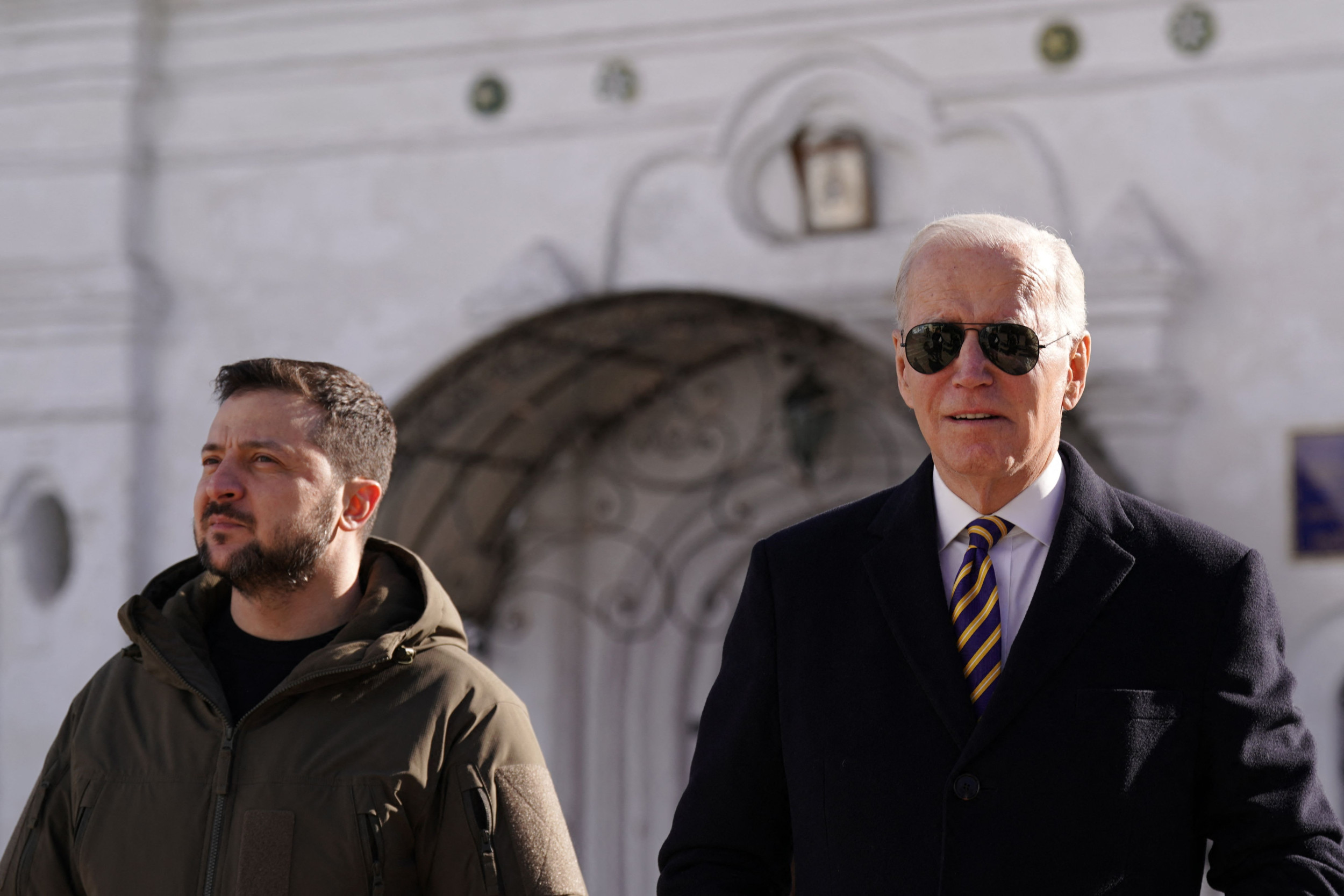 President Joe Biden received rare praise from a Fox News contributor, for his surprise trip to Ukraine.
Biden made the unannounced trip to Kyiv, Ukraine's capital, on Monday, arriving via 10-hour train ride from neighboring Poland. During the five-hour visit, he spoke extensively about the Russian invasion with Ukrainian President Volodymyr Zelensky, paid tribute to fallen Ukrainian soldiers and gave an address reaffirming U.S. commitment to supporting the country's war effort.
Biden's visit was broadly well-received back home, with some expected backlash from right-wing figures, often reiterating past claims that Biden was putting other nations' needs ahead of America's. One surprising source of praise, however, came from journalist Geraldo Rivera, a longtime contributor to Fox News, which has long maintained an antagonistic relationship with Biden.
In a tweet from Monday, Rivera offered a short but glowing message to Biden, praising his visit to Kyiv: "Bravo Biden stand and deliver."
Rivera has been a frequent contributor to the conservative news network for over 20 years, first joining shortly after the September 11, 2001, terrorist attacks in New York City, as a war correspondent. While identifying politically as a Republican, he has over the years taken more moderate stances on certain major issues, including his support for gay marriage and common-sense gun control. He also opted not to vote for Donald Trump in the 2016 presidential election, and later said that he would not do so in the future due to his derogatory comments toward Mexican people.
While mostly well-received in the U.S., some prominent Republicans still found reasons to criticize Biden for the Kyiv trip. Marjorie Taylor Greene, the far-right Republican representative from Georgia who has consistently supported the end of aid to Ukraine, derided the president as a "fool" for making the trip and called for his impeachment.
"Biden didn't go to East Palestine, Ohio on President's Day. He went to Ukraine, a NON-NATO nation, whose leader is an actor and is apparently now commanding our United States military to world war," Greene wrote in a tweet. "We must impeach this America Last fool before it's too late."
Florida Governor Ron DeSantis, considered a major future contender for the 2024 GOP presidential nomination, also alleged that Biden was "neglecting" issues in the U.S. by making the trip.
"We have a lot of problems accumulating here in our own country that he is neglecting," DeSantis said during a Fox News appearance, later invoking the president's alleged inaction on domestic border security, a common GOP talking point.
Newsweek has reached out to the White House for comment.