George Santos Seems to Have Found a Friend in Kyrsten Sinema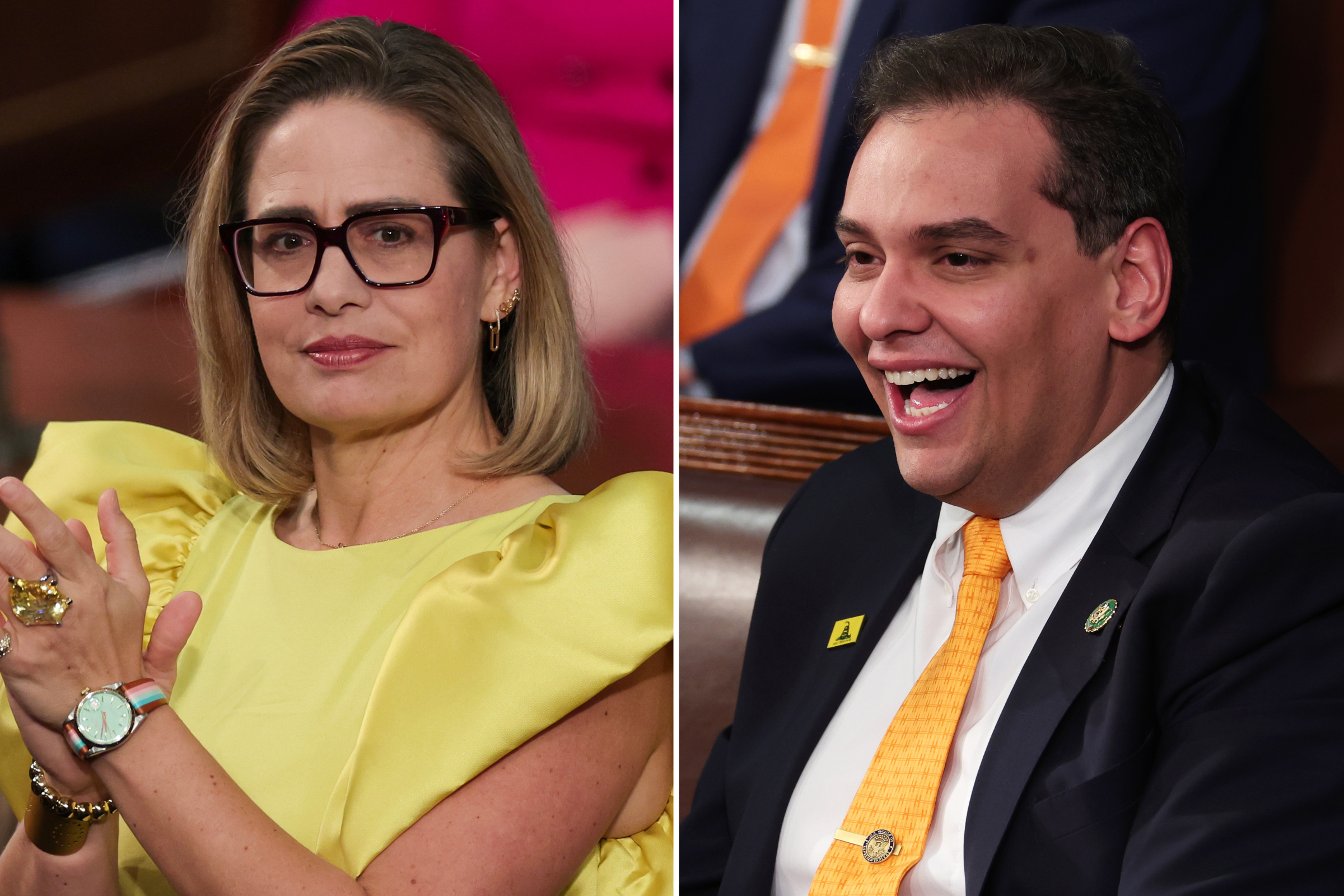 Embattled New York Representative George Santos appears to have found an ally in Arizona Senator Kyrsten Sinema, an independent, according to an interview with Newsmax Thursday evening.
Santos has faced repeated calls to resign from his freshman position in Congress after a series of scandals since he was elected in November's midterm. The Long Island Republican is accused of violating campaign finance laws, was discovered to have lied about large parts of his resume and faces a sexual assault allegation from a former volunteer working at his congressional office.
During the congressman's interview with Newsmax host Greg Kelly on Thursday, Kelly questioned Santos on his recent tiff with Utah Senator Mitt Romney during President Joe Biden's State of the Union address Tuesday night. Romney, a former Republican presidential candidate, reportedly told Santos, "you don't belong here," while he was attempting to mingle with other members of Congress before Biden's arrival.
While Romney has said that he didn't hear what Santos said in response to his flak, the New York representative told Newsmax on Thursday that he shot back at Romney, saying that he was "not meant for television."
"But I can tell you one thing, he did hear me," Santos added.
According to Santos' reenactment of the incident, Sinema passed by him around the same time Romney spoke out, and "said something to the effects of 'hang in there, buddy,' or something like that."
"I said, 'Thank you, thank you, Madam Senator," Santos continued to Kelly. "She was very polite, very kindhearted as I've learned to see her."
"She's a good person, unlike Mr. Romney, who thinks he's above it all and is an all-mighty white horse trying to talk to us down on morality," he added.
Sinema, who has served as Arizona senator since 2019, announced in December that she was leaving the Democratic Party to become an independent. Her departure sparked outrage online, especially after she was pictured dining with Speaker of the House Kevin McCarthy, a Republican from California.
The Arizona senator has one of the lowest approval ratings in Congress, according to a poll published in January by Morning Consultant, which found that 50 percent of Arizona voters disapprove of Sinema's job performance after she switched parties.
The same poll found Sinema did see a spike in approval from independent voters, rising from 29 percent before leaving the Democratic Party to 42 percent afterward.
Santos has faced calls to resign from office across both political parties, including from Republican leaders in his own district. A Siena College poll published in January found that 59 percent of voters believe he should step down due to the scandals.
Newsweek has reached out to Sinema's office for comment.