How Six Ordinary Ukrainians Have Lived Through the War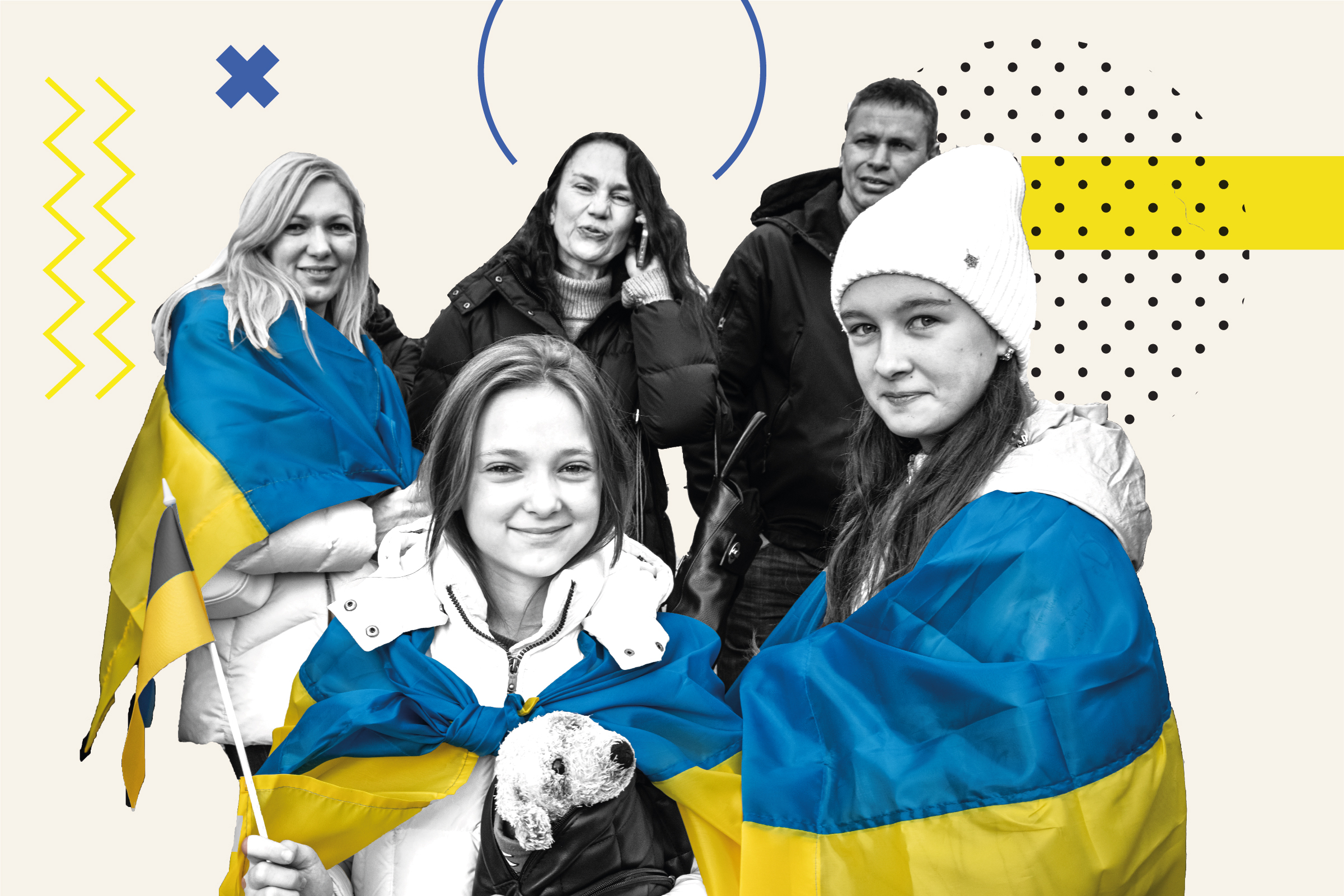 Fleeing her burning apartment block, Olena Vlasenko held her one month-old daughter Maiia tightly to protect her from the ash in the air. Alongside was her husband with a cradle.
Only four weeks earlier, she had begun the adjustment to motherhood.
"The start of the month was probably the happiest moment of my life," she said about the birth of Maiia in February, 2022, who weighed only two kilograms when she was born. "Everything changed on February 24."
After Russian troops invaded Ukraine, she and her husband had thought it better to stay in her parents' newly renovated sixth-floor apartment in the village of Mila. Explosions in the neighboring Kyiv region cities of Hostomel, Irpin and Bucha seemed distant.
Also, her extended family hoped their home offered refuge, even if the windows shook from the noises of war and power for heating or cooking was non-existent.
But come March 3 they could see from their window a convoy of Russian tanks in front of their building. Tank guns were trained on the glass covering the block's stairwell and Ukrainian territorial defense troops tried to get residents out.
Olena heard the screams of their neighbors living one door to their right whose apartment had been struck by tank fire.
"Our ceiling immediately started to collapse," Olena said. "I ran into the hallway holding my daughter and it was really scary."
Amid the tumult of their race to safety, Maiia fell asleep.
"She was still sleeping two hours later, even when we reached the shelter," Olena recalled. "I didn't wake her up for feeding because everyone was so stressed."
"I was scared that maybe I somehow injured or smothered her, but she was just in such a strong sleep," she said.
Olena and her family headed out of Kyiv to the west of the country past burnt out vehicles and with the Russians targeting the road they were traveling on. They ended up in Cologne, Germany on March 8 but knew they had to go back home eventually.
Now renting in Kyiv, they hope to be able to move back into their own apartment thanks to the UNITED24 fundraising platform, which was launched by Ukrainian President Volodymr Zelensky in May 2022.
In January, the platform's Rebuild Ukraine program was launched in Irpin and it will restore 18 buildings in the Kyiv region, allowing more than 4,200 people to return to their own homes.
Formerly a PR manager and now working in education training, Olena turns 27 on February 28, but she is unlikely to celebrate. Her daughter may not have been awake during the turmoil of their initial escape, but sleep is hard to come by for her now.
"I really hope that it will be over before she grows old enough to understand," she said. "Our daughter is a real salvation for us."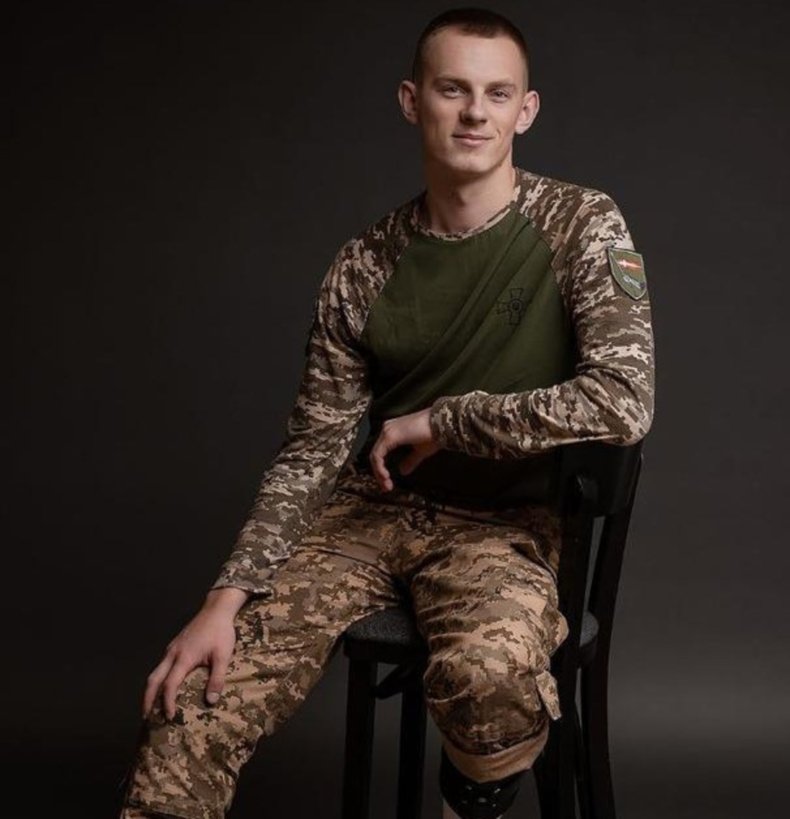 'I was in shock'
Konstantyn Kopelyuk knew his foot was injured when a missile hit the trench he was in.
"The first few minutes I was in shock so I didn't feel anything but then the pain was increasing and increasing and nothing was helping it," he told Newsweek.
It was the night of July 31 and the 23-year-old soldier was in Donetsk Oblast.
"I asked the guys 'is my foot there?'" he told Newsweek, "In that exact moment nothing else was going through my mind because we were still under fire."
Konstantyn ended up in a hospital in the Lviv region in the west of Ukraine. The initial recommendation was for him to undergo an amputation below the knee. But one doctor insisted that he should only have his foot amputated and that prosthetics could help him.
Then the Protez Foundation, a non-profit that has helped around 50 Ukrainians who have lost limbs in the war to get prosthetics in the U.S., offered Konstantyn a road to recovery.
At the end of December, he was flown to Minneapolis, Minnesota, where he was given a partial foot filler. Part of the recovery process involves the use of OneStep, an app in which Konstantyn's gait can be monitored remotely via a smartphone, allowing his progress to be assessed and treatment plans to be adjusted if necessary.
After returning to Ukraine, he underwent further rehabilitation and says he can walk all day on the prosthesis without discomfort. He is awaiting medical advice over whether or not he can return to the front line.
"What the doctors who will examine me when I pass the military medical commission will say, I cannot say, but I can say with confidence that I will not resign from the army, and if I do, I will continue my service in other forces," he said.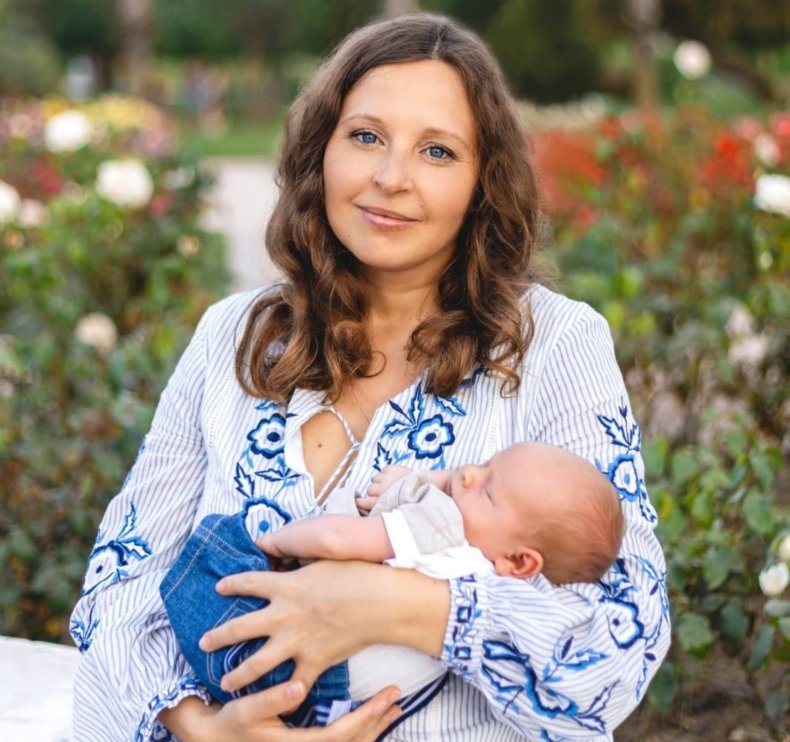 'It was like the end of the world'
Kateryna Glubochenko had been hearing fireworks in her dreams before her husband woke her up on February 24, 2022, to explosions outside.
"He was very pale. He said it was the beginning of war," she told Newsweek.
From preparing for their second child due in just over two months, a completely different future suddenly confronted the couple and their 10-year-old son, Andrii.
After grabbing essentials, they raced outside and headed to a bomb shelter amid the sounds of sirens and further blasts.
"It was like the end of the world," she said.
The constant howl of sirens and explosions in their home city of Mykolaiv triggered an anxiety disorder in Andrii that he is still struggling with. The family spent a week underground, not knowing when they could emerge safely.
After a week, Kateryna, 29, decided it was best to get her and her son out of the country. Her husband had to stay to fight but Kateryna and Andrii went to Odesa and from there, drove to the border with Moldova and walked across. Making their way to neighboring Romania, they subsequently flew to Valencia, Spain, where she gave birth to Vasyl.
By June, she had decided it was time for her and her sons to return to Ukraine even if ongoing hostilities meant they could not immediately go to her home city. As they rented an apartment in the Ukrainian capital there was a degree of normalcy.
But in October, Russia changed tactics and stepped up air attacks on civilian and energy infrastructure, which was too much for her eldest son.
"It was not an option to live in Kyiv anymore," she said.
Before the full-scale invasion, Kateryna worked full time at the V.O. Sukhomlynskyi National University of Mykolaiv. In the first few months of the conflict she continued to study for a Master of Education degree via the American online institution, University of the People (UoPeople), a course she had begun in 2018. She graduated in June.
"I used my studies to distract me from the awful invasion," she said. "Our university was destroyed and I don't know how we will work after the war."
Despite this, Kateryna remains optimistic.
"I believe we will rebuild our country and all our university facilities as well—I believe in our victory," she said.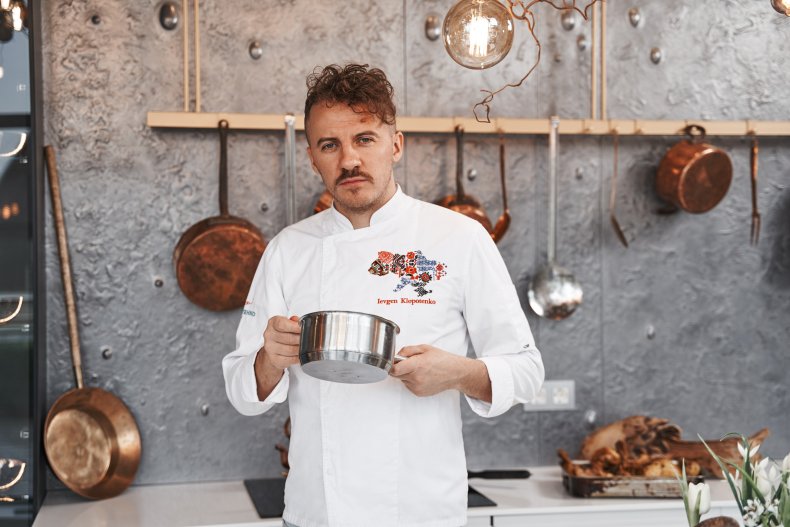 Food that saves lives
Renowned Kyiv chef Ievgen Klopotenko only shut his restaurant 100 Rokiv for three days when the Russian forces invaded. Uncertain of what would come next, he and his staff knew that they had to use their skills in whatever way they could.
His restaurant reopened as a military canteen and for three months his team served up to 1,500 people a day.
"It's a huge amount of food for my small kitchen," he told Newsweek.
Its ground floor location meant the premises also acted as a bomb shelter when the city's sirens sounded, which still happens at least twice a day.
Ievgen, 35, headed to the western city of Lviv where he set up a canteen that continues to feed hundreds of refugees daily.
From serving award-winning cuisine to discerning diners to feeding troops and refugees simply needing sustenance gave Ievgen an understanding of the true value of food.
"My attitude changed because I understood high-level food is more like a game and during that moment, I just didn't want to play this game anymore," he told Newsweek. "I just wanted to provide food for people because they need it.
"Food started to do the function for what it was created for—saving lives."
There was no shortage of volunteers to work in his kitchens, which in many cases were providing for those who had not eaten for days. Even though his team did not know each other to start with, soon "our unity was at its highest level."
A champion of Ukrainian cuisine, Ievgen, spearheaded a campaign to persuade UNESCO to put Ukrainian borscht on its list of world heritage assets.
Ievgen has always sourced ingredients from around Ukraine but now his purchase of regional products for Rokiv 100 provides vital revenue for farmers struggling in a wartime economy.
"Every rocket, every piece of awful news, pushes me," he said. "I'm trying to change this angry energy into an energy of peace."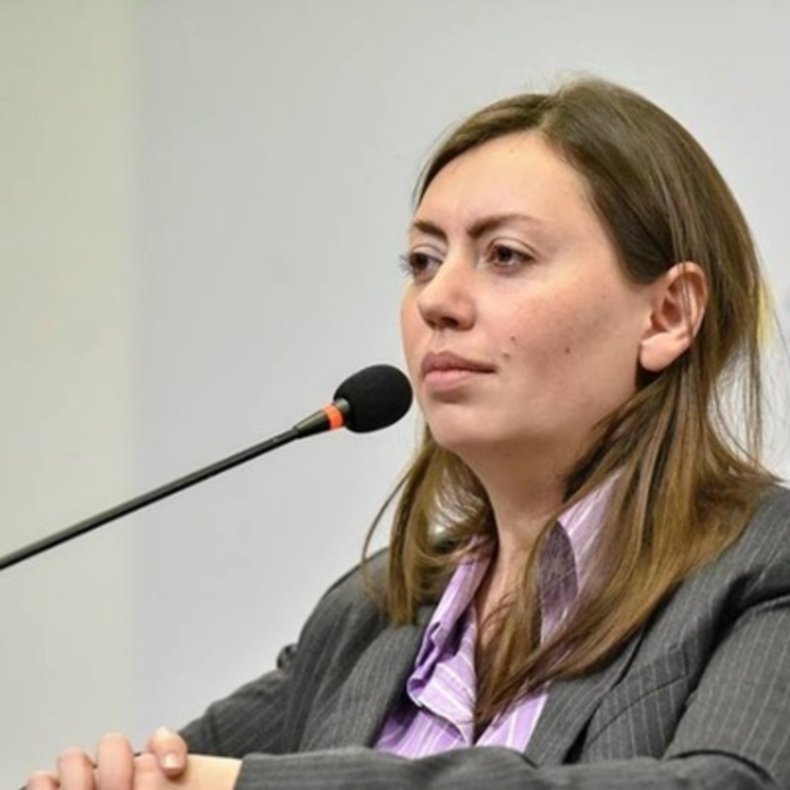 'It's very difficult.'
On February 24, 2022, Marta Pyvovarenko was sick in bed with COVID. She had to get moving again quickly.
As a psychotherapist she had already been working with traumatized Ukrainian soldiers for eight years.
"For me, the war started in 2014," she told Newsweek, referring to the year that Russia annexed Crimea before the Donbas conflict that preceded 2022's full-scale invasion of Ukraine.
Marta is a quality assurance expert for mental health and psychosocial support services (MHPSS) at the NGO Community Self Help, which was formally founded at the end of 2021, less than two months before Vladmir Putin launched his latest invasion. The idea of Community Self Help started in 2015, when the Development Foundation was promoting NGOs across Ukraine with U.S. Embassy support.
Its tasks now include obtaining first aid kits and medical supplies from the western city of Lviv for Ukrainian forces throughout the country.
Many Ukrainian troops that she had helped give psychological support to have ended up being killed on the front line.
"We don't keep a count of how many of the veterans or soldiers that we work with have been killed," she said. "It's something we find out about anecdotally, either from their family members, or from their brothers in arms who are still fighting on the front."
"It's very difficult," she added.
Marta has been dealing with harrowing accounts of trauma from Ukrainian troops for a long time but it was last year's full-scale invasion that has revealed them to the rest of the world.
"I am working with the same kinds of difficult cases that I have done for all these years," she said. "It is because the Ukrainian army was able to liberate territories that were under Russian occupation that the international community has found out about the degree of torture and murder and rape that happened there."
Marta said the areas that remain under Russian occupation harbor stories of torture that have not yet come to light. She also noted that the World Health Organization's (WHO) warning that 10 million Ukrainians are at risk of acute stress, anxiety, depression and post-traumatic stress disorder shows the war's long term consequences.
"Many people in a long-term war will have mental health problems," says Marta.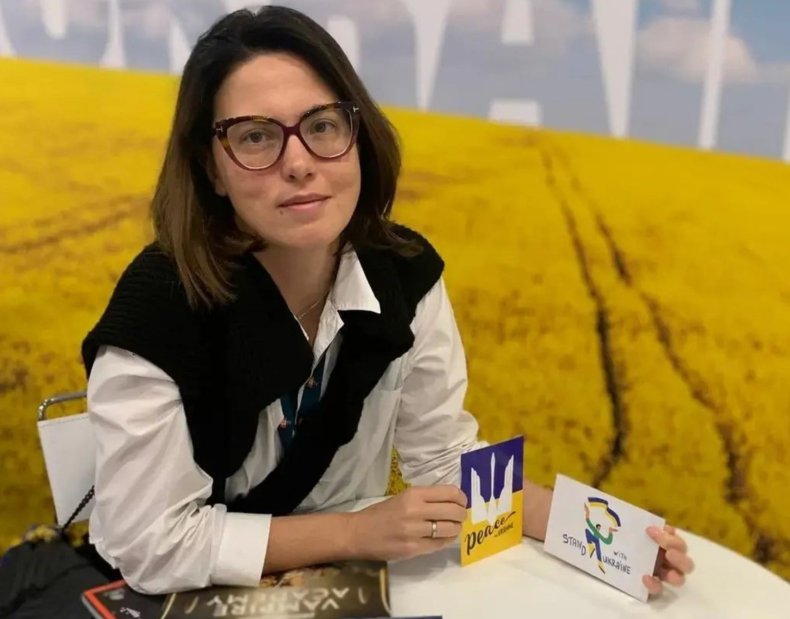 Expressing Ukrainian identity
Vladimir Putin's full-scale invasion of Ukraine has given Kyiv-born television producer Daria Leygonie-Fialko a new purpose.
"Something which is very important for each Ukrainian is to speak about our identity," she told Newsweek from Paris where she is based. "Somebody is trying to really destroy that."
Part of that mission involved co-founding the Organization of Ukrainian Producers (OUP) with other film and TV producers and media executives to make films that showed what their country was going through.
Co-founder of the production company Space, Daria had spent a decade and a half making comedy, detective and drama programs. Filming during a time of conflict presented a new range of logistical difficulties.
A project filmed in Kyiv called Art and War had to constantly be stopped while it was being shot because of bombings and power outages caused by Russian strikes.
"You have to suddenly go to the bomb shelter to hide or when the electricity stops, you have to switch on the generating machine," she said.
Another production filmed in a forest near Boryspil Airport in the Kyiv region required a careful de-mining operation before shooting could begin. Directors, actors and production staff can be filming one day and then going to the front line to fight against Russia the next.
In the first months of the war, OUP concentrated on documentaries about the conflict but new projects will include investigations. The group will also produce fiction and recommission programs that were shown before the invasion.
"We also need to give people the opportunity to just to have pure entertainment," Daria said.
One project that provided such escapism between 2011 and 2012 was the dance show Maidan's, on which Zelensky was a producer, when he was a fixture on Ukrainian television screens for very different reasons.
"What I can say about him in the past was that he has always been extremely charismatic," she said. "And this is the way he is now and what he's doing as a president is incredible."