In Memphis, hopes and challenges of Black middle class collide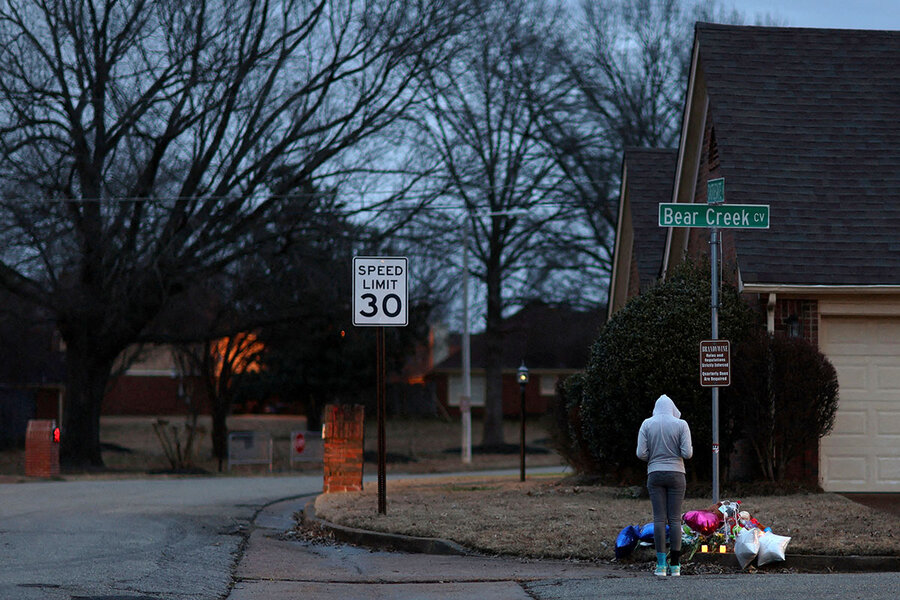 The two Hickory Hills sit on either side of 6100 Winchester Road. 
On one side is New Direction Christian Church, a ministry central in community organizing. Here, in a building deeded by a closing retailer, 1,000 residents worship each Sunday.
On the other is the Hickory Ridge Mall, once home to 100 stores but now nearly vacant. Inside, elevator music plays from loudspeakers like a call eternally on hold. 
Why We Wrote This
Tyre Nichols was beaten in Hickory Hill, once a magnet for Black middle-class families seeking a suburban life. Now, it's hanging on, pointing to the forces that affect such neighborhoods' ability to thrive.
The intersection is only a few miles away from Power Center Academy, one of the city's best charter schools. And it's only a few miles away from Castlegate Lane, a street surrounded by two-story brick homes, tidy lawns, and cul-de-sacs, now marked by a shrine of flowers. It's where police fatally beat Tyre Nichols.
Hickory Hill is a sprawling area in southeast Memphis where middle-class life and managed decline line up on the same block. The contrast, sometimes feeling like two different neighborhoods altogether, speaks to something more systemic: the challenges many Black middle-class communities face around the country.
The story of Hickory Hill is the story of white flight, Black resettlement, disinvestment, and gradual decline. For decades, white residents left their neighborhoods out of a refusal to integrate, and middle-class Black residents replaced them, in pursuit of lower crime and better schools. This cycle opened up a corridor of transience across South Memphis, where many Black families – with less inherited wealth than their white counterparts – uprooted from their old communities but struggled in new soil.
Across America, post-white-flight areas are known for their instability. But instability can become free fall in Memphis, where the Black poverty rate is 26.5% and the government often fails to meet residents' needs. Hence a Hickory Hill today with a reputation for crime and poverty but with vastly different outcomes. In some areas, the median income is $91,000; in others, it's $21,600. 
Mr. Nichols' death portrayed a neighborhood in decline. But Hickory Hill is a neighborhood in transition. It's neither in its heyday, nor, as outsiders once nicknamed it, "Hickory Hood." The question here and in many Black middle-class communities elsewhere is whether it can be something else altogether. 
"If you drive through here, you see evidence of a once-flourishing community," says Dr. Stacy Spencer, pastor of New Direction Christian Church. "There is a hint of what used to be, and the promise of what can be."
Eastward expansion
Seventy years ago, Hickory Hill was little more than scattered farmland and cotton fields. But by the 1950s, the Memphis area had entered a postwar building spree. A line of neighborhoods built for manufacturing and warehousing workers began marching farther and farther east. Then, it arrived in this corner of Shelby County. 
The Hickory Ridge Mall opened in 1981. Retailers, grocery stores, and department chains entered formation around it, a suburban vanguard of strip malls and a Target.
"You see this huge explosion," says Wayne Dowdy, a local historian. "There was a period of time where everybody wanted to live in Hickory Hill."
Meanwhile, the city was incorporating these areas for additional tax revenue. Memphis decided the "key to growth was annexation," says Mr. Dowdy. But many white residents, knowing annexation meant integration, did not want to be a part of Memphis. The city began annexing Hickory Hill in 1987, residents sued, and the neighborhood lost in 1998. 
White residents fled in an exodus. In the decade before 2003, the Black population grew 450% and the white population fell by half.
Such migration patterns were not exclusive to Memphis. 
White flight drove neighborhood change across America throughout the 1960s, says John Logan, a sociologist at Brown University who studies migration and census data. Since the 1980s, Black, Hispanic, and Asian American growth in the suburbs has outpaced that of white Americans, he says.
For many Black families moving into the area, Hickory Hill was an opportunity to enter a thriving middle-class community, with better schools and an active retail economy. 
"For a time, those neighborhoods remain middle class," says Phyllis Betts, a former University of Memphis sociologist who researched the city's neighborhoods, including Hickory Hill. "People have good jobs, and it seems to have succeeded. And then it doesn't."
The decay in Hickory Hill began with the city's failed expansion. Memphis got minimal tax revenue and maximum sprawl. Some 20 miles from City Hall, Hickory Hill received lower-quality services than the rest of the city, says Mr. Dowdy. 
At the same time Hickory Hill was being annexed, the city was also closing thousands of public housing units downtown. The redevelopment project displaced thousands of people, many of whom resettled in the other area of the city with federally subsidized housing: southeast Memphis, in and around Hickory Hill. 
"When I came in 2001 on the heels of that annexation and that white flight, I was handed a community that was destabilized," says Dr. Spencer.
Cycles of transience
The instability seen in Hickory Hill and similar neighborhoods nationwide is partly rooted in the nature of the Black middle class itself. 
Overall, Black families on average hold more debt and fewer assets than their white counterparts, says Rachael Woldoff, a sociologist at West Virginia University. That means far more income goes to rent or mortgage payments, and finances are more vulnerable to shocks like recessions or the pandemic. In 2000, the upper Black middle class – earning above $100,000 – rented at the same level as the core white middle class – earning between $50,000 and $99,000. 
Among the lower Black middle class, which makes between $30,000 and $49,000, people rarely work jobs that require a college degree. They are almost just as likely to rent as they are to be homeowners, writes Karyn Lacy, a sociologist at the University of Michigan, in an emailed response. 
"Many of the rewards associated with middle class stability – a safe neighborhood with coveted amenities, quality public schools, job security – are out of reach for this group," writes Professor Lacy. 
The core of these discrepancies is discrimination. In the postwar era, while subsidy programs like the GI Bill were giving white families a boost into America's suburban middle class, Black families were denied the same benefits. Today, Black Americans face additional barriers to accessing loans or other capital, says Professor Logan at Brown University. 
And businesses, especially in a city like Memphis, are prone to follow white residents. 
"I think they see the demographic shift and they decide, 'Oh, the Black folks moving in don't have any money,'" says Olliette Murray Drabot, a city activist. 
From these steps, a cycle emerges: White flight encourages Black resettlement, but Black resettlement leads to disinvestment and transience. From South Memphis to Hickory Hill, neighborhoods have experienced decades of turnover, almost in a straight line.
Britney Thornton, Shelby County commissioner for District 10, which includes South Memphis, regularly watches her constituents migrate along this path – sometimes in search of federally subsidized housing, and sometimes "as a launchpad to get out to Collierville," a wealthier neighborhood outside the city limits. 
It's not uncommon for students in city schools to report moving four to six times in a single year, she says.
"As long as people see Hickory Hill … as one of many stops that they will make throughout the year because they're just going to float around, then that's going to always disadvantage Hickory Hill," she adds.
From Hickory Hill to "Hickory Hood"
By the early 2000s, columnists in the local newspaper were calling it "Hickory Hood," a nickname that summarizes the reputation often attached to post-white-flight parts of Memphis.
The share of Hickory Hill residents defined as "poor or struggling" by the American Community Survey – whose income is less than twice the 2020 poverty level – is 41.2%. That's higher than the county rate of 38.5%. But tracts vary widely, from 78% to 17.9%.
Of the 90,000 or so residents, more than 83% are Black.
"People see us and they think it's a bad neighborhood," says Ayanna Watkins, executive director of MICAH, an interfaith activist group started by Dr. Spencer. 
As is true throughout Memphis, Hickory Hill residents often feel like crime is a reputation reinforced by outsiders, yet also still a problem that needs solving.
Last year, the neighborhood experienced 717 cases of aggravated assault and 31 murders; both were double-digit drops from 2021. At the same time, passenger motor vehicle thefts increased 111%, consistent with a citywide wave of car-related crime. 
Perceptions can vary widely depending on where you are in Hickory Hill. "If … you live in an apartment community, you think crime is terrible because it is where you live," says Janine Heiner, director of operations at SafeWays, a city crime-reduction group. "But if … you live in a neighborhood of single-family homes, then your perception isn't going to be as bad."
In Memphis, crime orbits low-income apartment complexes, says Ms. Heiner. Those complexes, she says, are disproportionately concentrated in the Hickory Hill area. Crime repels investment, and a lack of investment propels crime. 
Taped on front doors of the Hickory Ridge Mall are signs that loitering and firearms are prohibited. Cedric Horton, owner of Xclusive Hair Extensions, flashes an electric "open" sign near the front window. But his store is locked; to enter, customers must first ring a doorbell.
"I'm not letting you in until I see who you are," says Mr. Horton, who lives in Olive Branch, about 15 minutes south and across the Mississippi border. 
Hope of renewal
But Mr. Horton does open the door. A mother and young daughter walk in, listen to the sound of Dr. Dre's "Still D.R.E." from the speakers, and smell the balmy candle lit on his desk: "champagne toast."
They walk out with a purchase and a bag carrying his trademarked logo, past a table of business cards advertising other stores in the mall and nearby.
"Everybody has their own people that come in," says Mr. Horton, who opened his business in the mall last year because of its affordable rent. Scarce foot traffic aside, he says, customers know where to find him from his social media presence. 
Businesses like his are what some residents hope could bring renewal. 
Along Winchester Road, there's blight in the mall's empty anchor stores. But there are also local businesses. Some, like Ceed Fragrance, expanded by redeveloping abandoned buildings. 
Gestalt Community Schools, which runs the neighborhood charter school, recently purchased an old movie theater, which will be converted into another campus, says Dr. Spencer. The local community development corporation plans to redevelop some 40 acres into affordable housing and retail space. 
"Where other people see trash, we see treasure," he says. "There is this movement among stakeholders to secure property to secure the narrative."
In 2019, MICAH held financial summits in areas where incomes are low but property values are rising, drawing interest from developers. Two took place in Hickory Hill. 
"It was one of those places where if Black and brown people weren't given access to buy property in their own neighborhoods, then outside developers would come in, buy it up from them, and give it back to them as a rental property," she says.
Capital, she adds, is still scarce for poor and Black Memphians. 
MICAH, like much of the neighborhood's other activism, began after 2015, when Darrius Stewart – a Black teenager – was killed by Memphis police on New Direction church grounds after an altercation with an officer. A Department of Justice civil rights investigation determined there wasn't enough evidence to charge the officer. 
The death of Mr. Nichols was another painful moment for the community. It was a reminder to "keep our foot on the gas pedal in terms of justice work," Dr. Spencer says. "It's like [the biblical book of Ezekiel], where it says, 'And that place that used to lie in ruins will now be called the Garden of Eden.'"
Editor's note: This story has been updated to correct the spelling of Britney Thornton's name.