Is New Orleans Mayor LaToya Cantrell the Next Lori Lightfoot?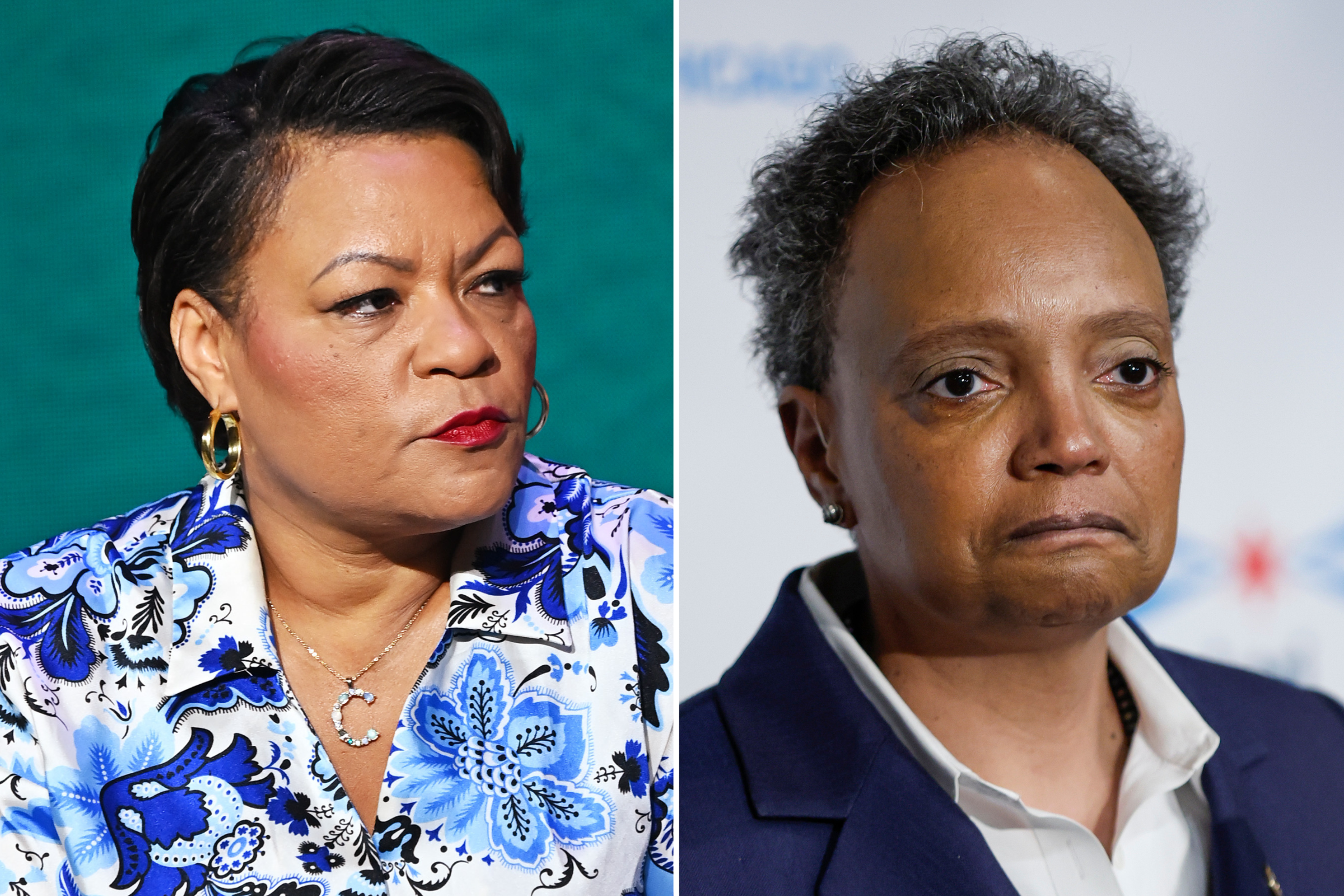 On Tuesday, Chicago's Democrat Lori Lightfoot became the first incumbent mayor in the city to lose her seat in 40 years, finishing third in a primary election that effectively brings to a close an administration marred by persistently high crime rates and policies that alienated many within her own party.
More than 900 miles down south, New Orleans Democrat LaToya Cantrell is potentially facing a reckoning of her own in a deep-blue enclave where she was once welcomed as a rebuke of the city's political order pre-Hurricane Katrina.
Today, the embattled mayor finds herself fighting for her political life as she fends off her own questions about the city's violent crime rates, a hardline approach to addressing the COVID-19 pandemic, and a mounting trash collection crisis in the city her opponents claim was of the Cantrell administration's own creation.
Late last month, an activist group in New Orleans announced it had obtained enough signatures to initiate a recall election against Cantrell ahead of the February 22 deadline, becoming one of the first ballot initiatives in years believed to have gained the momentum necessary to clear the 20 percent threshold of support among registered voters.
That in itself is significant, observers say. And it appears to be picking up steam.
But Cantrell has vehemently denounced the recall push, saying it's "majority-funded by one Republican," with the mayor adding that the effort is "about the disenfranchisement of our voters, particularly Black voters," and is based on "lies and misinformation."
John Couvillon, Louisiana pollster and founder of JMC Analytics & Polling, told Newsweek, "The thing about discontent is, if you have a city where a party is so dominant, like, say in New Orleans and Chicago, that discontent can much more easily express itself to a fellow Democratic challenger, as opposed to a Republican challenger emerging."
And the issues have been piling up.
Several days before the mayor was seen flipping an obscene gesture at hecklers during a Mardi Gras parade last month, the Times-Picayune newspaper in town appeared to embrace the effort, claiming Cantrell should embrace the opportunity to "defend her record, present her vision for the future and let voters know she takes their concerns seriously."
"Given recent events—a frightening surge in crime, road work that seems forever stalled, spotty basic services and a series of controversies surrounding Cantrell herself—New Orleans voters deserve a healthy debate about the city's current and future leadership," the Times-Picayune wrote in a February 15 editorial.
Cantrell has said that the effort was an astroturfed effort by Republicans to remove her from power and disenfranchise the city's voters, claiming in a press conference that the push was "about the disenfranchisement of our voters, particularly Black voters in our community."
"The recall has relied on lies and misinformation," she said Wednesday. "It alleges that it's a grassroots effort but has been a distraction to our voters as it's been majority- funded by one Republican. We need to pay attention because history is playing out."
But Couvillon says Cantrell could have reason to fear a similar fate as Lightfoot. In a heavily Democratic city, the ability to obtain one-fifth of the electorate to oust an incumbent Democratic mayor is all but unprecedented in the city's history, showing sizable discontent within the city's left-leaning—but philosophically diverse—Democratic base.
"This is a natural political happening," Couvillon said. "When we have a party that's become so dominant in a city like Chicago or New Orleans where there's virtually no chance of a Republican ever winning, you're going to have factions inevitably develop."
Whether she maintains the support of a plurality of the vote is an open question. While Cantrell defeated another Black woman to become mayor in 2017, her opponent was considered more moderate and in line with the city establishment while Cantrell—an activist turned politician—at the time appeared to represent the fierce face of resistance favored by liberals during the onset of the administration of former President Donald Trump.
When the dust cleared in that year's elections, Cantrell won an estimated 69 percent of the Black vote in the majority Black city, while carrying approximately 54 percent of the non-Black vote.
However, satisfaction with Cantrell's performance is slipping. An October poll by the University of New Orleans showed just 31 percent of the city's voters approved of Cantrell's job performance, with crime ranking as the city's leading concern. While her job performance was slightly higher among Black voters, her rating was still several points underwater, suggesting real trouble for Cantrell's hopes for re-election.
The primary question now, said Couvillon, is not whether Cantrell could lose, but whether the recall effort can actually be successful. At the moment, the petitioners have not revealed how many signatures they have amid ongoing allegations the city had long-failed to scrub its voter rolls, requiring a potential recall effort to gather a higher level of signatures to satisfy an artificially high number of voters who may no longer be active.
The group appears to have support. On Wednesday, Louisiana Republican Secretary of State Kyle Ardoin announced he would be moving approximately 25,000 names to New Orleans' inactive voter list, effectively reducing the necessary threshold to hold the recount.
With the number of total signatures indefinite, however, Couvillon remains unconvinced the effort will survive challenges by Cantrell's campaign once it becomes time to scrutinize the signatories on the petition.
"I can make equal numbers of arguments about this being a valid recall versus not," he said. "Something like this is going further than I have ever seen before with a New Orleans mayor. It's just the existing physics of what it takes to have a successful recall, the volume of signatures required and the fact that those signatures have to be validated. Those kind of factors make me not 100 percent convinced that the recall will succeed."