Kyrsten Sinema Once Attacked A Top Democrat For Not Supporting Party—Video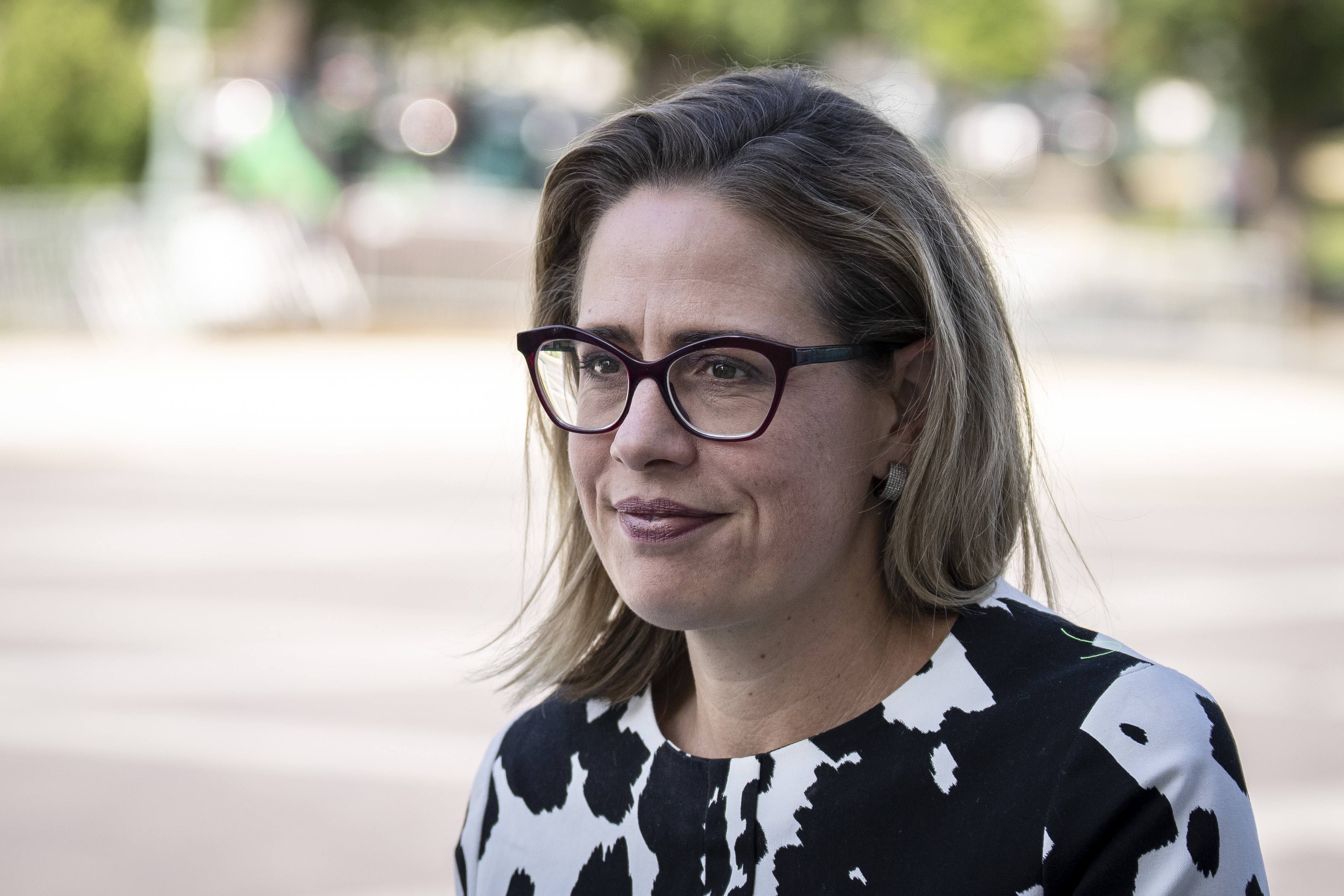 Old footage has reemerged of Krysten Sinema criticizing Joe Lieberman, a former Democratic vice-presidential candidate and Senator, for disloyalty in the wake of her decision to quit President Biden's party.
On Friday the Arizona congresswoman announced she had resigned from the Democrats and will remain in the Senate as an independent, claiming she "never really fit into a box of any political party."
The defection reduces the number of Senators caucusing with the Democrats to 50, though Sinema insists "nothing will change about my values or my behavior."
However, footage has emerged of Sinema taking a potshot at Lieberman for disloyalty after the Democrats lost a Massachusetts Senate seat in early 2010 under Barack Obama, taking their total number of Senators from 60 to 59.
In the footage Sinema, speaking in front of an American flag, says: "Well in the Senate we no longer have 60 votes.
"Some would argue we never had 60 because one of those was Joseph Lieberman. Whatever. And Nelson too, but really Lieberman.
"So now as I think the president so eloquently said on Wednesday there's none of this pressure, this false pressure to get to 60, so what that means is that the Democrats can stop kowtowing to Joe Lieberman and instead seek other avenues."
Lieberman, the Democrats vice-presidential candidate in 2000, lost a Senate Democrat primary in 2006 following his outspoken support for the Iraq War. Despite this he went on to secure re-election as a third party candidate, and was listed as an Independent Democrat in the Senate.
Following re-election Lieberman became known for his independent streak, endorsing John McCain for president in 2007 and speaking at the 2008 Republican National Convention.
The video was posted on Twitter by Kaivan Shroff, a political commentator who describes himself on the site as a "proud Democrat."
Schroff added: "Here's hypocrite sellout Kyrsten Sinema bashing Joe Lieberman for doing exactly what she is doing now.
"Lieberman similarly switched from Democrat to Independent while in the Senate (Lieberman basically became the #1 Senate troll, blocked progress, and faded into irrelevance)."
The clip was widely shared by progressive activists, and has received over 375,000 views.
Sinema faced backlash from her former colleagues after announcing her defection, with one former Democratic legislature branding her "the worst kind of hypocrite."
However left-wing New York Democrat Alexandria Ocasio-Cortez welcomed the decision, tweeting: "Not once in this long soliloquy does Sinema offer a single concrete value or policy she believes in. She lays out no goals for Arizonans, no vision, no commitments.
"It's 'no healthcare, just vibes' for Senate. People deserve more. Grateful this race & nomination has opened up."
An October 2021 Data for Progress poll found Sinema had the "highest unfavorability rating of any elected Democrat tested" in the state of Arizona.
Krysten Sinema has been contacted for comment.