Lauren Boebert's Dig at Democrats Over Gender Met With Awkward Silence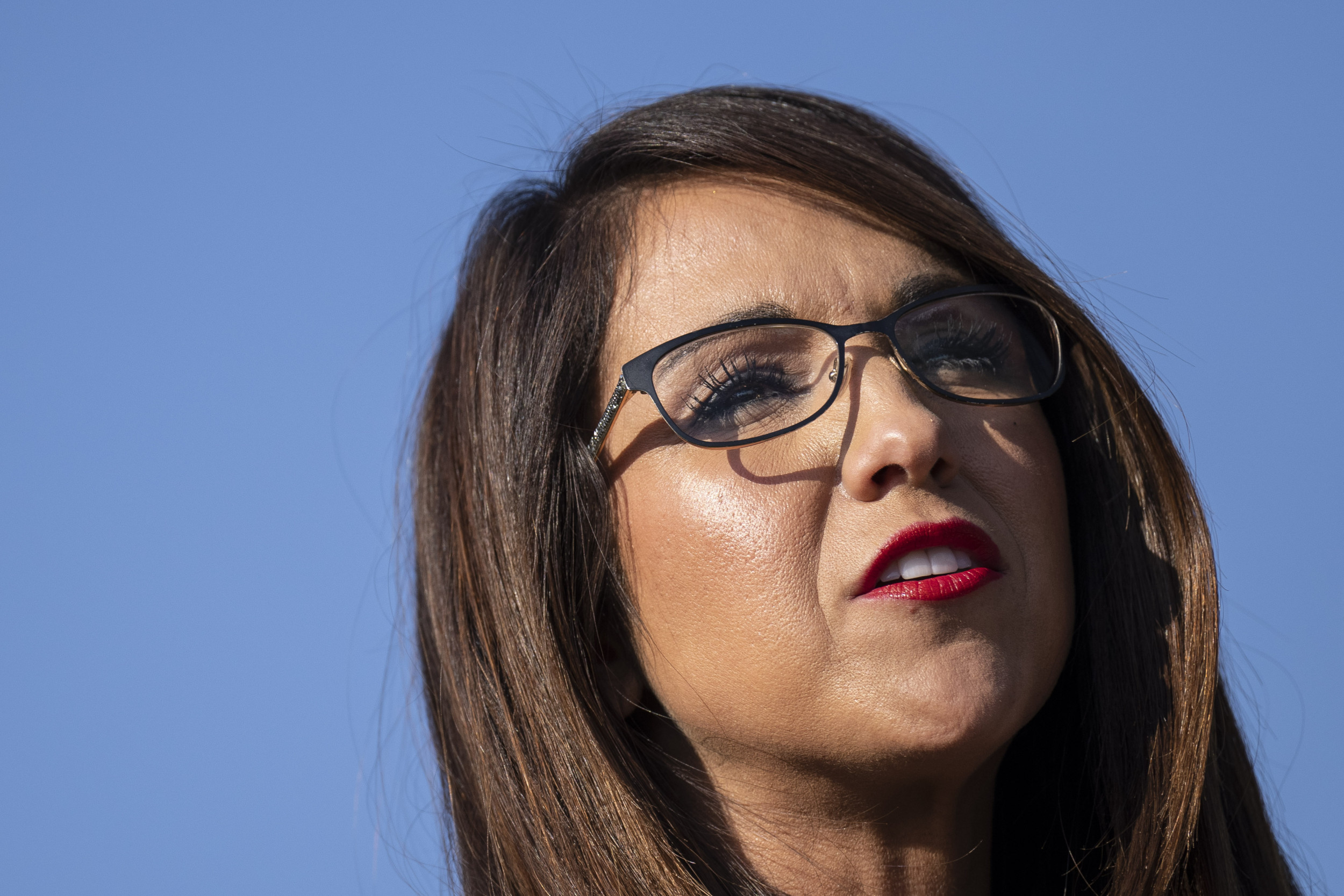 A gender-based joke by Colorado Representative Lauren Boebert recently fell on deaf ears at a conservative event.
Boebert joined Steve Bannon's War Room podcast at Turning Point USA's America Fest 2022 event in Phoenix on Monday. Bannon, accompanied by conservatives Mike Lindell and Jack Posobiec, asked Boebert why she attended the event.
"Our youth are so important and I've said here before: the youth, they're not our future—they are our now," Boebert said.
"What you say right now matters, what you do right now matters, what you are receiving—the information you are receiving—that matters for our country," she added. "I have these four boys, and I'm raising them in the nurture and admonition of the Lord. I'm raising them to be men before liberals teach them to be women."
After her comment, the other three individuals in addition to a group of gathered onlookers stood in silence. Boebert broke the awkwardness by saying she loves America and leaves her family nearly daily to make the country better.
Boebert, who also told Bannon the U.S. is "pretty darn close" to becoming a socialist nation, has been vocal about a proposed $1.7 trillion omnibus spending bill making its rounds around Washington prior to a government shutdown on Friday.
"Killing the $1.7 TRILLION DOLLAR Omnibus bill should be the top priority for all conservatives right now," Boebert tweeted Tuesday. "Engaging in senseless fights doesn't get us any closer to doing that."
This week has also shed more light on what was formerly a perceived alliance between Boebert and another representative with routinely inflammatory comments, Marjorie Taylor Greene.
Both have traditionally been vocal about their allegiance to former President Donald Trump and the MAGA platform, in addition to making a plethora of anti-LGBTQ statements.
A split between the two seems to have occurred due to House Minority Leader Kevin McCarthy and his bid to become the next speaker of the House.
While Greene has expressed her support for McCarthy to take over the gavel soon left behind by Nancy Pelosi, Boebert is one of the conservatives staunchly disagreeing with the notion.
"I've aligned with Marjorie and been accused of believing a lot of the things that she believes in," Boebert told conservative commentator Charlie Kirk on Monday. "I don't believe in [McCarthy as speaker], just as I don't believe in Russian space lasers, Jewish space lasers and all of this. No."
Greene railed on Boebert in return, calling her words "childish" and accusing her of chasing TV sound bites. Boebert is now devoted to "high school drama," Greene said.
"I've supported and donated to Lauren Boebert," Greene tweeted. "[Former] President [Donald] Trump has supported and donated to Lauren Boebert. Kevin McCarthy has supported and donated to Lauren Boebert. She just barely came through by 500 votes."
Greene referenced Boebert's recent reelection victory, which she won by less than 600 votes over conservative Democrat Adam Frisch after predicting a "red wave" prior to Election Day.
Newsweek reached out to Boebert's office for comment.