Lindsey Graham Defies GOP Pushback, Says U.S. Should Go 'All In' on Ukraine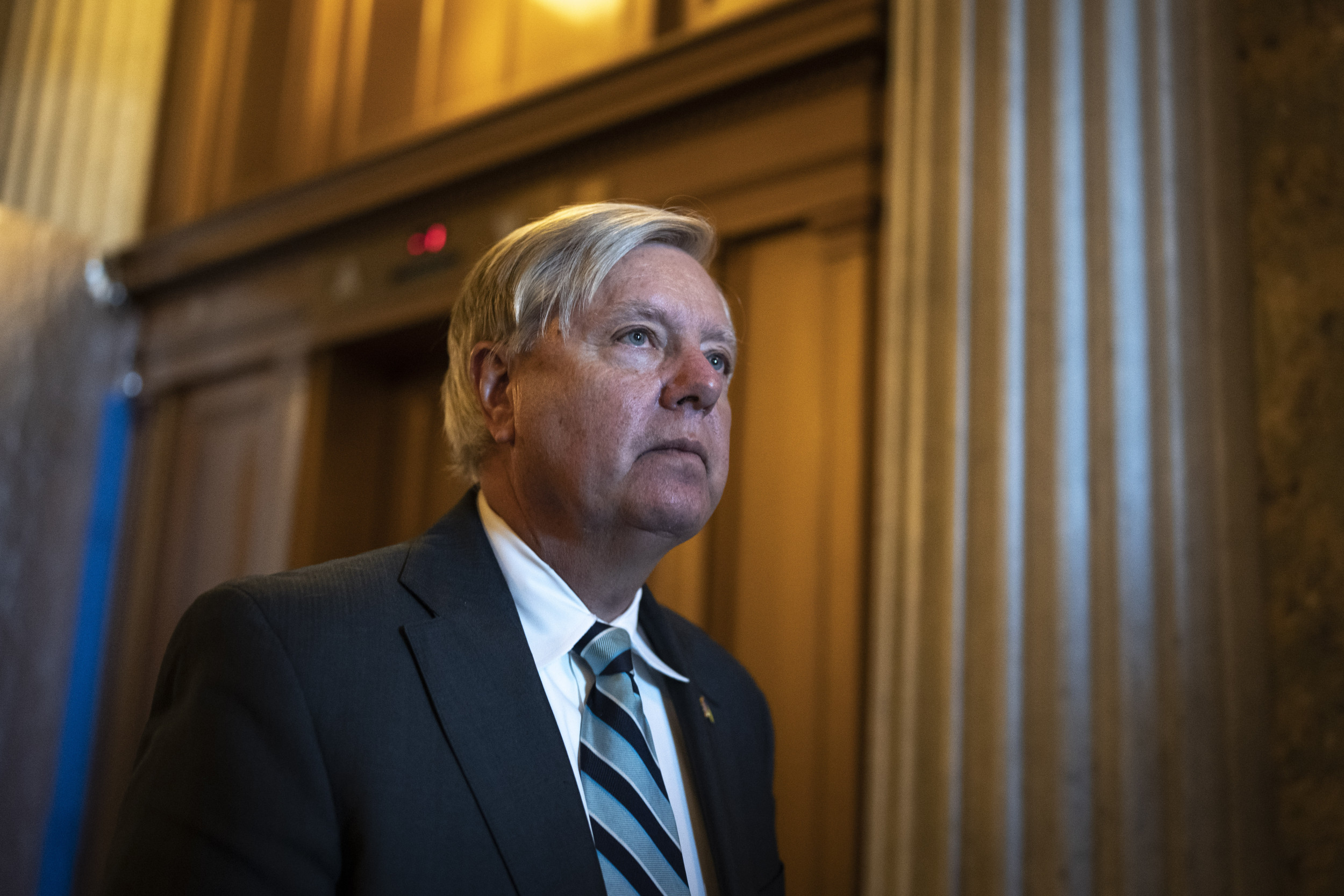 Republican South Carolina Senator Lindsey Graham said that he believes the United States should continue to be "all in" regarding its support of Ukraine, contradicting some of the more conservative members of his own party in Congress.
As of Wednesday morning, the U.S. had pledged $48 billion in aid to the eastern European country this year alone as Ukraine continues to defend its borders from Russian aggression. That total, which includes funds allocated by both the Department of Defense (DoD) and President Joe Biden, doesn't include the additional $1.85 billion announced by the DoD later in the day.
Ukrainian President Volodymyr Zelensky addressed Congress Wednesday evening during his visit to Washington, D.C., likely in efforts to bolster continued support of his country while U.S. lawmakers debate next year's spending bill.
Graham spoke with Fox News a few hours before Zelensky's speech and addressed "to what extent" he believes U.S. funding of Ukraine should continue, saying that he believed the country should be "completely, all in, without equivocation."
"If Putin dismembers Ukraine, he will not stop," Graham continued. "China's more likely to go into Taiwan, the world will unravel, and no domestic problem gets better here at home allowing Putin to destroy Ukraine. Quite the opposite."
Graham's support comes in defiance of other Republican members of Congress who have been continually critical of the U.S. providing aid to Ukraine. Georgia Representative Marjorie Taylor Greene, who has promised to end funding to Ukraine once Republicans take control of the House in January, tweeted ahead of Zelensky's speech that his visit was "absurd." Arizona Representative Andy Biggs also tweeted ahead of Zelensky's visit, calling for "No more blank checks to Ukraine."
On Wednesday, however, Graham called for an increase in U.S. security packages, particularly advocating for increased offensive military capability for Ukraine such as providing longer-range weapons.
"Nobody's dying over here, no American soldiers," Graham told Fox News. "We're spending money, but it's being spent at a good cause, the cause of freedom. So I'm all in, whatever they need as long as they need it."
Other Republican senators have echoed Graham's sentiment, including Senate Minority Leader Mitch McConnell, who suggested on Tuesday that supporting Ukraine's fight against Russia was the "No. 1 priority for the United States right now."
McConnell also addressed the chamber ahead of Zelensky's visit, saying "the plight of the innocent people of Ukraine" was a stark reminder for the U.S. that "global security and national self-determination do not uphold themselves."
"Countries who benefit from global stability need to help deter countries who want chaos," the Kentucky senator said.
Newsweek has reached out to Graham's staff for comment.