Man Stuck With 90 Christmas Cards of Neighbor's Teeth After Photo App Fail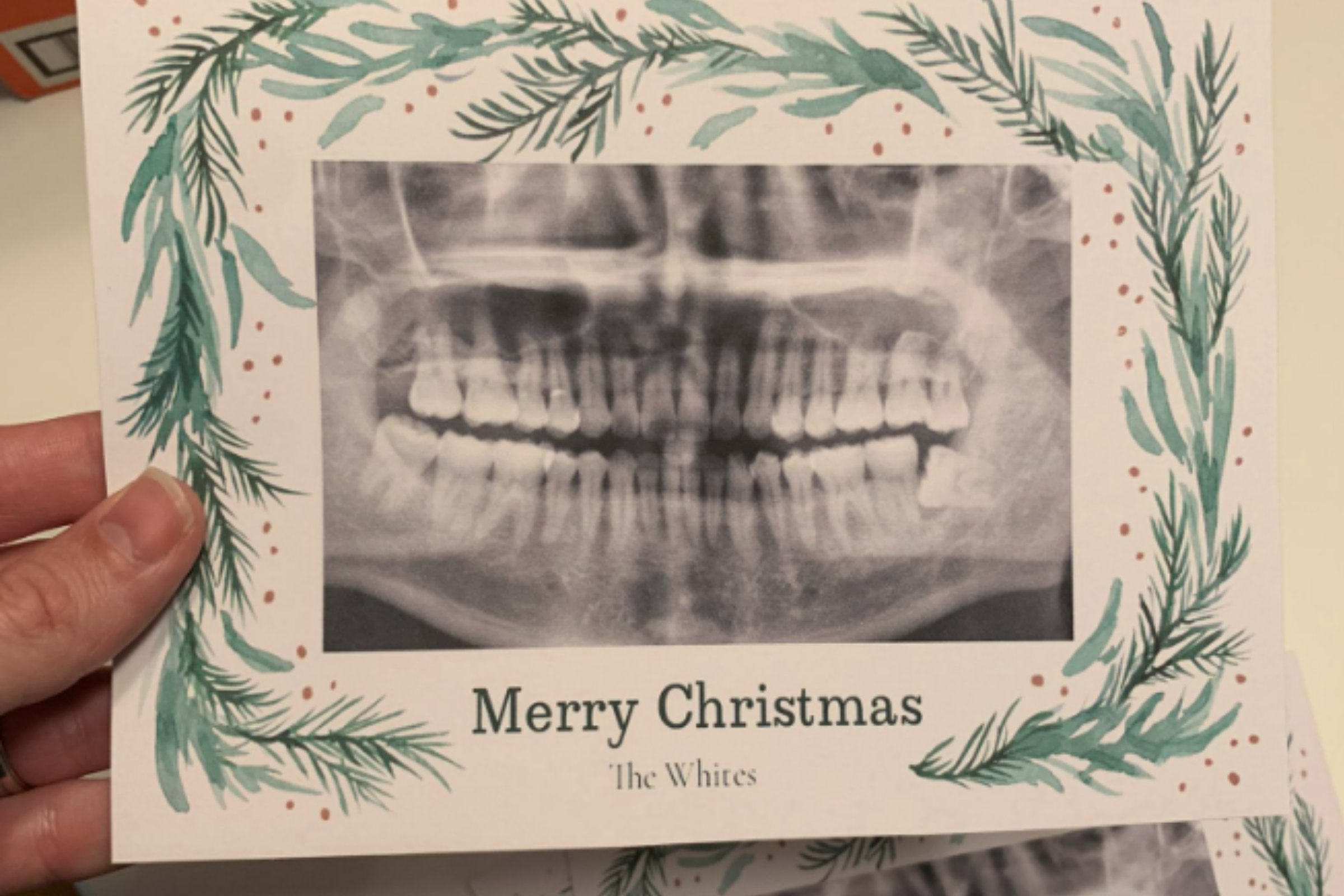 A man's failed attempt at a personalized Christmas card has taken over Twitter.
Comedian Daniel White thought it would be a cute idea to send a custom Christmas card this year, using a picture of his family from Halloween.
However, he submitted a dental x-ray of his neighbor Mike's teeth by mistake, resulting in a design that's more frightening than festive.
Since sharing the photo with his followers on December 14, the hilarious mix-up has received over 121,000 likes and more than 9,000 retweets.
Why Do We Send Christmas Cards?
For some people, Christmas cards are a fun tradition, for others, they're an annual nuisance. Whichever camp you fall into, you can credit the Victorians for the invention.
The first Christmas card was created by Sir Henry Cole, a British civil servant in 1843. Cole invented Christmas cards to help promote the post office and sold them for 1 shilling each. However, the first Christmas card wasn't sent in America until 1875.
Although photo Christmas cards are seen as a modern invention, the first was actually sent by gunslinger Annie Oakley in 1891.
The sharpshooter was touring with Buffalo Bill's Wild West Show in Glasgow, Scotland, at the time and wanted to send a card back to her friends and family in the U.S. She had a portrait taken wearing a tartan outfit specially made for the show, and asked a local printer to turn the photograph into Christmas cards.
Since then, personalized Christmas cards have become more and more creative. Last year, a family's "goth Christmas card"—complete with "corpse paint," a smiling Santa and a trip to Chucky Cheese—went viral, while a mom's hilarious "parenting disaster" Christmas cards took over Reddit.
'With a Smile Like That, You Gotta Show it Off'
Originally, White planned to use a cute family photograph for his Christmas cards this year. The photo featured his wife and daughter dressed as Minions for Halloween, while he'd gone as Professor X from X-Men: The Last Stand (2006).
He used the Shutterfly app to create his design, but somehow mixed up the family photo with one of his neighbor Mike's teeth.
He posted the hilarious result to Twitter, along with the caption: "Selected the wrong photo from my camera roll so now I have 90 of these."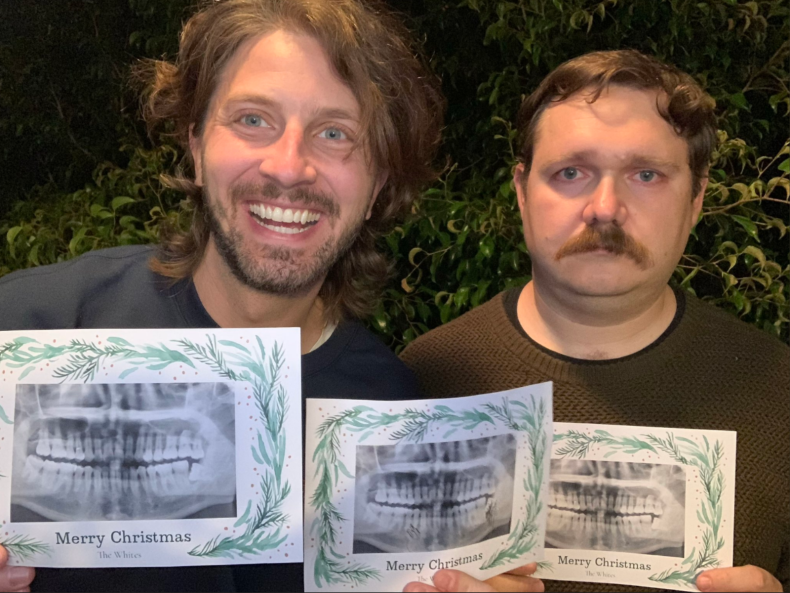 But why did White have an x-ray of Mike's teeth on his phone to begin with? He said that Mike has such great teeth that he asked for a picture to show his own dentist.
"Mike got Invisalign a few years back so he had a few of these x-rays taken," he told Newsweek.
When asked what Mike thinks of his teeth's newfound internet fame, White said he's a "little embarrassed."
"But he said he's also flattered so many people have enjoyed his mouth," he added.
Will White still be sending the cards out? Unfortunately, the answer is no.
"It's a funny mix-up," he said. "But ultimately it's Mike's mouth so it's not my place to mail them."
Twitter users found the photo fail hilarious, with Definitely Danny calling the accidental card design "amazing."
"Phenomenal," agreed Rob Sheridan.
"Genuinely, this would make Christmas for me," commented Sarah Phelps.
"With a smile like that, you gotta show it off," said Edmond Lorts.
"Maybe you could paint them green so they look like Christmas trees?" suggested Arne Parrott.
While Caissie wrote: "If I received such a card, I would treasure it."