Marjorie Taylor Greene Accused of Seeking 'All the Dirt' on Kevin McCarthy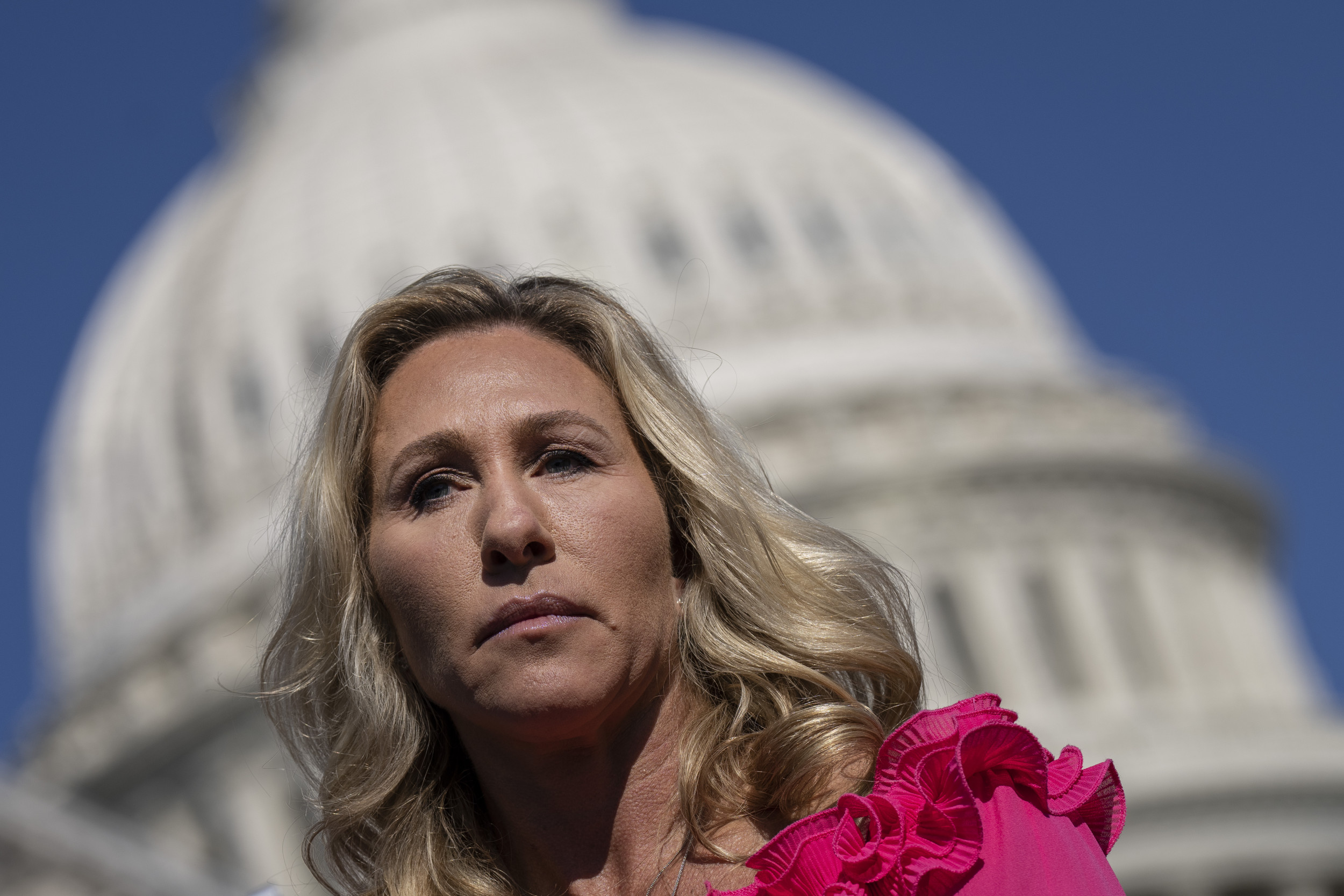 Far-right activist Laura Loomer said in a recent interview that GOP Representative Marjorie Taylor Greene of Georgia asked her to "dig up all the dirt" on House Minority Leader Kevin McCarthy.
During an interview on In the Trenches with Teddy Daniels, Loomer said that Greene sent her text messages in which she targeted McCarthy. Loomer's comments were shared to Twitter on Saturday in a clip posted by PatriotTakes, a platform that monitors and exposes right-wing extremism.
Loomer, a failed GOP congressional candidate in Florida whom Greene endorsed, also pointed out how the Georgia Republican held contradictory stances about McCarthy as she currently supports him despite criticizing him in the past.
"Marjorie had always been outspoken about Kevin McCarthy like I have messages with Marjorie Taylor Greene on my cell phone where she…thinks Kevin McCarthy is so 'stupid' and how she wants me to dig up all the dirt on him and his extramarital affairs so that we can prevent Kevin McCarthy from being [House] speaker," Loomer said. It's unclear, however, when those text messages were sent from the congresswoman.
Greene has been recently accused by Loomer and white nationalist Nick Fuentes of shifting stances and of undermining Donald Trump's 2024 presidential bid. However, Greene's spokesperson said that the accusations were a lie and that the GOP lawmaker continued to be a strong supporter of the former president.
Greene publicly denounced Fuentes last month after he had dinner with Trump at the former president's Mar-a-Lago estate in Florida with rapper Kanye West, despite speaking at Fuentes' America First Political Action Conference in February.
"Of course I denounce Nick Fuentes and his [racist] anti-semitic ideology. I can't comprehend why the media is obsessed with him," she tweeted in late November.
Greene also called for Fuentes' reinstatement to Twitter in November after billionaire Elon Musk took over the social media platform.
Meanwhile, McCarthy has been facing backlash from some conservative Republicans, including Representative Matt Gaetz of Florida, who don't want him to become the next House speaker after the GOP narrowly won House majority in the midterms.
For McCarthy to win House speaker, he has to secure support from right-wing social conservatives as well as more moderate Republicans representing districts that President Joe Biden won in 2020.
Some political experts expected Greene to back attempts by her fellow Republicans to block McCarthy from becoming speaker, but instead she called those efforts "risky" and a "bad strategy" for the GOP and defended McCarthy, vowing to vote for him.
Joseph Uscinski, a political science professor at the University of Miami and co-author of American Conspiracy Theories, told Newsweek on Tuesday that Greene's decision to support top House Republicans is meant to help her have more influence in Congress.
"She doesn't have a big group of allies," Uscinski said. "And if McCarthy wins, he's going to have power. Nick Fuentes and Laura Loomer don't really have any institutional power. So if she wants to get things done in Congress, she's gonna need people like McCarthy on her side and not necessarily Nick Fuentes."
Newsweek reached out to McCarthy's office for comment.