Marjorie Taylor Greene Mocked for Tweeting '6 Billion' Crossed U.S. Border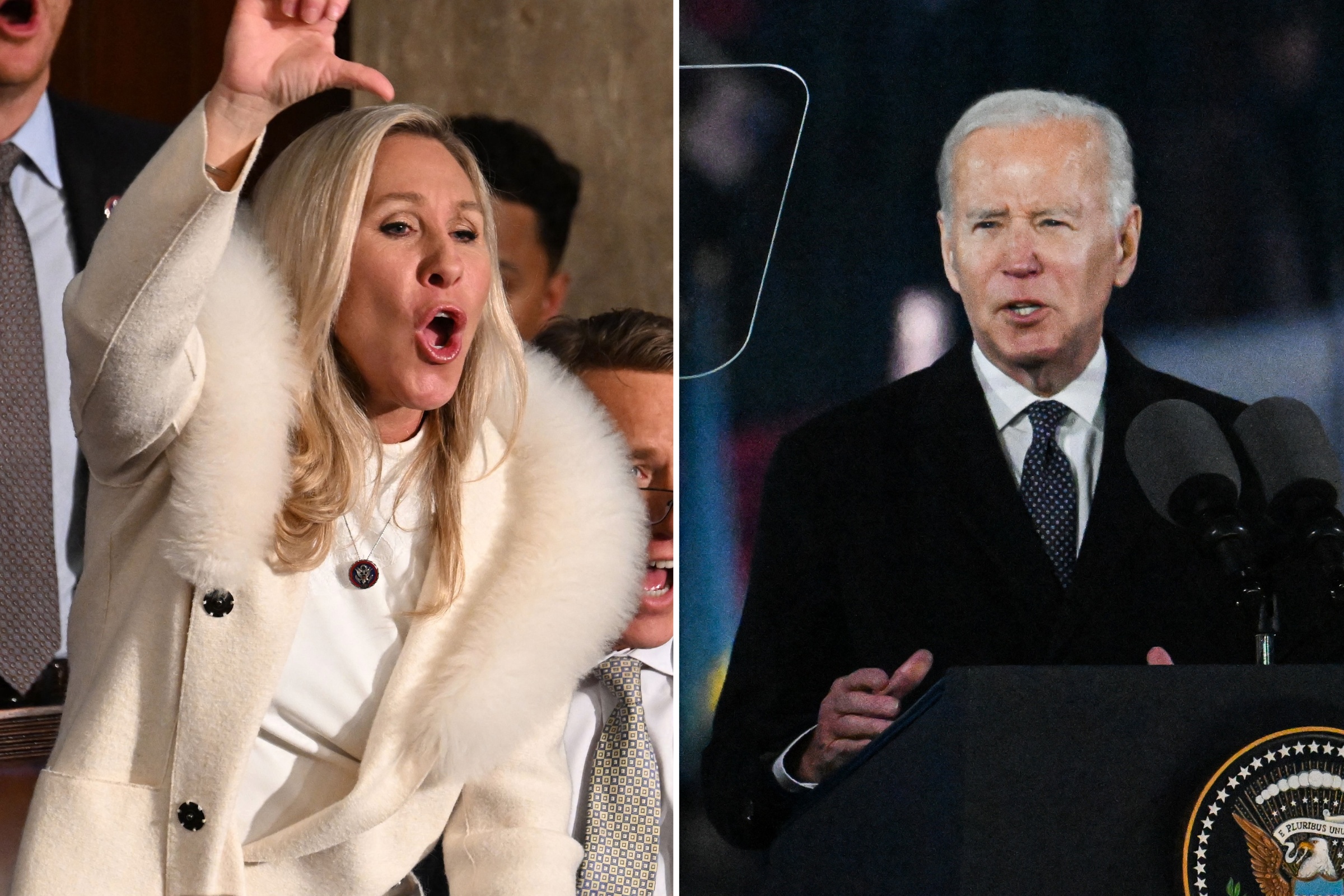 Republican Representative Marjorie Taylor Greene is being ridiculed over a now-deleted tweet that absurdly claimed "6 billion" people had illegally crossed the U.S.-Mexico border since President Joe Biden took office.
Greene blasted Biden over his border policies and for financially aiding Ukraine during its nearly year-long war against Russian invaders in a tweet on Thursday. The Georgia Republican's initial tweet claiming "6 billion" U.S. border crossings was quickly deleted before the appearance of a version with the number corrected to 6 million.
"$113 Billion has been appropriated to Ukraine in just 1 yr," Greene tweeted. "Trump's wall would have only cost $22 billion, but Congress refused to fund it. 6 Billion people illegally crossed our border since Biden took office, but Ukraine's border is the only border that matters to Washington."
Although Greene wasted little time in deleting the tweet and sharing a nearly-identical corrected version, multiple users shared screen captures of the original tweet and mocked her for the mistake.
"MTG tweeted that since Biden took office, 6 billion people have crossed the border illegally," writer Paul Rudnick tweeted. "Also: – Lauren Boebert stole her Friends lunchbox – 50 trillion Chinese spy balloons have been disguised as decorations at birthday parties – The Jewish space lasers bleached her hair"
"If 332 million already lived in the US, and 6 billion MORE crossed the border illegally, that means 6,332,000,000 now live here," tweeted radio host Jason Barsky. "Let's go Brenda! Worst Precedent ever. Build the well! (The last 3 sentences were by design. Calm down)."
"Instead of collectively making fun of her ignorance, I think Biden should promise @RepMTG that he'll kick every single one of the 6 billion invisible, fentanyl-smoking, Jesus-hating, CRT-teaching, woke, transgender Mexican Marxists out of America… TOMORROW!" writer Michael Harriot tweeted. "How will she know?"
"6 billion!? Out of 8 billion on the entire planet?" tweeted voice actor Steve Blum. "Can we please remove this menace now? How bout now? #DontdoQkids"
Some Twitter users defended Greene over her initial "typo."
"MTG is catching hell from the libs for a typo she had in this post," tweeted @JackHisey10. "She incorrectly typed 6 billion before she corrected it to 6 million."
"Forget MTG saying 6 Billion ppl illegally crossed Border under Biden," @connely_dwight tweeted. "Any stupid person can make an honest mistake."
While data from the U.S. Border Patrol and Office of Field Operations indicate that there have been millions, not billions, of encounters with undocumented migrants attempting to cross the border during the Biden administration, the exact number of successful illegal crossings is unknown.
Greene's initial mistaken figure of 6 billion was certainly far off from the actual number. The population of the entire world is currently around 7.95 billion, according to the U.S. Census Bureau.
The congresswoman is a longtime critic of Biden's border policies and has vowed to impeach him over his support for Ukraine, among a variety of other issues. The president had taken office one day before Greene first introduced articles of impeachment on January 21, 2021.
Thursday was not the first time that a Greene gaffe has been ridiculed on social media. The congresswoman was mocked mercilessly last year after bemoaning "Nancy Pelosi's Gazpacho Police"—a reference to cold soup, instead of the Nazi Gestapo police that she likely intended.
Newsweek has reached out to Greene's office for comment.