Meghan Markle Is Less Popular in U.S. Than Queen Camilla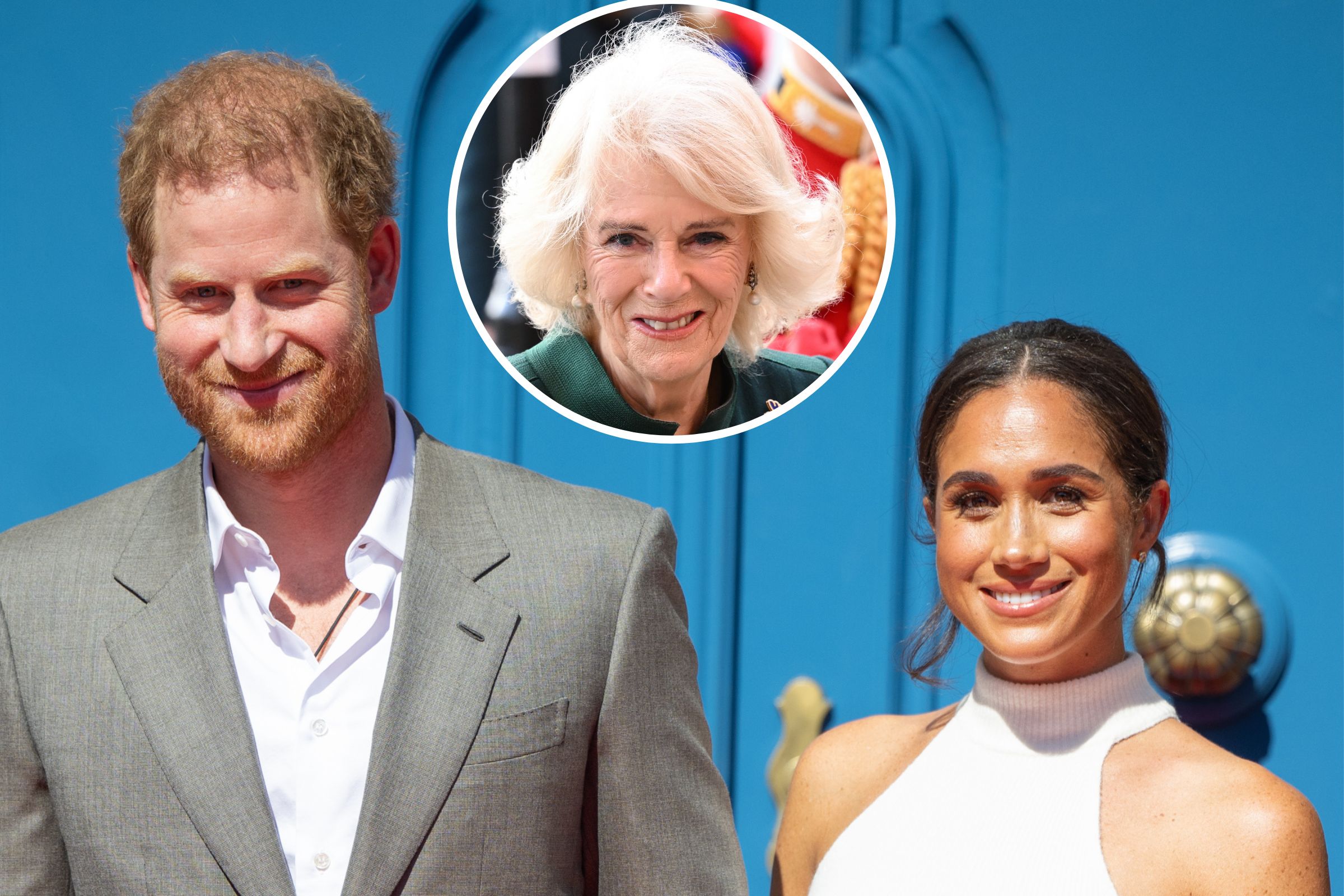 Meghan Markle is now less popular than Queen Camilla in America, even after Prince Harry has made searing criticisms of his stepmother, according to exclusive polling for Newsweek.
The Duchess of Sussex had a net approval rating of -13 and Camilla is at -8 following a survey of 2,000 eligible U.S. voters by Redfield & Wilton on Monday. The data was collected six days after the publication of Prince Harry's memoir, Spare.
The Duke of Sussex was not far behind, at -7, after his book publicity tour and the couple's recent Netflix docuseries, Harry & Meghan, appeared to collapse their U.S. popularity.
As recently as December 5, Harry was at +38 and Meghan at +23, far outstripping Camilla, who was at -2, according to Redfield & Wilton's polling.
Harry and Meghan fared worse than King Charles III, Prince William and Kate Middleton too, but the comparison with Camilla is particularly striking for two reasons.
First, Americans have a deep-seated historic association between Camilla and the collapse of Charles and Princess Diana's marriage, which has come back into the spotlight thanks to the Netflix series The Crown.
Secondly, Camilla was one of the royals who came in for significant criticism in both Harry's book and the interviews around it, with Harry accusing her of leaking stories about him to fuel her public rehabilitation as she went from "the other woman" in Charles' first marriage to his wife and the queen consort.
Harry wrote in Spare: "I had complex feelings about gaining a step-parent who, I believed, had recently sacrificed me on her personal PR altar.
"But I saw Pa's smile and it was hard to argue with that, and harder still to deny the cause: Camilla. I wanted so many things, but I was surprised to discover at their wedding that one of the things I wanted most, still, was for my father to be happy.
"In a funny way I even wanted Camilla to be happy. Maybe she'd be less dangerous if she was happy?" Harry wrote.
During an interview with Anderson Cooper on 60 Minutes, Harry was asked what made Camilla dangerous.
He replied: "Because of the need for her to rehabilitate her image. That made her dangerous because of the connections that she was forging within the British press. And there was open willingness on both sides to trade information.
"And with a family built on hierarchy, and with her, on the way to being queen consort, there was going to be people or bodies left in the street because of that," he said.
One major takeaway from Redfield & Wilton's polling is that there is little evidence Harry and Meghan's strategy has worked with the American public, despite Spare being a runaway commercial success and selling faster than any other nonfiction book, according to Guinness World Records.
Not only have the couple's ratings slumped in relation to Camilla's, but their approval rating is in negative territory among 18- to 24-year-olds, a demographic they have directed much of their post-royal messaging toward.
Also, Meghan, despite her outspoken feminism, was more likely to be viewed negatively than positively by women.
U.S. Public Opinion of the British Royal Family
| | | | | | | |
| --- | --- | --- | --- | --- | --- | --- |
| Royal Family Member | Very favorable | Favorable | Neither favorable nor unfavorable | Unfavorable | Very unfavorable | Don't know |
| King Charles III | 13% | 14% | 39% | 14% | 5% | 16% |
| Queen Consort Camilla | 7% | 11% | 37% | 16% | 10% | 18% |
| Prince William | 13% | 23% | 35% | 10% | 5% | 13% |
| Kate Middleton | 15% | 23% | 35% | 8% | 4% | 14% |
| Prince Harry | 13% | 18% | 22% | 26% | 12% | 9% |
| Meghan Markle | 12% | 14% | 25% | 21% | 18% | 9% |
Forty-four percent of Americans said they felt Harry should not have revealed private family conversations in Spare, compared with 26 percent who backed the prince's decision.
Overall, Harry was liked by 31 percent and disliked by 38 percent, while Meghan was liked by 26 percent and disliked by 39 percent.
Camilla was liked by 18 percent and disliked by 26 percent, while King Charles III was liked by 27 percent and disliked by 19 percent, giving him a net rating of +8 and making him more popular than all three.
Meanwhile, Prince William had a net approval of +21 while Kate's was at +26, making her the most popular royal in our polling.
This comes even though the first extract to leak from the book, which was published in The Guardian, described a physical attack by William on his brother.
Harry wrote in the book: "'Willy, I can't speak to you when you're like this.' He set down the water, called me another name, then came at me. It all happened so fast. So very fast.
"He grabbed me by the collar, ripping my necklace, and he knocked me to the floor. I landed on the dog's bowl, which cracked under my back, the pieces cutting into me. I lay there for a moment, dazed, then got to my feet and told him to get out."
Harry wrote that William told him: "Come on, hit me! You'll feel better if you hit me!" and "Come on, we always used to fight. You'll feel better if you hit me."
The prince said he replied: "No, only you'll feel better if I hit you. Please…just leave."
The fact Harry's revelations appear to have damaged his assessment by the U.S. public rather than improving it leaves the couple in a difficult position, not least because they are so unpopular now in Britain.
Recent polling by YouGov shows they are now disliked by two-thirds of those in the country they have left behind, making their U.S. reputations even more crucial to their branding.
Was Prince Harry right to reveal details of private family conversations in his book?
Jack Royston is Newsweek's chief royal correspondent based in London. You can find him on Twitter at @jack_royston and read his stories on Newsweek's The Royals Facebook page.
Do you have a question about King Charles III, William and Kate, Meghan and Harry, or their family that you would like our experienced royal correspondents to answer? Email royals@newsweek.com. We'd love to hear from you.