Mike Pence's Futile Effort to Appease Trump Supporters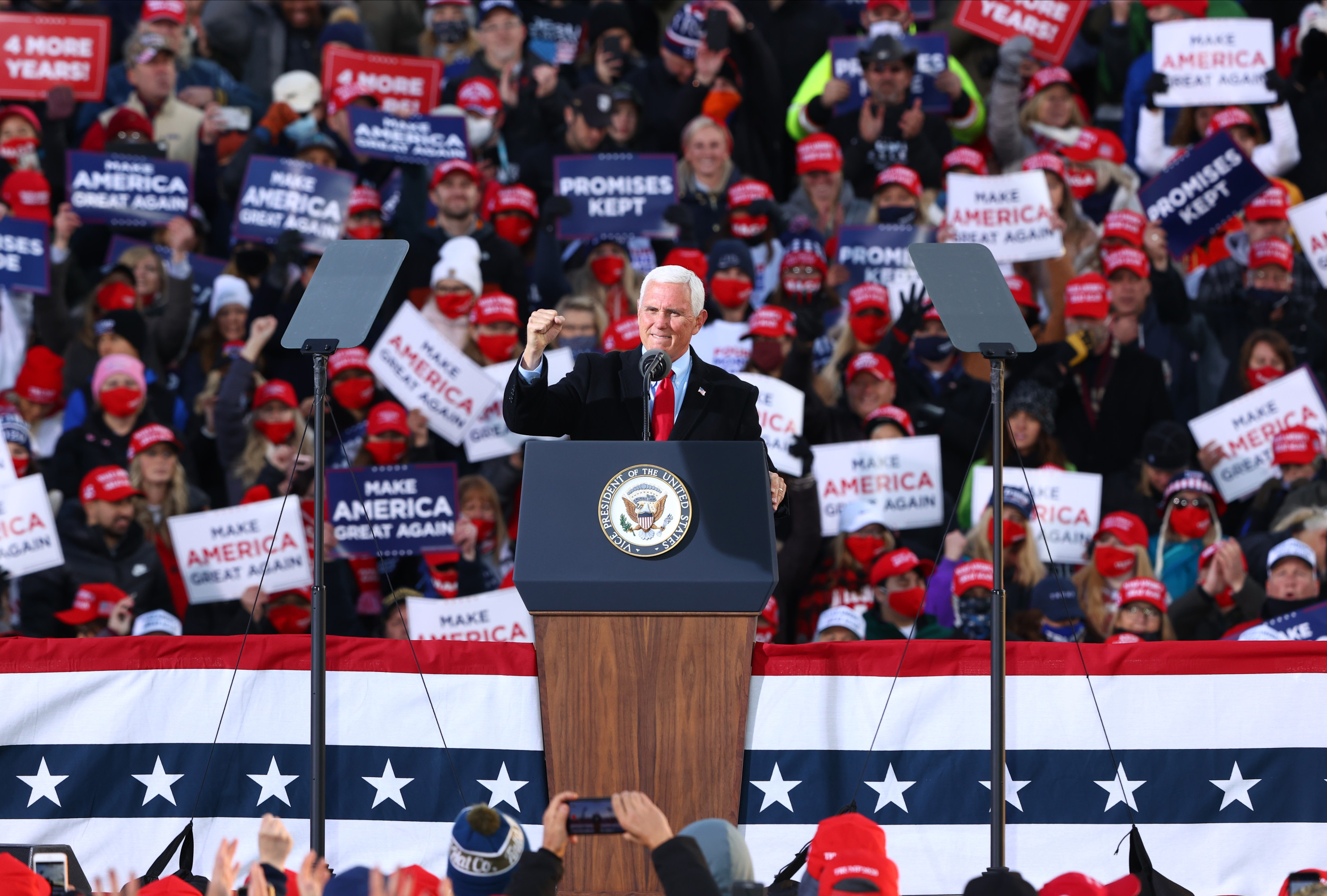 Former vice president Mike Pence has vowed to fight the subpoena issued to him as part of the January 6 investigation, with one eye potentially on a 2024 presidential campaign.
Special counsel Jack Smith is leading the criminal inquiry into the January 6, 2021 Capitol riot. He summoned Pence to testify under oath about the insurrection in a sign that the investigation into Donald Trump's actions is ramping up.
Pence is seen as a key witness in the probe. Trump frequently pressured him into stopping the certification of the 2020 electoral votes confirming Joe Biden's victory as president. However, Pence did not have the authority to do so during his purely ceremonial role of presiding officer of the Senate on January 6.
On Thursday, Pence said he would fight the "unconstitutional" and "unprecedented" subpoena issued against him. The former vice president argued that his role as president of the Senate on January 6 means he is protected under the Constitution's "speech or debate" clause. He therefore cannot be forced to testify.
"Never before in American history has a vice president been summoned to appear in court to testify against the president with whom they serve," Pence told reporters in Iowa.
There is also the suggestion that Pence believes fighting against his subpoena may also benefit him in another way. While not confirmed, Pence has long been predicted as a potential candidate for the 2024 GOP presidential primary race.
However, doing so would put the former vice president in a direct faceoff with Trump, and the pair's relationship has fallen apart in the wake of the January 6 attack.
In the two years since the insurrection, Pence has become more critical against his one-time close ally. He told ABC News that he was "angered" at Trump for tweeting that he "didn't have the courage to do what should have been done" by preventing the 2020 election results from being certified as the January 6 violence was unfolding.
In his book, So Help Me God, Pence also described how Trump repeatedly pressured him to block the congressional certification of the election on January 6. The former president's very own lawyer, John Eastman, knew it may be illegal to do so.
However, by fighting the January 6 investigation subpoena, Pence may be hoping to avoid placing the final nail in the coffin by not testifying against Trump. The former vice president needs as much support from Republican voters as possible if he does run in a GOP 2024 primary.
Sean Freeder, assistant professor of political science at the University of North Florida, told Newsweek that Pence may be "earnestly" fighting the subpoena on what he believes to be constitutional grounds. However, the electoral goal may be his ultimate motivation.
Freeder said that, while Pence does need to find a way to appeal to Trump supporters if he launches a 2024 campaign, he is "totally delusional" if he believes he could win the GOP presidential primary.
"Even complying with the subpoena but offering little testimony against Trump would still be seen by a base he needs to convert as overly obedient to Trump's opponents," Freeder added.
"By fighting the subpoena, Pence raises his chances of winning the nomination from 'zero' to 'some number slightly larger than zero.' So, from his perspective, the decision was easy to make.
"Still, this will do very, very little to mollify those Trump supporters who feel as though he betrayed Trump. I'm sure Trump himself will be all too happy to make his continued feelings about Pence known," Freeder added.
Bernard Tamas, associate professor of political science at Valdosta State University in Georgia, told Newsweek that Pence and other Republican presidential hopefuls are in a "no-win" situation with regards to Trump.
"On the one hand, they need to distinguish themselves from Trump to effectively run against him, including to attract more moderate voters," Tamas said.
"On the other hand, any form of criticism against Trump, maybe especially on the January 6 insurrection, could undermine their credibility with Trump supporters. They continue to make up a significant percentage of the Republican party's very vocal base."
Tamas added that Pence's subpoena fight is "fundamentally a tactic to avoid this problem."
Pence may also be using his subpoena fight to show which side he is on in the GOP's recent battles against the so-called "weaponization" of the federal government by the Biden administration.
Tamas said Pence is showing he is willing to stand up to a "so-called liberal establishment" by refusing to comply with his DoJ subpoena. At the same time, he is "skirting the issue of whether Trump was behind a violent coup" on January 6 and if that should disqualify the former president from holding high office again.
Pence did indeed describe how he would specifically "fight the Biden DOJ" by not complying with his subpoena. He also said there has been a "two-tiered justice system that Republicans have been dealing with throughout the Biden administration."