Pete Buttigieg Takes Thinly Veiled Swipe at Trump—'Isn't National Politics'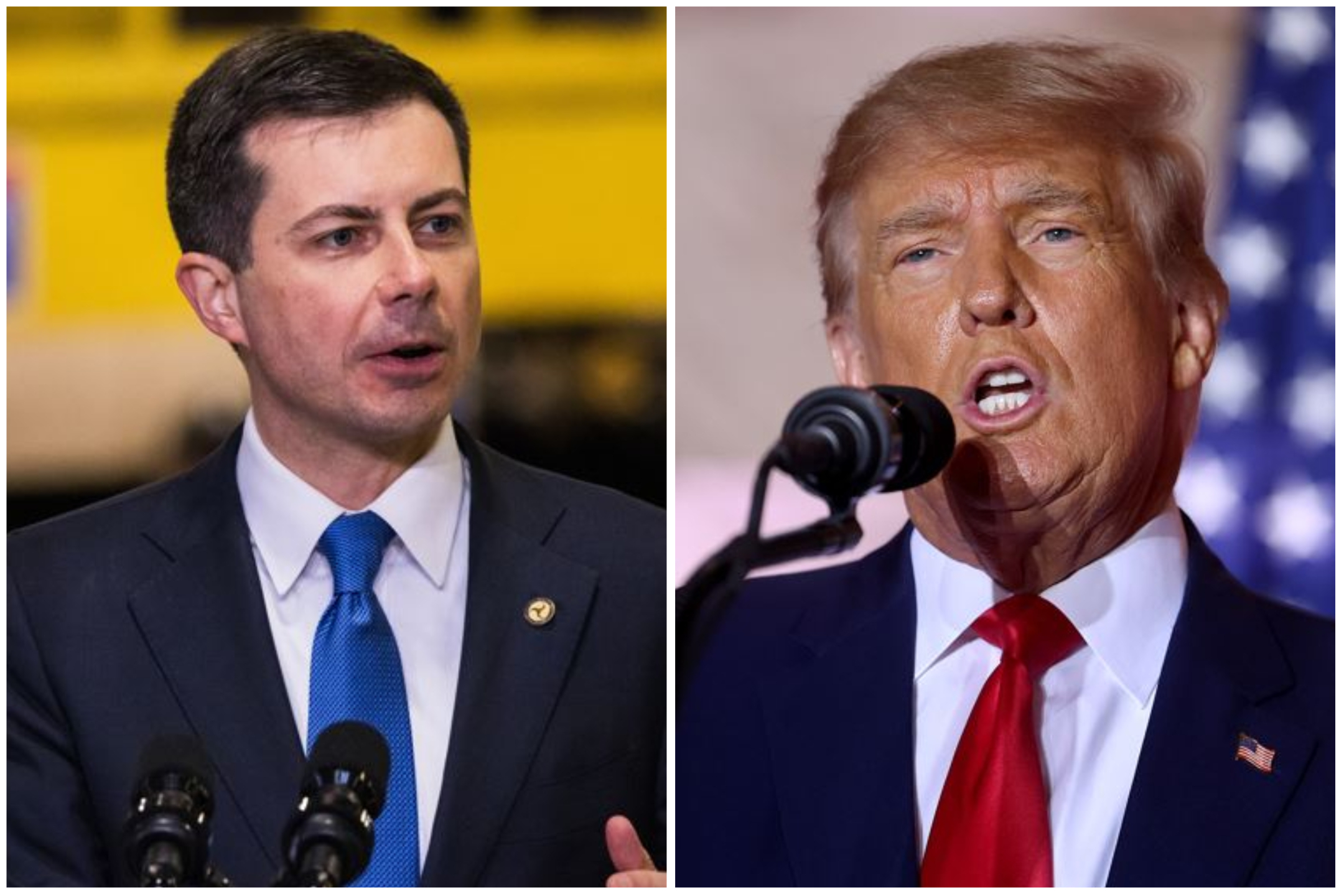 Secretary of Transportation Pete Buttigieg has taken a thinly veiled swipe at former President Donald Trump as he said the Ohio train derailment is not an issue of national politics or looking good.
Speaking to MSNBC host Symond Sanders on Saturday, February 25, Buttigieg hit out at what he called attempts to misinform the residents of East Palestine.
Buttigieg faced strong criticism from Republicans for not visiting the area in the aftermath of the February 3 derailment. He finally visited East Palestine earlier this week and was the first top member of the Joe Biden administration to do so.
He said: "What I saw in the residents of East Palestine. People whose lives have been upended through no fault of their own, who have just shown remarkable resilience, and are asking to make sure that they will be taken care of.
"There has been so much information and, frankly, so much misinformation thrown at this community and thrown at this situation [that] a lot of them are asking who they can even trust and it's so important to continue to make sure that they can get good accurate information about the things that they care about most, which isn't national politics, or who looks good, or who looks bad."
He continued: "It's continuing to know that their air, water, and soil is going to be safe, that their homes are going to be safe.
"That is what anyone would want to know in this situation. You can feel a sense of fatigue with all of the kind of politics swirling around their community."
Train derailments are not rare in the U.S. with a total of 54,538 such incidents being recorded in the country between 1990 and 2021, according to the Bureau of Transportation Statistics.
East Palestine residents have shared their concerns about the safety of the area after the train of about 150 cars, 20 of which carries hazardous material, derailed in the village.
To avoid an explosion, five rail cars carrying vinyl chloride were breached by emergency responders, with the chemical diverted into a trench and burned off.
The small village has since become the center of interest not only among the media but also among politicians.
Former President Trump, who is seeking to return to the White House in 2024, also visited East Palestine and hit out at Buttigieg's appearance.
Trump said on Friday: "He came the next day and he played to very small crowds, nobody cared."
In an interview on commentator Glenn Beck's radio show, Trump mocked Buttigieg and appeared to boast about his electoral performance in the region.
He said: "There's a lot of love there, a lot of spirit. They happen to love me…I got a vast amount of votes there you know."
During his visit, the former president distributed his branded bottled water "Trump Water" to residents.
This is despite the Environmental Protection Agency commenting that local public water supplies were not contaminated by the derailment.
But residents have expressed concern about the safety of water in the area, believing it could be unsafe to drink.
Newsweek has contacted Trump's office for comment.