Putin's Ally Is Causing Him Yet Another Headache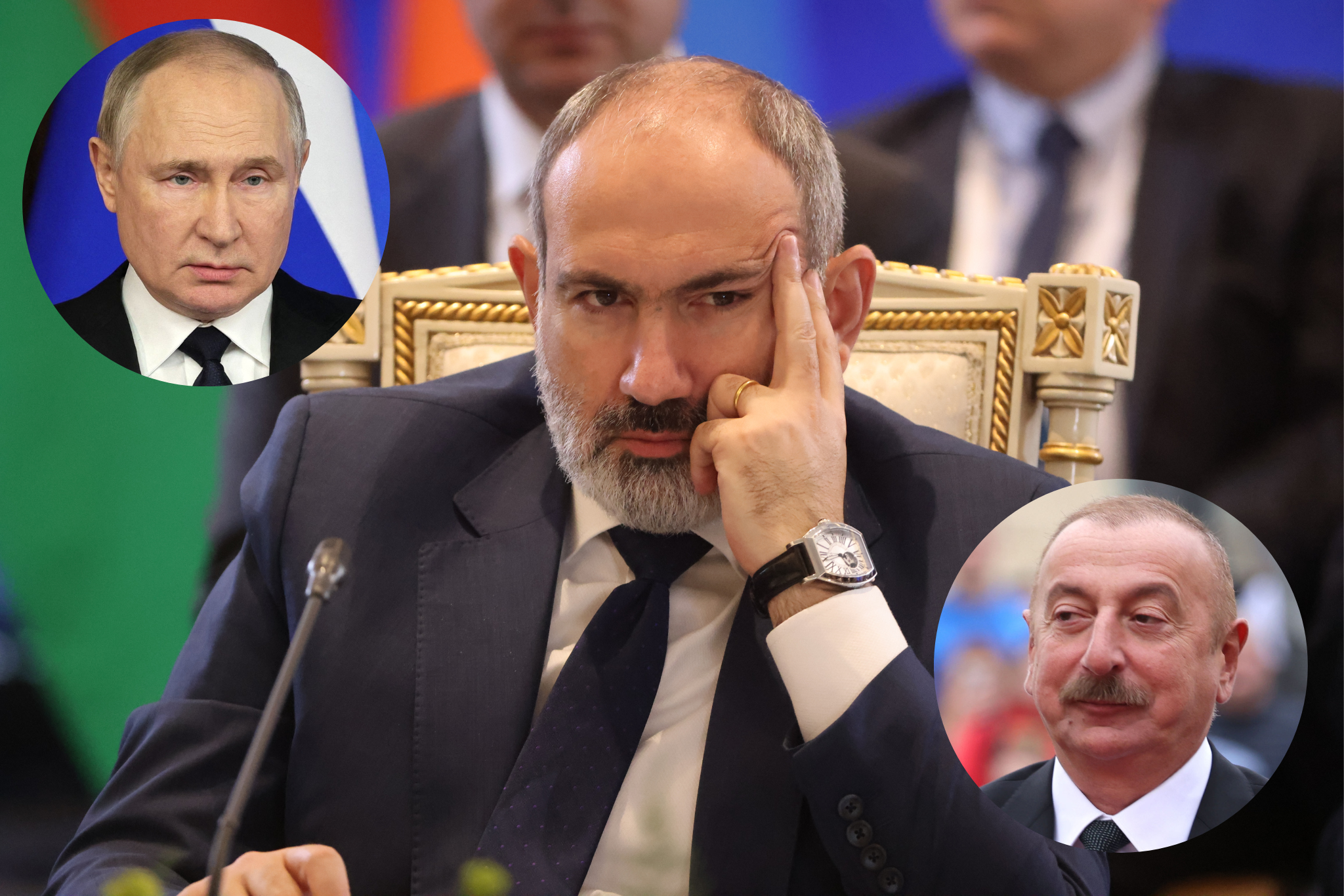 Russian President Vladimir Putin appears to be facing another diplomatic setback amid his faltering, ongoing invasion of neighboring Ukraine.
The Russian Foreign Ministry announced Thursday that Armenia, an ally of Russia, is refusing to take part in trilateral talks with Azerbaijan this week as Moscow seeks to broker a permanent peace between the two warring nations.
Both are currently locked in a Russian-brokered cease-fire in their ongoing conflict over the disputed Nagorno-Karabakh region in the southern Caucasus, located due southeast from Ukraine across the Black Sea.
However, tensions between the two warring nations were reignited earlier this month, including a number of Azerbaijani-aligned protests along a shared arterial road between Armenia and the contested region, over what demonstrators claimed to be illegal mining activity.
The blockade on the road—known as the Lachin corridor—has since inspired accusations of impropriety from both sides that threaten the integrity of the talks, and it creates a new headache for Putin as he seeks to consolidate his allies behind him in his ongoing conflict in Ukraine.
But it also creates the potential for further destabilization in a region that has experienced near-constant strife since the dissolution of the Soviet Union in the 1990s, causing disruptions to natural gas supplies and other necessities for residents in the region in what Armenian ambassadors describe as "an evolving humanitarian crisis."
"Let me be clear: Impediments to the use of the Lachin corridor sets back the peace process," Robert Wood, a U.S. ambassador to the United Nations, said in prepared remarks to members of the U.N. Security Council earlier this week.
"They undermine international confidence in this process. And they carry potential severe humanitarian implications. We call on the government of Azerbaijan and others responsible for the corridor's security to restore free movement, including for humanitarian and commercial use, as soon as possible," Wood added.
While Russia successfully brokered peace between the two warring nations in 2020, recent developments in the Ukraine war have destabilized that peace, as a better-equipped Azerbaijani military has taken advantage of thinly stretched and distracted Russian resources.
This has led some analysts to wonder whether the conflict could be used as a smoke and mirrors tactic to disguise Russian failures in Ukraine.
"Russia really cannot help Armenia at this very moment," Paul Stronski, senior fellow in Carnegie's Russia and Eurasia Program, told NPR in September amid a breakout in smaller-scale skirmishes between the two countries.
"Russia is stretched. Russia has declared that it has launched a cease-fire, but the fighting continues despite this new brokered agreement. So I think the timing, the fact that Russia is preoccupied, certainly led to what looks like an Azerbaijani offensive at this time," Stronski added.
Newsweek has contacted Russia's presidential office for comment. However, Russia's deputy U.N. Ambassador Anna Evstigneeva reported some progress in easing the blockade in recent days, including resuming natural gas supplies to affected utility customers in Nagorno-Karabakh and partially unblocking traffic.
It is unclear when—or if—peace talks are set to resume in the coming weeks. However, any solution to the conflict will likely need to come from Russia—particularly as Azerbaijan continues to exploit Russia's inability to stem conflicts in the region.
"Azerbaijan is becoming increasingly emboldened by the Kremlin's weakness, with the country's pro-government media now describing the peacekeepers as 'occupiers,'" the Carnegie Endowment for International Peace's Kirill Krivosheev wrote earlier this week. "But Moscow's hands are tied: any response will only make its situation worse."