Russian Official Demands Germany, France Pay Ukraine Region Putin Annexed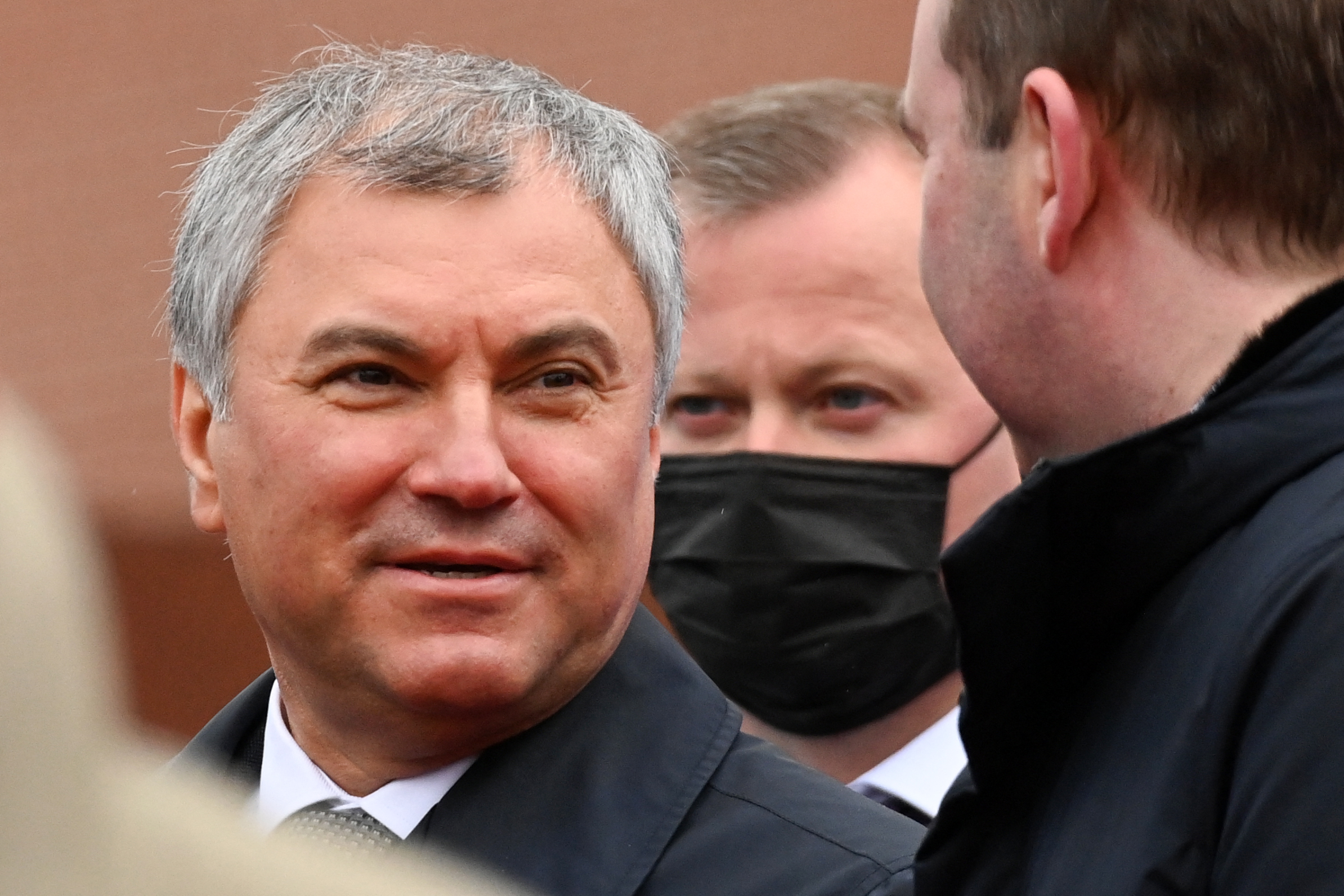 Russia's State Duma Speaker Vyacheslav Volodin said on Saturday that Germany and France should pay compensation to residents living in Ukraine's Donbas region, which includes the provinces of Luhansk and Donetsk that Russia annexed.
Germany's ex-chancellor Angela Merkel said on Wednesday during an interview with Die Zeit, that was cited by TASS, that the Minsk Agreements signed in 2014 had provided Ukraine with time to become strong enough to fight in the ongoing war with Russia.
"Merkel's confession puts moral and material responsibility for the developments in Ukraine on Germany and France," Volodin said on his Telegram channel, Russian news agency TASS reported. "They will have to pay compensation to residents of the Donbas republics for the eight years of genocide and inflicted damage. This is just the beginning."
Merkel added that Ukraine had "invaluable time" because it "was clear to everyone" at the time that the conflict had stalled without reaching a resolution.
The Minsk agreements were a series of international deals brokered by Germany and France to end the Donbas conflict in which Russian separatist groups were fighting the Ukrainian army following the Russian annexation of Crimea, but this ceasefire attempt failed, according to Reuters.
"The 2014 Minsk agreement was an attempt to give time to Ukraine. It also used this time to become stronger as can be seen today. The Ukraine of 2014-2015 is not the modern Ukraine," Merkel said during her recent interview with Die Zeit, according to TASS.
In another interview, cited by Ukrainian news agency European Pravda reported in November, Merkel said, "I would like that there would be a more peaceful time after my departure, because I was busy with Ukraine a lot."
"But this [invasion] was not a surprise. The Minsk agreements were destroyed," she added.
During a news conference in Kyrgyzstan on Friday, Putin expressed his disappointment in Merkel's remarks about the Minsk agreements, according to Reuters.
"For me, it was completely unexpected. It is disappointing. I did not expect to hear something like that from the ex-Chancellor. I always hoped that the German leadership was genuine," he told reporters. "Yes, she was on Ukraine's side, supporting it. But nevertheless, I genuinely hoped that German leadership expected a settlement based on the principles achieved, among other things, during the Minsk negotiations."
The Donbas region has become the main battlefield for Russia and Ukraine since the war began on February 24. The region has long been important for Russia as Donetsk and Luhansk were under control of the Russian Empire in the mid-18th century after coal was discovered in those areas, according to The Washington Post. Russian settlers came to those parts of the region, which was heavily industrialized, because of the coal discovery.
Newsweek reached out to the Russian foreign affairs ministry for comment.