Steve Bannon Issues Warning to Joe Biden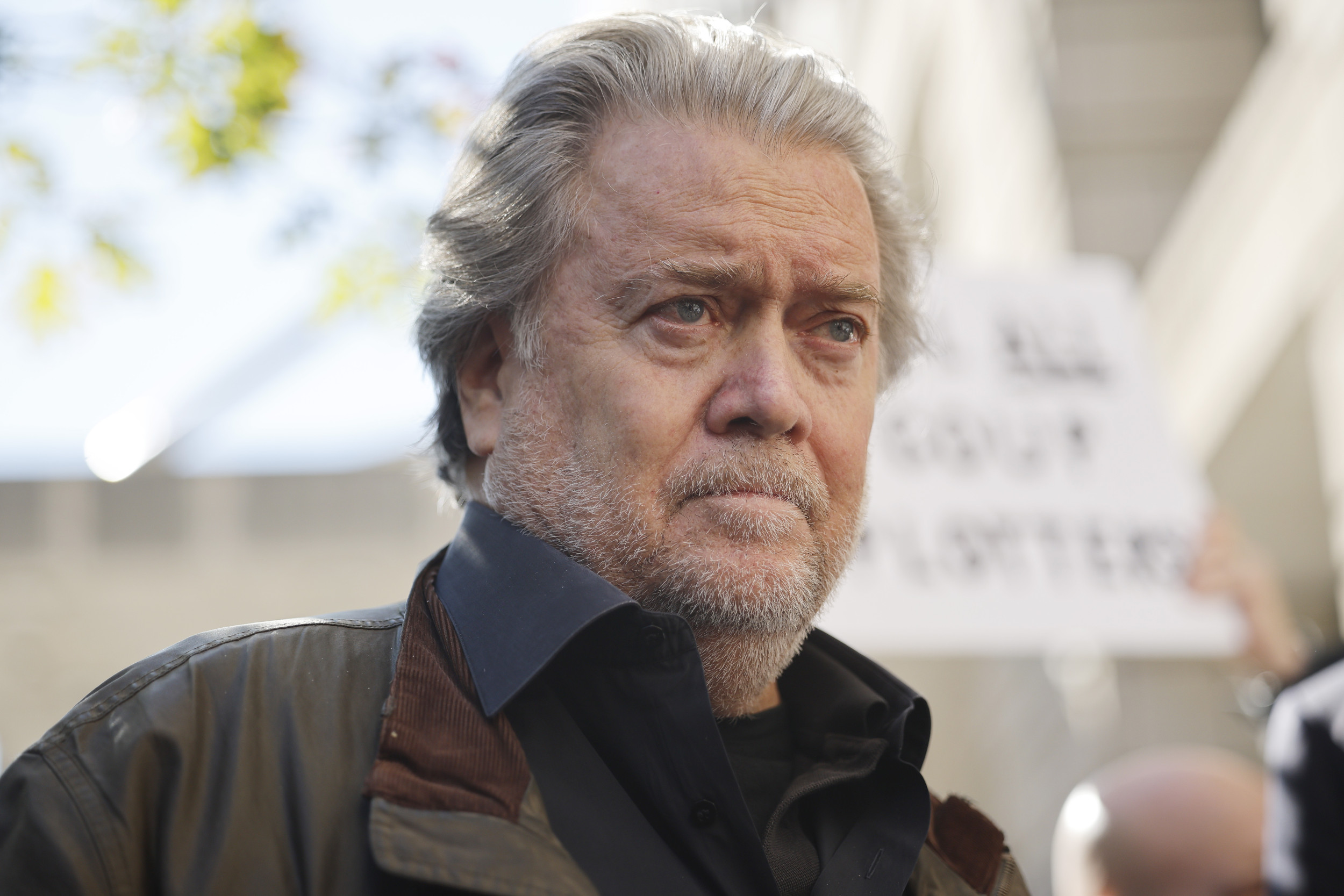 Steve Bannon, who served as an adviser to former President Donald Trump, warned President Joe Biden on Sunday about what future hearings, by the GOP-controlled House, might reveal about his son Hunter Biden's laptop probe.
"Bannon Warns Joe Biden: Preserve This —Your drug addict sexual deviant son is a disgrace to his country—the country he sold out for cash —the upcoming hearings will put forth to the American people and the World what lowlife scum he is and you are …," the ex-Trump adviser wrote in a Gettr post, in which he shared a Business Insider article that reported on the legal notices that Hunter Biden's lawyer sent to Bannon and other Trump allies.
Abbe Lowell, a lawyer for the president's son, sent notices to Bannon and 14 others this past Thursday asking them to preserve documents and data related to Hunter Biden. This evidence might be used for a lawsuit that involves some of Trump's allies who spread around the contents of Hunter Biden's laptop, which he allegedly left in a computer repair store in 2019.
The notice was also sent to Roger Stone and Rudy Giuliani, and indicates that the younger Biden might take legal action over the dissemination of his private information.
"You have made various statements and engaged in certain activities by your own admission, or that have been publicly reported in the media, concerning our client, Robert Hunter Biden ('Mr. Biden')," the letter reads, according to NBC News. "This letter ('Notice') constitutes notice that a litigation hold should be in effect for the preservation and retention of all records and documents related to Mr. Biden."
"Abbe Lowell's letter is a diversionary tactic," Bannon told Newsweek on Sunday.
Meanwhile, Giuliani's attorney, Robert Costello, told Business Insider on Sunday that Lowell's letters are "nothing more than an intimidation tactic designed to try to dissuade witnesses to the truth from speaking that truth."
Hunter Biden's laptop has been the focus of the president's critics, including Republicans, who currently control the House. The laptop's contents raised concerns about the younger Biden's finances, ties to a Chinese energy company, and other reported foreign dealings.
"The Biden Crime Family is financially compromised by the highest levels of the CCP [Chinese Communist Party]," Bannon said Sunday, adding that the "Laptop from Hell is a road map."
He continued: "Cross that with bank records, travel records, phone/ email record and you pop the Traitors—traitors that sold their country out for cold hard CCP cash."
Newsweek reached out to the White House and to Abbe Lowell's office at Winston & Strawn LLP for comment.
On Wednesday, the GOP-led House committee held a hearing over Twitter's decision to temporarily prevent its users from sharing the Hunter Biden laptop story that was reported by the New York Post. The social media company blocked sharing the article in October 2020, ahead of the 2020 presidential election, fearing that the story about the laptop's contents was the result of an illegal hacking. The momentary suppression of the story was also the basis of last year's Twitter files report.
After narrowly gaining the House majority in the 2022 midterm elections, GOP representatives began investigating Hunter Biden's business affairs. This past Thursday, Representative James Comer of Kentucky, who also chairs the House Oversight and Accountability Committee, issued a formal request for records related to the president's son's alleged foreign business dealings.