Trump Touts 'Big' Win Over DeSantis in Florida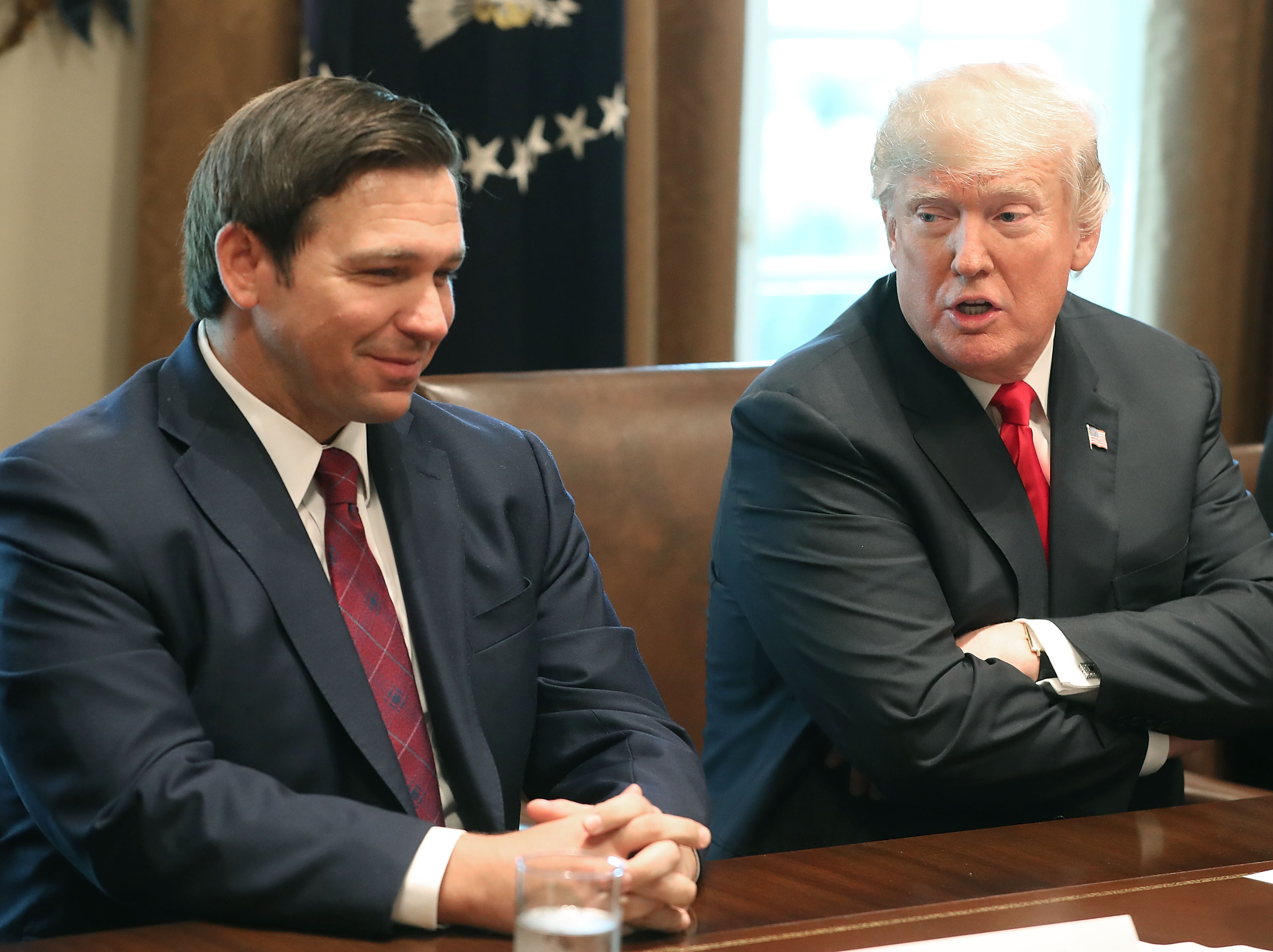 Former President Donald Trump has touted a significant political win in Florida over his presumptive 2024 rival and the state's governor, Ron DeSantis.
Calling it a "Florida win for Trump," Politico reported on Saturday that the Florida Republican Party had elected Christian Ziegler, a political consultant with ties to former Trump advisors, as its chair. After former state party leader Joe Gruters opted not to seek reelection, Ziegler, the group's former vice chair, defeated Leon County GOP leader Evan Power, 126 votes to 100. Politico added that the move has caused concern among insider supporters of Governor DeSantis ahead of the 2024 election cycle.
Trump launched his presidential bid for 2024 shortly after last year's midterm elections, the first major GOP candidate to do so. Since then, former South Carolina Governor Nikki Haley has been the only other Republican to declare their candidacy. While no announcement has been made, DeSantis is widely expected to run in 2024, given his prominence in national political conversations and the overperformance of Florida GOP candidates in the midterms.
Following Ziegler's win, Trump took to his social media platform, Truth Social, to boast about the victory. While he shared the article that called the election concerning for DeSantis, the former president claimed that Zieger's win was a victory "for ALL."
"We won a big Chairmanship in Florida over the DeSantis Reps, but actually, it's a win for ALL," Trump wrote. "That's the way we want it. Christian will be a great Chairman!"
While the Florida GOP chair election had been touted by some as a proxy battle between Trump and DeSantis ahead of their expected 2024 primary clash, the actual connections between the candidates are less clear-cut. Ziegler was characterized as more Trump-affiliated due to his past work with former Trump campaign manager Corey Lewandowski. However, as far back as 2018, he had voiced his support for DeSantis. Bridget Ziegler, his wife and the co-founder of the Moms for Liberty conservative advocacy group, was endorsed by DeSantis when she ran to be part of the Sarasota County school board.
Anonymous consultants close to the race still characterized Ziegler as a strong Trump ally and a concerning development for DeSantis, while speaking with Politico. Conversely, an anonymous DeSantis adviser insisted to the outlet that the governor was not sweating the results and looked forward to working with Ziegler and Power, who will now serve as the party's vice chair.
Newsweek reached out to DeSantis's office for comment.