U.S. Piles Pressure on Germany to Provide Ukraine Leopard 2 Tanks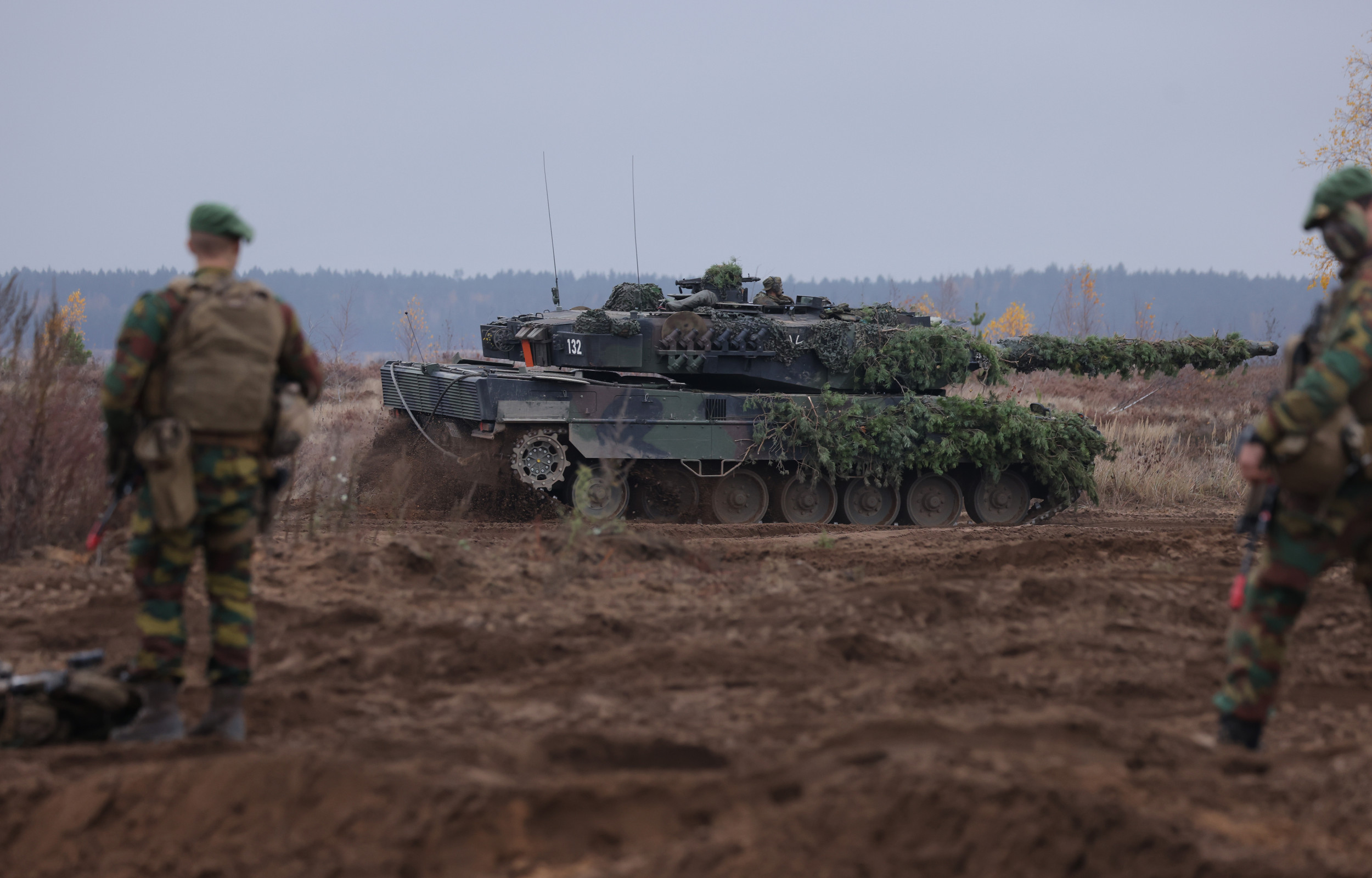 There are high hopes in Kyiv that Friday's Ukraine Defense Contact Group meeting at the U.S. Ramstein air base in Germany will end with an agreement to send German-made main battle tanks (MBTs) to Ukraine, despite stubborn opposition from Berlin.
Chancellor Olaf Scholz is still refusing permission for NATO users of the German-made Leopard 2 tanks to transfer their MBTs to Ukraine, as is normally required under the terms of procurement deals.
An unnamed Scholz spokesperson told The Wall Street Journal this week that Germany will not give permission, nor send any of its own Leopard 2s, unless the U.S. also sends tanks of its own; which would mean the M1A2 Abrams.
On Thursday, Deputy Pentagon Press Secretary Sabrina Singh threw cold water on Berlin's proposal, suggesting the different logistical needs of the Abrams and Leopards make the former unsuitable for transfer to Ukraine.
"It's more of a sustainment issue," Singh told reporters. "This is a tank that requires jet fuel, whereas the Leopard and the [British-made] Challenger; it's a different engine. They require diesel. It's a little bit easier to maintain."
"They can maneuver across large portions of territory before they need to refuel. The maintenance and the high cost that it would take to maintain an Abrams is just—just doesn't make sense to provide that to the Ukrainians at this moment."
Kyiv is desperate for heavy tanks to support its planned counter-offensive operations, which it hopes will eject occupying Russian forces from all land occupied since the full-scale invasion began on February 24, and set the stage for the liberation of Crimea and the parts of the Donbas region occupied since 2014.
Ukrainian armed forces Commander-in-Chief Valerii Zaluzhnyi told The Economist in January that Kyiv needs some 300 tanks to successfully press counter-offensives, along with between 600 and 700 armored infantry fighting vehicles and 500 howitzers.
Scholz appears to be swimming against the current. The U.K. announced this week it would send 14 Challenger 2 MBTs to Ukraine, and reports indicate that France is considering providing an unknown number of Leclerc MBTs as a means to push Berlin into action.
Poland and Finland are among the countries forming a multinational coalition of Leopard 2 operators to send MBTs to Ukraine. Combined, NATO nations have more than 2,000 Leopard tanks in their armories.
Polish Prime Minister Mateusz Morawiecki said this week he hopes NATO allies will collectively send around 100 tanks to Ukraine. Finnish Foreign Minister Pekka Haavisto said Helsinki is ready to send MBTs pending German approval.
Morawiecki suggested Warsaw might not even wait for German permission. "Consent is a secondary issue here," he said. "We will either get this agreement quickly, or we will do the right thing ourselves."
Lithuanian Defense Minister Arvydas Anusauskas told Reuters Thursday: "Some of the countries will definitely send Leopard tanks to Ukraine, that is for sure."
Singh told reporters Thursday that Germany is not Ukraine's only hope. "Germany is just one of many countries that has the capability to provide the Leopard tanks," she said. "There are other nations out there that have also been discussed providing other tanks."
"As you know, we've provided the Bradleys. We're seeing other nations step up and continue to provide equipment and material to Ukraine that they can."
"Ultimately, this is Germany's decision. It's their sovereign decision on what security assistance they will provide, so we won't be able to speak to them. But I think that we are certainly doing what we can to support Ukraine in what they need."
The U.S. on Thursday announced a new $2.5 billion aid package for Ukraine, which will not include MBTs. The next installment of weapons will include 90 armored Stryker combat vehicles, 59 more Bradley infantry fighting vehicles, and a broad selection of other vehicles and munitions.