Why Does Nigél Thatch Not Play Malcolm X in 'Godfather of Harlem' Season 3?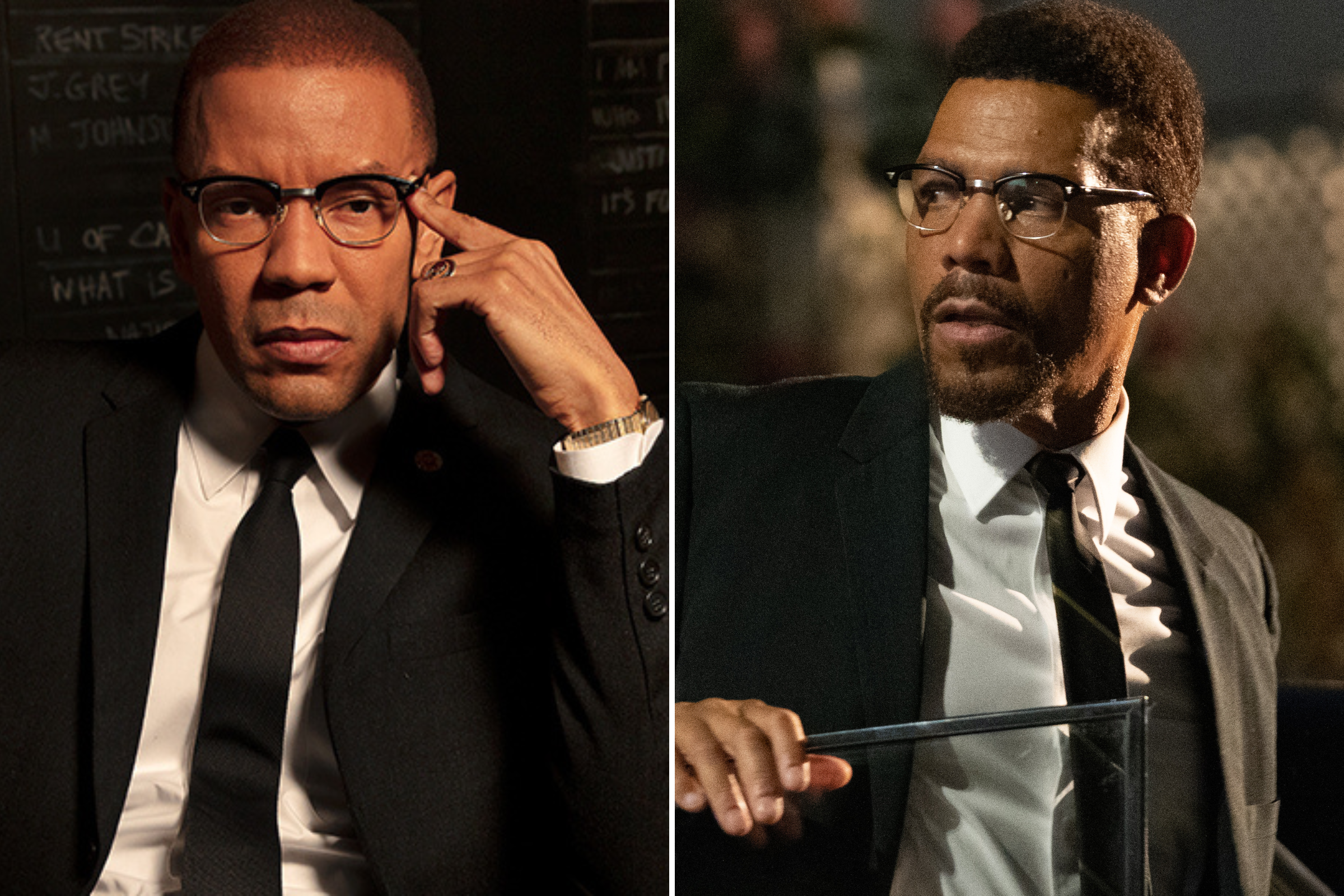 When viewers tune into the third season of Godfather of Harlem on Sunday, January 15 they'll notice there's been a chance to the cast—as Nigél Thatch is no longer playing Malcolm X.
The actor portrayed the civil rights activist in the first two seasons of the MGM+ show, taking on the role after first playing the character in Selma opposite David Oyelowo's Martin Luther King Jr in 2014. In Season 3, the role is played by Jason Alan Carvell.
Show creators Chris Brancato and Paul Eckstein told Newsweek why Thatch was unable to return to the role for Godfather of Harlem's newest season, and spoke a bit more on Carvell's performance alongside Forest Whitaker and Giancarlo Esposito.
Why Did Nigél Thatch Leave Godfather of Harlem? Malcolm X Season 3 Recast Explained
Godfather of Harlem follows the story of Whitaker's Bumpy Johnson, a gangster trying to gain control of the New York neighborhood against the backdrop of the civil rights movement, which is personified by both Malcolm X and Adam Clayton Powell Jr.'s (Esposito) fight for equality in the 1960s.
Season 3 will see Bumpy take on the Cuban mafia, a decision that will impact his family and the community, but will also put him on the radar of the CIA, while Malcolm X tries to find himself after leaving the Nation of Islam and Powell Jr. continues his work following the passing of the Civil Rights Act.
The creators explained that Thatch's absence from Godfather of Harlem Season 3 was the result of scheduling conflicts, which meant that the actor was unavailable when filming was set to take place for the third season.
Brancato said: "Because of the business circumstances surrounding the show, and when it was initially greenlit for a third season, which was never in doubt it just took a while on the business side, Nigél had other projects he was pursuing and the dates didn't work out and so we were reluctantly forced to [recast].
"We love Nigél, his performance is extraordinary and yet it was a timing thing. So, we had to go look for a new actor, it was a very hard role to fill, particularly to fill Nigél's shoes.
"But, in Jason Alan Carvell, what we found was an actor who has a similar gravitas to Nigél and a presence, and also a warmth that we thought was very appealing, and so, both Jason and Nigél, we couldn't ask for better actors to fill that role."
"Yes, it's unusual to make a Season 3 shift," he added. "But we actually think our viewers will understand and the minute they start to see Jason performing they will put his performance alongside Nigél's as the truly excellent performance that it is."
Complimenting Carvell's performance, Eckstein added: "I think Jason particularly [captured] the warmth, and our essence of really trying to go inside the experience of what Malcolm went through these last few months of his life, and really making that a human story and not just the political fanfare tragedy that it was.
"Jason really helps because he's such an exquisite performer in being able to take you in and make you feel his heart. I think he really did that, and he embraced, supported and really perfected that story so we're really excited about his addition."
Brancato said that he hoped viewers watching Season 3 will "roll with" the recasting, and "appreciate the brilliance of both of these men's performances."
Whitaker also praised Carvell's take on Malcolm X when speaking with Newsweek about the new season, saying: "I think Jason has a spirituality about him as an artist, as a person, I think it really reflects well on his portrayal of Malcolm.
"In the time we're going through [Malcolm's] in a new period where he's going to Mecca, he's exploring culture and society and looking more deeply at himself, really solidifying all his motives, philosophical and religious beliefs, and I think that's a [tone] Jason has."
Esposito, meanwhile, shared that while he didn't have the chance to work with Carvell in Season 3 and hadn't seen any of his scenes yet, they "did have a moment" together and he said of his co-star: "He seemed to be lovely, and seems to be embodying his version of who Malcolm X is.
"I wish I could speak further to it, it was a shame to lose Nigél Thatch, I certainly loved working with him, but I'm sure that our new Malcolm is going to be formidably strong and will render a beautiful performance."
Godfather of Harlem Season 3 premieres on Sunday, January 15 on MGM+ (formerly EPIX) at 9 p.m. ET/PT, and it will air weekly on the streaming platform.