Zelensky May Step Directly Into GOP's Fight Over Omnibus Bill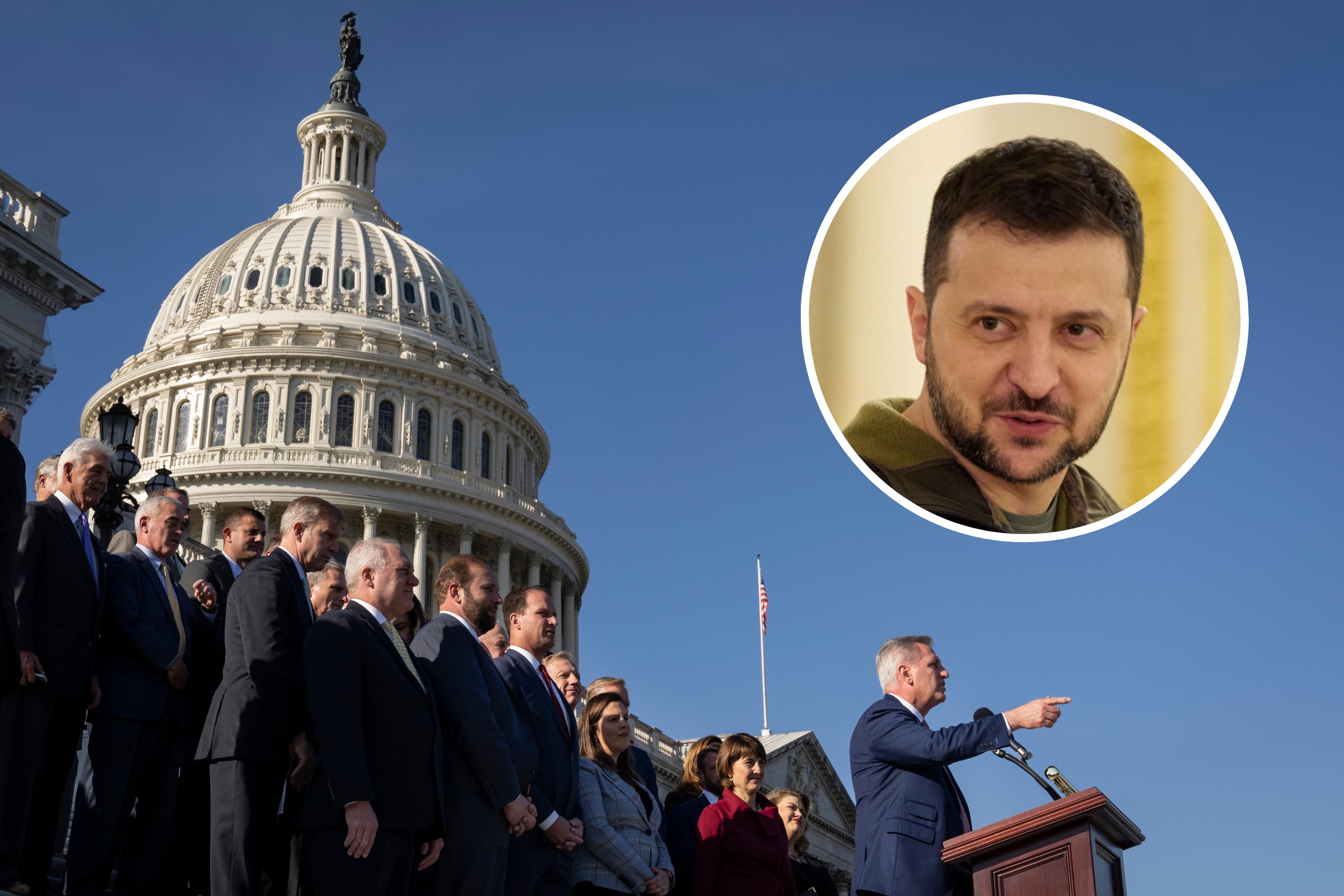 Ukrainian President Volodymyr Zelensky is reportedly planning an in-person visit to Washington, D.C., while Republicans fight over an omnibus bill that would provide an additional $45 billion in aid to Ukraine.
Zelensky is making arrangements to meet with President Joe Biden and address Congress on Wednesday, according to a Tuesday report from the Associated Press, which cites two congressional sources and one additional person familiar with the plan.
The visit, which could still be called off over security concerns, would be Zelensky's first overseas trip since Russia invaded Ukraine on February 24. It comes as GOP lawmakers lock horns over a $1.7 trillion omnibus spending package that the Senate is rushing to pass.
If the bill passes by Friday, it would reach the Democrat-controlled House before Republicans take razor-thin control of the chamber on January 3. If the bill does not pass, a partial government shutdown could come as early as Saturday.
Republicans who oppose the bill have slammed Senate Minority Leader Mitch McConnell for supporting the legislation. Some, such as Representative Marjorie Taylor Greene, have also been steadfastly opposed to additional aid for Ukraine and on Tuesday denounced Zelensky's plan to visit.
"Of course the shadow president has to come to Congress and explain why he needs billions of American's taxpayer dollars for the 51st state, Ukraine," Greene tweeted. "This is absurd. Put America First!!!"
In addition to GOP disagreements over the omnibus bill, House Republicans have been engaged in a contentious debate over who will serve as House speaker following the switchover.
House Minority Leader Kevin McCarthy, the leading candidate, is being opposed by a small group of hard-right holdouts like Representatives Matt Gaetz and Andy Biggs.
McCarthy is one of several House Republicans who have issued stern warnings to GOP Senate leadership against voting for the omnibus bill.
A group of 13 House Republicans sent a letter to their Senate colleagues on Tuesday that warned the GOP-controlled House would attempt to "thwart even the smallest legislative and policy efforts" of those who voted for the bill.
"Agreed," McCarthy tweeted in support of the letter. "When I'm Speaker, their bills will be dead on arrival in the House if this nearly $2T monstrosity is allowed to move forward over our objections and the will of the American people."
McCarthy, who previously said that House Republicans would refuse to write a "blank check" for aid to Ukraine, had not publicly weighed in on Zelensky's potential visit to Washington at the time of publication.
Democrat Nancy Pelosi, the current House speaker, on Tuesday urged all House members "to be physically present" for a "very special session" Wednesday night, which she said would focus "on Democracy."
Pelosi also praised Zelensky as a "complete, total hero" in comments to reporters at the Capitol on Tuesday, adding that an address by the Ukrainian president "would bring honor to the Congress of the United States."
Newsweek has reached out to McCarthy's office for comment.