'Zero Visibility' Storm Slams Southwest as Concern of New Storm Lurks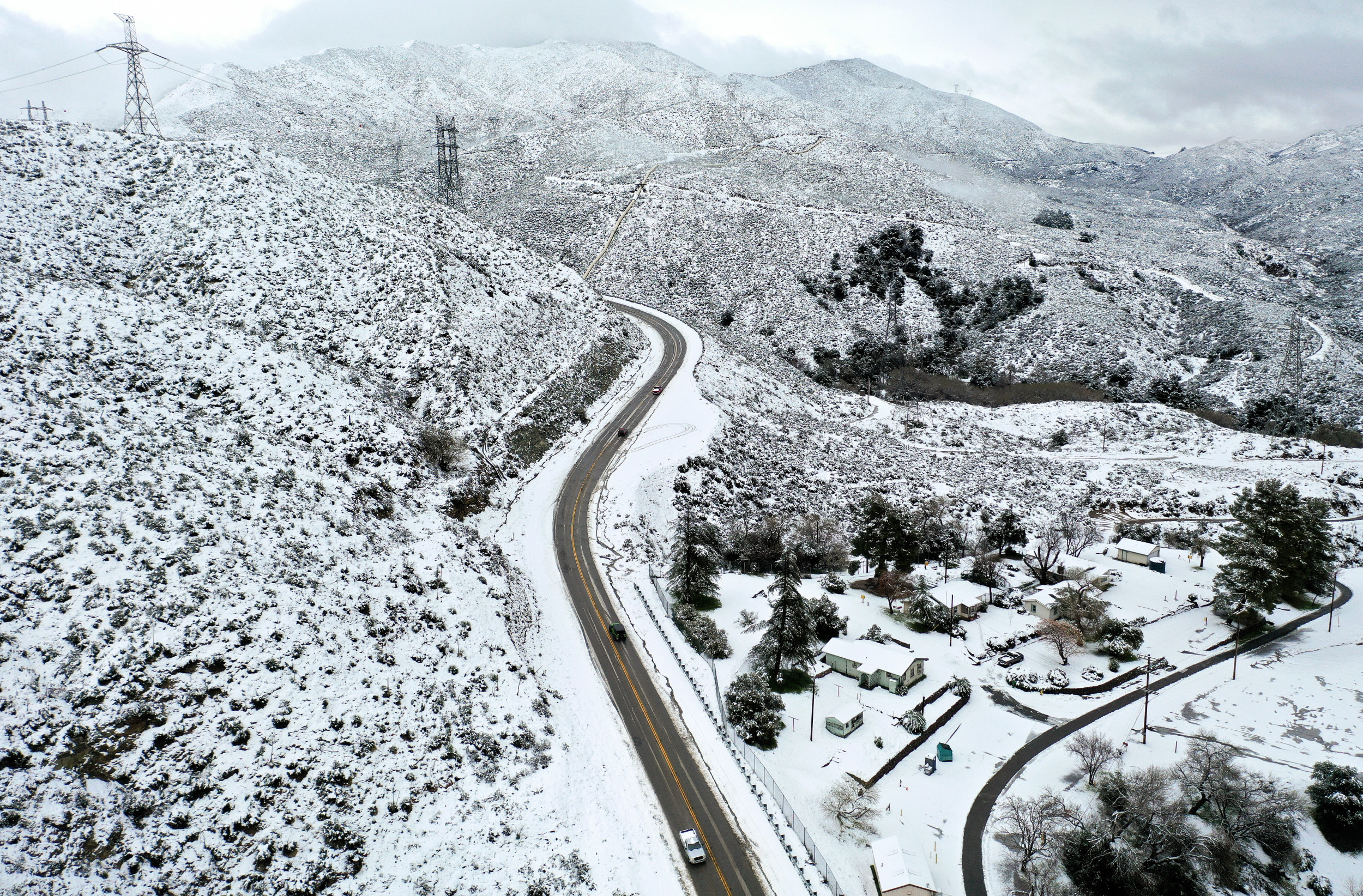 Rare snowstorms in the Southwestern region of the United States have caused "near zero visibility" in some states as reports indicate that more snow might be on the way.
As Southern California reeled following one of its strongest snowstorms in decades over the weekend, other states and regions were blanketed with considerable amounts of snow on Sunday morning. Parts of Arizona and New Mexico, in particular, saw storms greatly reduce road visibility and prompt dire government warnings against travel.
At around 10 a.m. local time, the National Weather Service's (NWS) Albuquerque division in New Mexico posted a photo to Twitter of snow coming down on a highway, with visibility greatly inhibited.
"Snow squall has arrived at the Continental Divide along I-40," the tweet read. "Expect blowing snow, near zero visibility for around the next hour."
Elsewhere on Sunday morning, roughly 320 miles due west of Albuquerque, the NWS branch in Flagstaff, Arizona, warned drivers that snowstorms had caused potentially hazardous road conditions in the early morning hours. It also warned that more winter weather could hit the area within a few days, with forecasts showing potential for more snowfall in the state throughout the week.
"Expect hazardous travel conditions and areas of snow and blowing snow today, especially above 4500-5000 feet," one tweet read, alongside photos of snowy roads. "Improving weather for tonight and Monday. however, a strong potential for a major winter storm lurks within the Tuesday through Thursday time frame."
Around the same time, the NWS characterized conditions in the region as "horrible and terrifying."
"Absolutely horrible and terrifying conditions on I-40 near Flagstaff right now, don't travel, stay home," the tweet warned, alongside a photo of headlights on the road thoroughly buried under snow.
A few hours later, NWS Flagstaff shared another tweet from the Arizona Department of Transportation (ADOT) warning of icy roads in more areas and advising residents to avoid any sort of travel.
"NOW: Eastbound I-40 remains closed east of Kingman at US 93 (mp 72) due to low-visibility created by high winds & snow, as well as icy conditions, between Kingman and Ash Fork," the tweet read. "ADOT advises motorists against traveling in the current conditions."
Meanwhile, AZCentral.com on Sunday reported that temperatures in central and southeast Arizona are expected to increase through Monday and Tuesday, before dropping back down again as another forecasted winter storm moves through the state by Wednesday or Thursday.
Newsweek reached out to the National Weather Service for comment.